Adapting to my Monster Power Outlets to Go
Chris Egner is a former writer for Crutchfield. She concentrated on point-and-shoot cameras and speakers while she worked here.
More from Chris Egner
Heads up!
Welcome to this article from the Crutchfield archives. Have fun reading it, but be aware that the information may be outdated and links may be broken.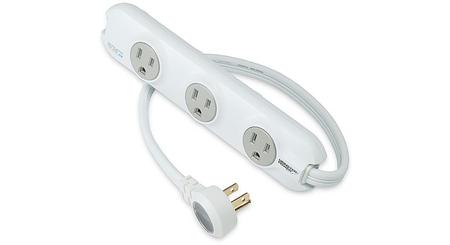 You know the saying, "When in Rome, do as the Romans do?" Well, Romans plug their electronics into funky-looking jacks. I traveled there last week with my daughter, my friend, and her daughter. Between the four of us, we had a cell phone, our camera batteries, and our daughters' iPods and Nintendo DS games that we needed to recharge every couple of days.
To make that task easier, I took along a Monster Power Outlets to Go portable power strip. It fit in the palm of my hand, so it was a breeze to pack. It had six outlets (three on each side) spaced far enough apart to hold all our plugs simultaneously. We also took along a bunch of adapters, so we could plug the power strip into whatever weird European outlets we encountered.
It didn't dawn on me until too late that the Monster power strip had a three-pronged plug (grounded for safety — a good thing, really). Our adapters all had two-pronged outlets, so we couldn't plug the strip into any of them. Actually, you could easily run into this problem in the States. Two-pronged outlets are often found in not-so-modern buildings like boutique hotels, budget motels, or grandma's house.
Back at home, though, the power strip got a real workout. My kids and I plugged six things into it — some with three-pronged plugs, some with two. There was ample room even for huge, boxy-type AC adapters. The kids especially liked the glowing blue light that lets you know everything is getting powered up.
I could see my husband really liking one of these power strips, too. He travels often and always takes his phone, laptop, and iPod along. Hotels seem to have precious few available outlets, with most of them taken by TVs, lamps, and hair dryers. Hopefully he'll be luckier than I was, and he'll get to actually use the Monster power strip on his next trip. And I'll make sure he packs a three-pronged adapter, just in case.