Monster Power Outlets To Go went well on trip
Ralph Graves is one of Crutchfield's blog editors, and part of the company's social media team. He writes about home audio/video gear, specializing in Apple-related and wireless technologies. Ralph holds a master's degree in music composition, and his works have been released on various labels. He's served as product manager for an independent classical and world music label, produced several recordings, and worked extensively in public broadcasting. Since 1984 he's hosted a weekly classical music program on WTJU, and is also active as a blogger and podcaster.
More from Ralph Graves
Heads up!
Welcome to this article from the Crutchfield archives. Have fun reading it, but be aware that the information may be outdated and links may be broken.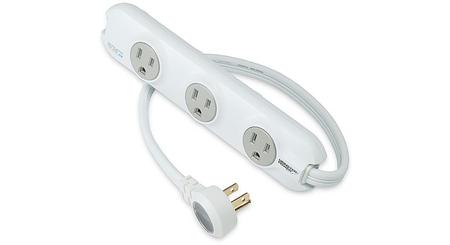 OK, I admit I'm something of a gadget geek. But when I go on a business trip, there are just some things I gotta have on my journey. Like my laptop, and cell phone, and digital camera, and iPod, and portable speakers.
I've been in too many hotel rooms where I've had to choose between keeping the floor lamp plugged in or using it for my cell phone charger. So I was happy to give the Monster Power Outlets To Go a try after Chris's recent misadventure.
I took her advice and packed an adapter, but fortunately, I didn't need it (this time). The Outlets To Go's wide-spaced sockets let me plug all of my odd-shaped AC adapters in without any trouble. As you can see from the photo, the power strip accommodated it all, and still left an outlet for the room's coffeemaker (going clockwise from the bottom of the photo, is my laptop's AC adapter, cube speaker AC adapter, cell phone charger, camera recharging dock, and iPod charging cable).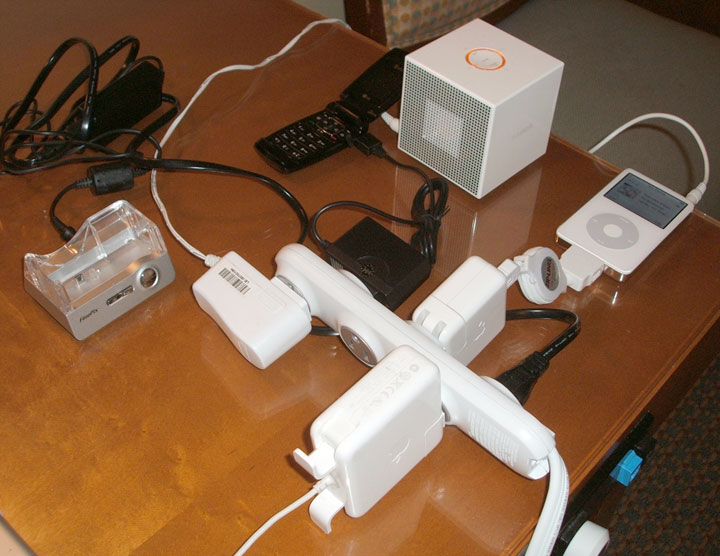 And don't worry - all of these devices draw very little power, so I wasn't overloading the wall outlet.
Although it looked a little messy with everything hooked up, the Monster Power Outlets To Go was a handy device to bring along. Because all of my devices were plugged into a single source, I didn't have to sweep the room when I checked out to make sure I didn't forget something I'd plugged in behind the bed, or under the desk or some other out-of-the-way place.
All in all, the Monster Power Outlets To Go worked much better then some of the other power strip/extension cord solutions I've tried. A big plus was its compact design, which kept the cord flat against the body for travel. I'll be adding this little gem to my permanent travel kit.