Getting great sound on your boat is easier than you think
I've been a camera nut all my life, so it makes sense I'd end up being a video producer. Of course, it has been a roundabout journey for me, as I started at Crutchfield in 2007 writing about car audio gear. Over the years I've learned about all the electronic items we sell, and it is my job to make sure we are making videos that you will find useful, whether you're shopping for something specific or trying to install some new gear yourself. My job is a lot of fun because I get to play around with all the cool stuff you see on our website while I'm making videos about it. Getting hands-on with the gear helps me see what I should show you about a product, though the flip side is my personal wish list is a mile long...
More from Zak Billmeier
Heads up!
Welcome to this article from the Crutchfield archives. Have fun reading it, but be aware that the information may be outdated and links may be broken.
I took a vacation with my family in Maine recently, where our main mode of transportation was a 19-foot center-console boat with room for six. Earlier in the year, in a conversation with my father, I learned that he and my mother were occasionally toting a small battery-powered radio out on the water with them in order to listen to Red Sox games. As a Crutchfield employee and a music lover, I felt I could not let that stand.
Crutchfield carries all kinds of marine stereo gear, so I got to work helping my dad choose the best stereo for his boat. Since he had no wiring in place, he'd need everything - receiver, wires, speakers, etc. In a smart move, he hired someone to do the installation.
We decided on the Sony CDX-H905iP receiver and four Pioneer TS-MR1640 speakers. The Sony has slick marine looks, iPod control, and great CD playback. The Pioneers are efficient (91 dB sensitivity), and their low power-handling range matched up well with the Sony's 17-watt RMS output.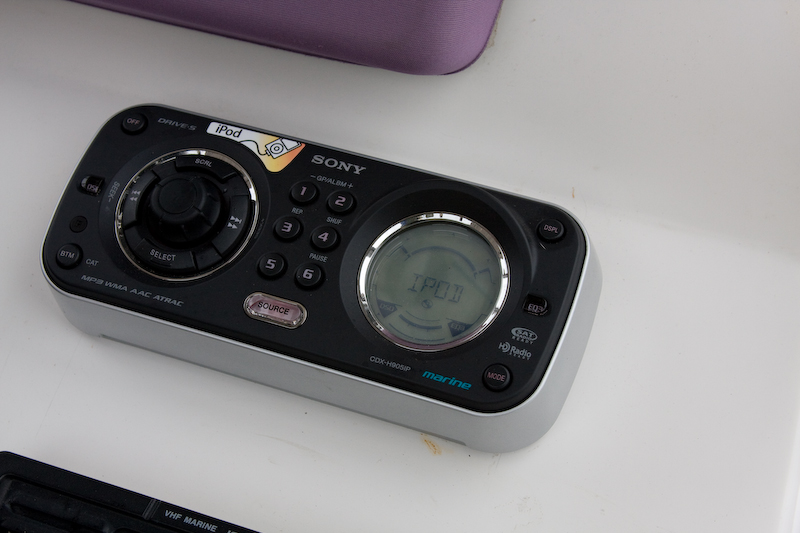 The Sony CDX-H905IP has the nice rounded look of marine instruments.
The Sony's radio was connected to the existing GPS antenna, providing a clear radio signal everywhere we went. The face folds down, allowing a CD to be loaded. When the face is closed, the internal components are sealed off against moisture. Throw in the fact that the circuit board is specially-coated to withstand moisture and salt, and you've got a system that can stand up to the harsh ocean marine environment.

The face folds down for loading a CD, and seals out moisture when closed.
Four speakers turned out to be unnecessary for his boat. In the end, he put in two speakers, one on either side of the center console. And in doing so, he created a great soundfield, since his listening position is smack in the middle. Still, I couldn't help but wonder how cool it would be to mount a couple of 1" tweeters at eye level, plus put a powered sub hidden in the console...but that's the Crutchfield in me talking. No need to mess with his setup - it sounds wonderful.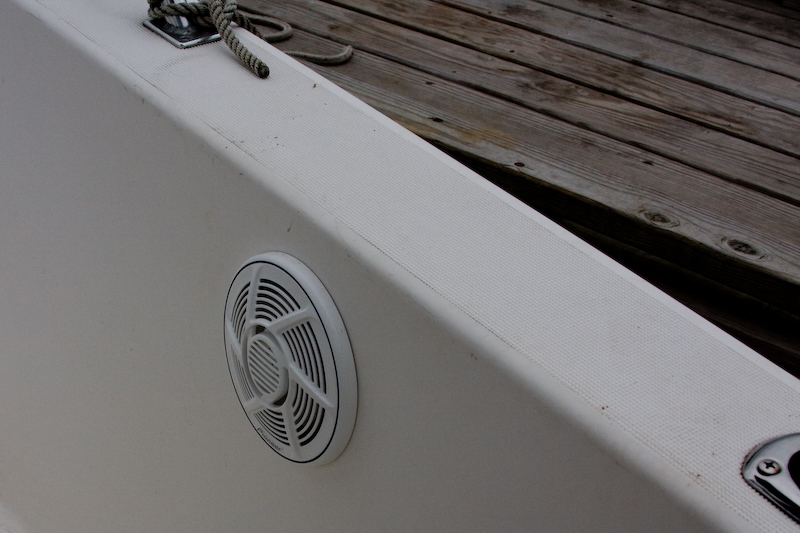 One pair of Pioneer TS-MR1640 speakers was all that was needed.
I was sure it would sound good, because Sony and Pioneer make nothing but great stuff. But what surprised me was how good it sounded. The Pioneer speakers had fantastic bass response, with clear and articulate mids and highs, even out on the open water. They'll sound better over time, too, as they wear in. And the Sony receiver pushed them hard enough to hear really well even when we were at cruising speed. I had thought an amp would be necessary for that, but it wasn't needed at all.
One nice thing about being on a boat is you can get to places you can't get to by land. There was plenty of discussion about whether we'd drown out the pleasant sounds of nature with rock music, so we were playing the stereo pretty sparingly (and rightfully so). But man, is it nice to have the option!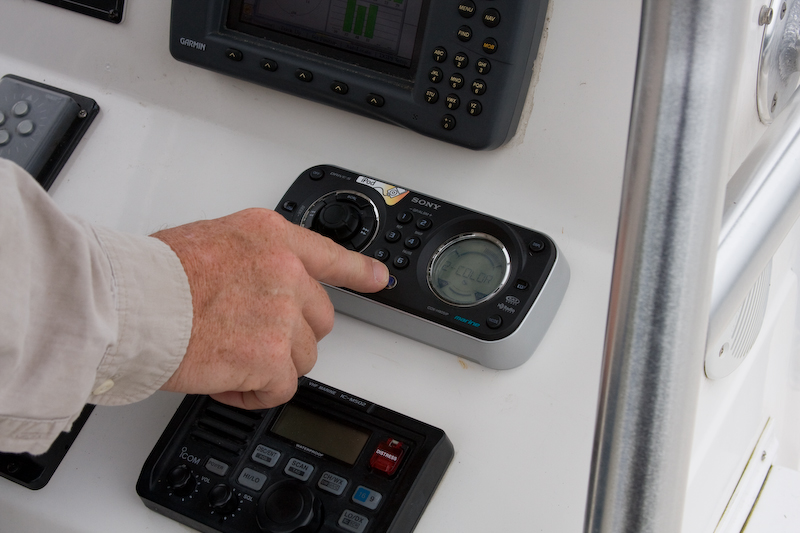 See how well the CDX-H905IP blends into the console?
My mind wanders a lot. I think of the music I hear as a soundtrack to the ever-running movie of my life. And to me, there's something inherently pleasant when that soundtrack follows you out on the ocean. A nice classical piece, at a respectful volume, does wonderful things for the wandering mind as you drift through a no-wake zone, standing at the bow, taking in the scene.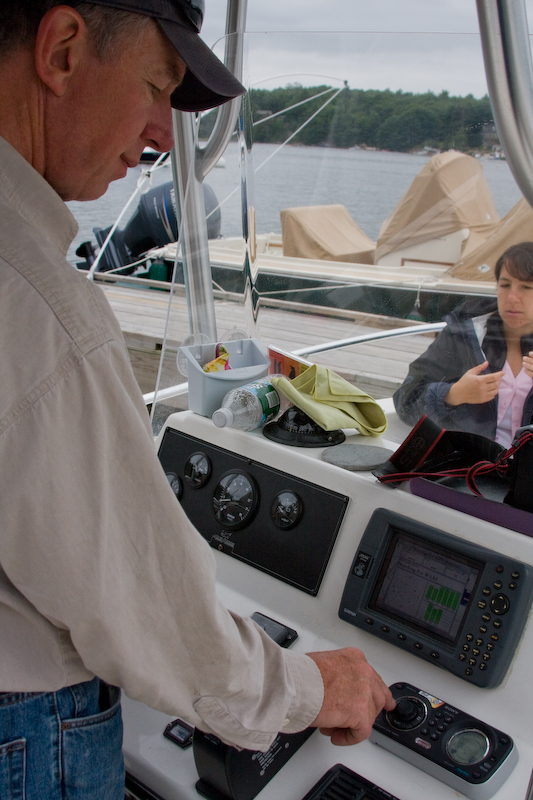 The captain of the boat is the captain of the sound, too.
Check out the Sony CDX-H905IP receiver, Pioneer TS-MR1640 speakers, and all kinds of other marine audio gear online.