Digital photo frames: the gifts that take you down memory lane
Chris Egner is a former writer for Crutchfield. She concentrated on point-and-shoot cameras and speakers while she worked here.
More from Chris Egner
Heads up!
Welcome to this article from the Crutchfield archives. Have fun reading it, but be aware that the information may be outdated and links may be broken.
At a get-together the other night, my friends Lisa and Mary Lee told me about cool, personal gifts they'd made using digital photo frames.
Lisa and her husband Bob will celebrate their 20th wedding anniversary next week. She's going to surprise him with a digital photo frame full of pictures of their years together. She filled the frame's internal memory with their favorite songs, which will play while the photos run across the screen in a slideshow. She saved hundreds of photos onto an SDT memory card, and then loaded it into the frame. She's pretty sure Bob might shed a few tears.
Like everyone in our generation, Lisa has plenty of Polaroids. She used her photo printer/scanner to make digital copies of her prints from last century. Lisa could've scanned them straight onto an SD card, but she opted to upload them to her computer first, so she could edit them. And now she has a spare copy of those important memories on her hard drive.
Lisa's story reminded my friend Mary Lee of the gift she made for her in-laws last Christmas. She and her husband Murad sent a digital frame full of pictures of their children to his parents in Turkey. Murad's parents don't use a computer, so photos via email or CD were never an option.
Mary Lee's in-laws just plugged in the frame and instantly called up 15 or so years' worth of pictures of their grandkids. They love to just sit and watch the photos switch out moment by moment. And the best part is that Mary Lee and Murad can easily send his parents new SD cards for their frame, full of each year's highlights.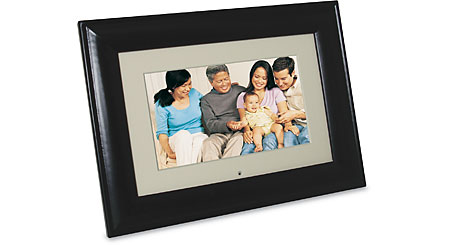 Makes me want to fill up a digital photo frame with some of my family's best times, and share it with somebody we love. Or maybe keep it for myself.