Lonely For My Headphones, Part 3: Sony Headphones
Gabrielle Thorndyke started life at Crutchfield as a member of our award-winning Tech Support team, where she spent years translating rarified technical concepts into something real people can understand. She brought this deep understanding to bear during her time with the Crutchfield car A/V copywriting team.
Heads up!
Welcome to this article from the Crutchfield archives. Have fun reading it, but be aware that the information may be outdated and links may be broken.
One Thing Leads To Another
I've been auditioning a lot of headphones over the past several weeks, looking for a relatively inexpensive pair that would, nonetheless, give me great sound quality. I'm terrible at making shopping decisions, so I asked my family to go along and help me choose. I should have known better. Magically, they all needed new headphones too.
With my budget chopped, I decided to explore the low-to-mid end of the spectrum, where (happily) there's still a decent selection of headphones.
Take A Chance On Me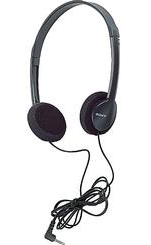 Sony's MDR-110LP headphones are good, entry-level headphones designed as replacement headphones for portable CD and MP3 players. For me, they sounded adequate, but they didn't have the level of sound quality I was looking for. And the cord length, while fine for a clip-on MP3 player, was a little too short for my needs.
On the plus side, these headphones were super-inexpensive — so inexpensive I had no problem in buying a couple sets for the kids. And because the price was so great, I also popped for a couple of the slightly higher level versions of these headphones (MDR-210LP) for comparison. I did get a better bass response, but the quality of sound still wasn't quite what I wanted. It also had the short cord, but it did come with a nifty mini-to-standard plug adapter — that alone made them worth the slight increase in price.

Neither of these models were going to do for work. I need something with a significantly longer cord, and earcups that not only let me hear music, but would screen outside noise and were comfortable enough to wear all day. I also wanted better sound reproduction--since I wear headphones all day, great sound really is important.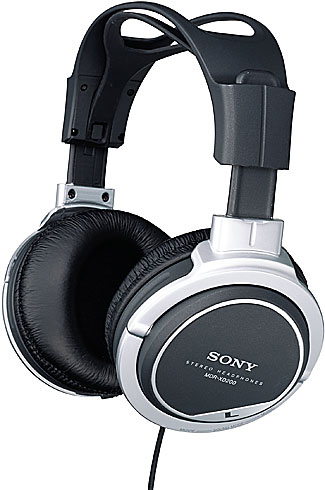 Love The One You're With
So, I tried Sony's MDR-X200 model. These are mid-level home headphones in the lower price range: the kind you might purchase for late-night TV viewing. They include a much longer cord than I'm used to seeing. Some people may take issue with the extra length, but I'd rather have the length than not — it's a lot easier to zip-tie an extra-long cable than it is to wrestle with a too-short cord, and I don't have to add extensions that could potentially introduce noise into my signal.
I find the padded vinyl, over-the ear style distinctly more comfortable than the on-ear foam pads of the previous models. The fit (for me) is a little loose about the ear, even after adjusting. But because they fit over my ear I feel reasonably secure when I wear them, and I get a touch of natural noise isolation. It comes with a movie/music switch, which lets you choose how much bass you want to filter into your sound, and the sound is definitely decent — better, when I make the fit tighter on my head.
I admit, I'm totally spoiled by my Bose® QuietComfort® 2 headphones, so my long-term plan is to save up for a set of Bose QC® 2's and make the MDR-X200 my nice "at home" phones. Unless of course, I find something better.
Song title references:
One Thing Leads To Another — The Fixx
Take A Chance On Me — Erasure
Love The One You're With — Stephen Stills