Three essential DSLR accessories
Zak Billmeier grew up in southern Vermont and coastal Maine. After graduating from Mary Washington College with a Geography degree he still isn't sure quite what to do with, he eventually settled in the mountains of Central Virginia. He spends his free time chasing his daughter around, taking pictures, gardening and cooking. He joined Crutchfield's car A/V writing team in 2007 and is now a lead producer on our video team.
More from Zak Billmeier
Heads up!
Welcome to this article from the Crutchfield archives. Have fun reading it, but be aware that the information may be outdated and links may be broken.
Whether you're giving or receiving the gift of a DSLR camera this holiday season, these three accessories are essential to get up and running. DLSR kits all come with batteries, chargers, and a lens or two, so what else do you absolutely need before you start shooting?
1. Lens. Let's back up. DSLR kits contain one or two lenses, but if you choose to buy a camera labeled as "body only," you'll need a lens to screw on the front of the camera.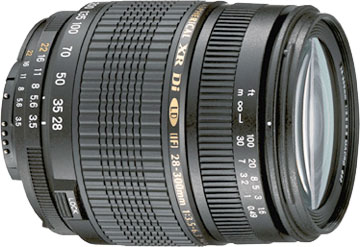 The Tamron 28-300mm is a good "one lens" solution.
2. Memory card. Make sure you figure out what type of card your new camera uses. Some cameras include a 32MB SD card - but get real, that only stores a few pictures. You'll need something with at least a gig or two to start.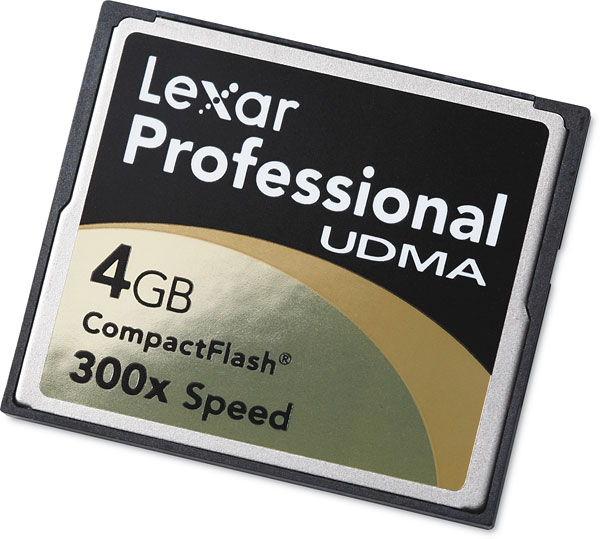 The faster the speed on your memory card, the
faster it'll record your pictures in your camera.
It'll also download them to your computer faster.
3. Bag or case. OK, you can shoot just fine without one. But a bag protects your investment, carries your extra lenses and accessories, and helps you transport your camera safely when you travel. I keep a couple of kitchen-sized garbage bags in mine in case I'm ever caught in a heavy rain. DSLR bags have configurable foam dividers that let you tailor its interior to your particular camera and lenses.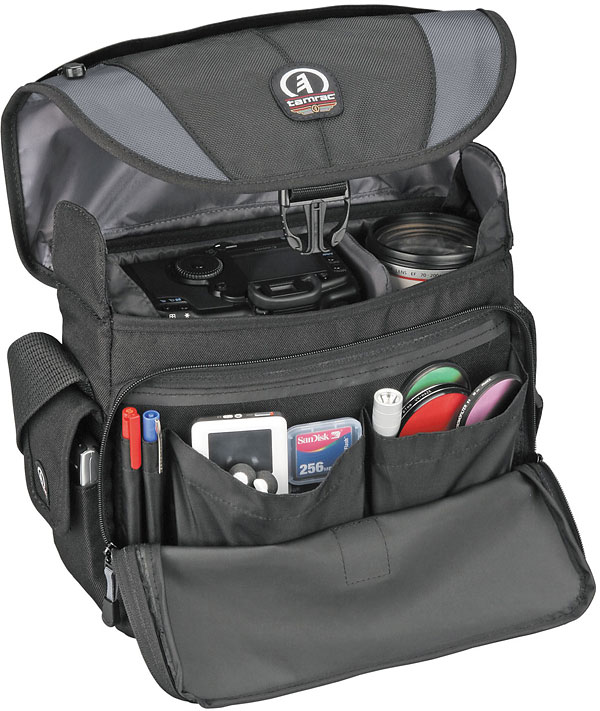 This Tamrac messenger bag lets you carry a camera
body with a lens attached, plus an additional lens.
And there's still some room for your other accessories (or a snack).
Other accessories are nice to have, but these are a good starting point. Happy shooting!