An iPod dock transforms a baby's room
Zak Billmeier grew up in southern Vermont and coastal Maine. After graduating from Mary Washington College with a Geography degree he still isn't sure quite what to do with, he eventually settled in the mountains of Central Virginia. He spends his free time chasing his daughter around, taking pictures, gardening and cooking. He joined Crutchfield's car A/V writing team in 2007 and is now a lead producer on our video team.
More from Zak Billmeier
Heads up!
Welcome to this article from the Crutchfield archives. Have fun reading it, but be aware that the information may be outdated and links may be broken.
Since babies go from an environment of fairly loud, constant noise to one of relative quiet when they're born, it's no surprise that they respond well to music being played. My little daughter, for example, seems to like the strumming of a guitar. Since I can't very well sit in her room and strum all night long, a music player made the most sense.
But here's the problem - I haven't owned a boombox or portable player of any kind in years. I listen to my car stereo, or connect iTunes to my home stereo. Fortunately, my wife has an iPod, so the choice became clear: an iPod dock.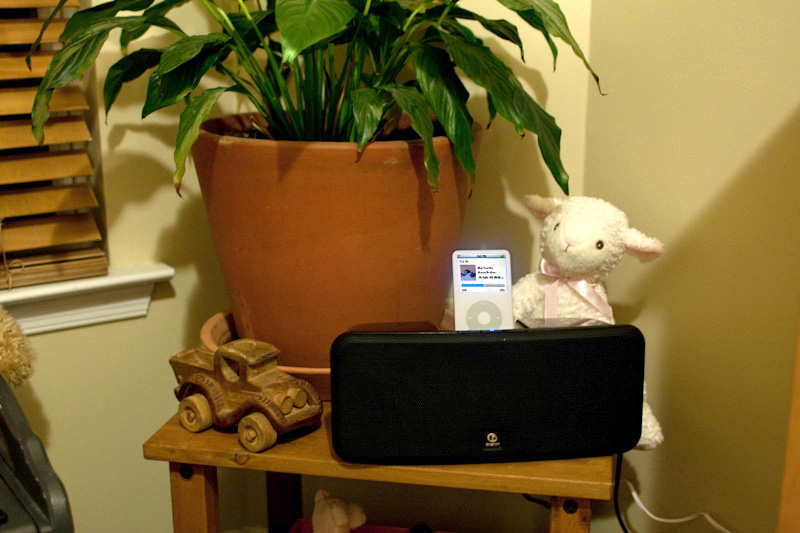 The i-DS2 fits well in a baby's room.
I knew I wanted a dock that was small enough to fit amongst my daughter's toys, diapers, and other baby gear, but also powerful enough to take downstairs when people came over. After doing my research I settled upon a dock from a trusted name: the Boston Acoustics Horizon i-DS2. It's about the size of a loaf of bread, and I have a history with Boston Acoustics - I have their S95 6x9s in the rear deck of my car, and S65RC 6-1/2s in the front door. I love them. So I figured, hey, this iPod dock has got to sound good.
And indeed, it sounds good. Really good. The bass response is great, thanks to a port on the backside of the dock. I keep the EQ flat on the iPod, and the dock sounds fantastic at that setting, though I plan to try edging up the highs slightly. And it's 15 watts RMSx2, plenty loud enough for more grownup applications.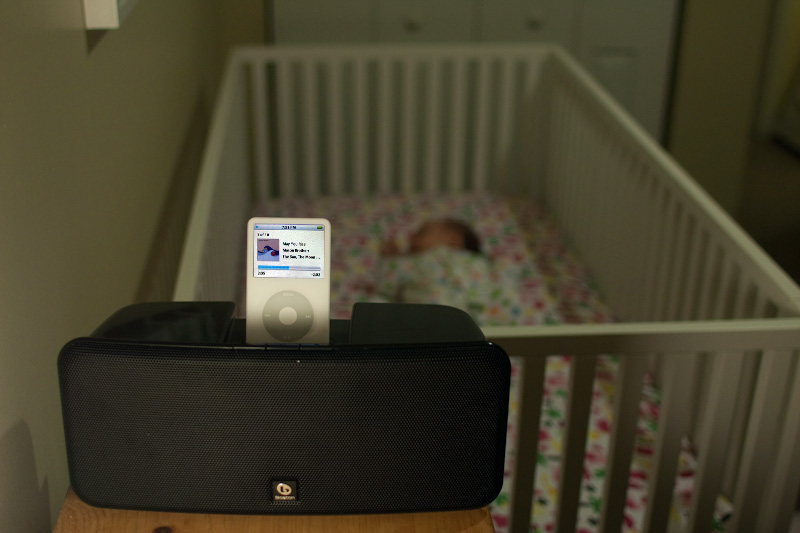 The i-DS2 is small, but powerful - it can fill your living room with sound when the baby's not using it.
The rest you probably know how to do - make a baby playlist, sync the iPod, pop it in the dock. One tip, though - don't put it too close to your baby monitor, or you defeat its purpose entirely.