Spring Cleaning Your Electronic Gear, Tip #1: Cleaning your TV
Kristen is a former copywriter for Crutchfield. She wrote copy for both the web and catalog, covering a variety of home A/V products that included speakers, camcorders, and Blu-ray players. She also wrote a number articles and blog posts for the Crutchfield Know Zone.
More from Kristen Schaub
Heads up!
Welcome to this article from the Crutchfield archives. Have fun reading it, but be aware that the information may be outdated and links may be broken.
Most audio/video gear attracts a surprising amount of dust and other residue. And whether you like cleaning or not, it's important to protect your investment by keeping it in good working order. Unfortunately, it's possible to cause more harm than good if you don't know how to properly clean your gear. So we've come up with a few easy pointers to help you.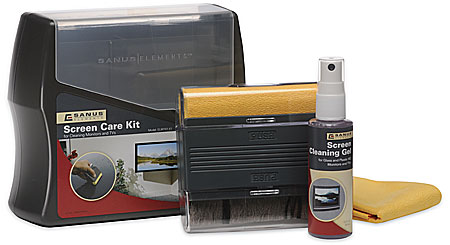 Tip #1: Cleaning your television
Let's start with your TV. You have to be especially careful when cleaning the screen on an LCD. The thin, plastic coating can easily be damaged by normal household glass and surface cleaners and leave smears and discoloring on the screen. To clean an LCD, plasma, or rear-projection TV:
Turn the television off before cleaning it; you may want to unplug it.
Use a soft, dry cloth to wipe the screen. Because LCD screens have a special coating that can suffer from too much wiping, try to keep screen contact to a minimum. Avoid using a damp cloth. (Never use alcohol, benzine, or thinner to clean the screen.)
To clean a non-LCD rear-projection TV's screen, you can follow the directions above using a cloth dampened with water.
The other portions of the television may be cleaned using a soft dry cloth, or, in the case of stubborn soiling, a cotton cloth dampened with water or a mild cleaner. Afterward, wipe the chassis again with a dry cloth.
As you can see, for television cleaning, the bottom line is simplicity. Wipe your TV down gently, and use the simplest possible agents (water or a non-alcohol cleaner) when absolutely necessary.
This tip is an excerpt from my recent article in the Crutchfield Learning Center, Keeping your A/V Gear Clean.