Adding Great Sound to your TV, Tip #1 - The Sound Bar
Ralph Graves is one of Crutchfield's blog editors, and part of the company's social media team. He writes about home audio/video gear, specializing in Apple-related and wireless technologies. Ralph holds a master's degree in music composition, and his works have been released on various labels. He's served as product manager for an independent classical and world music label, produced several recordings, and worked extensively in public broadcasting. Since 1984 he's hosted a weekly classical music program on WTJU, and is also active as a blogger and podcaster.
More from Ralph Graves
Heads up!
Welcome to this article from the Crutchfield archives. Have fun reading it, but be aware that the information may be outdated and links may be broken.
If you've recently bought a high-definition TV, you're probably enjoying an amazing picture - but odds are its speakers aren't doing full justice to that gorgeous image on the screen. Fortunately, there's a number of solutions to get the sound quality of your movies up to the level of those high-definition visuals.

One of the simplest ways is to install a sound bar under your set. This type of all-in-one speaker array can deliver a pretty convincing three-dimensional sound field from a single location.
Tip #1: "Sound bar" solutions
These sleek "sound bar "-style speakers perfectly complement a flat-panel TV, and require minimal space and wiring. Most models even offer built-in amplification, which means the only other gear you'll need is a DVD or Blu-ray DiscT player and a subwoofer for deep bass roar and rumble. (Some of these models even include a subwoofer.)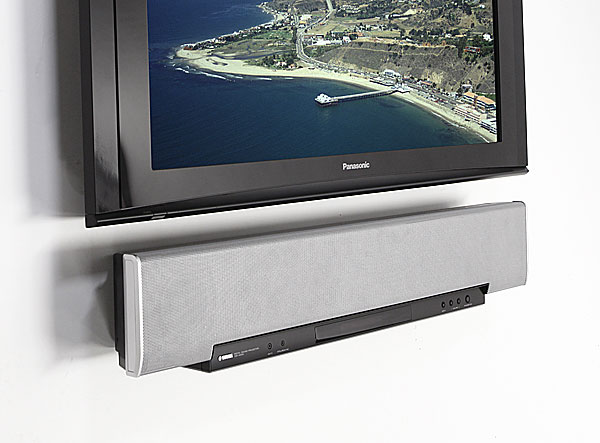 This type of system works well when:
You have very limited room for speakers or other equipment.

The sound bar solution requires fewer pieces of gear than most other options, and you can easily wall-mount the main speaker right below your TV.

Very simple setup is key.

You only need a couple of cables to hook up these systems, and chances are they come in the box. You won't have to run wires from one side of your room to the other, either.

You want the cinematic thrill of surround sound but your room can't accommodate a full-fledged surround system.

Some of the more deluxe models feature advanced designs and special digital processing to create a convincing, three-dimensional sound field.
See our article on choosing a sound bar for more information.
[Shop our selection of sound bars.]
This post is excerpted from Barry Montgomery's recent article in our Learning Center, Four Ways to Add Great Sound to Your TV.