A great way to turn your iPod into a multi-room music source
Tara W. has worked for Crutchfield since 2004. She writes about whole-house music and video gear, and works on Crutchfield's video team.
More from Tara W.
Heads up!
Welcome to this article from the Crutchfield archives. Have fun reading it, but be aware that the information may be outdated and links may be broken.
I listen to my iPod through the stereo in my car and through headphones while I work and exercise. But what if I want to listen to my iPod throughout my house, too? After all, the speakers in my home are the best ones I own.
Fortunately, working at Crutchfield gives me the opportunity to look into these types of situations. And we have some pretty cool multi-room options for our iPods. Here is a popular solution:
Niles ZR-6 six-source six-room audio receiver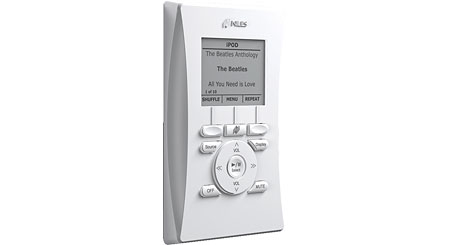 The Niles ZR-6 is a six-source, six-zone receiver specifically designed to connect to an iPod, in addition to traditional audio sources. It comes with a special cable that allows the receiver to feed metadata - like artist, album, and song info - and audio from your iPod to each "zone" or location in your multi-room system.
You'll get to view all that great info, as well as jump through playlists and make music selections, using in-wall keypads like the Niles Solo-6 MD (shown at left). This kind of multi-room system utilizes speaker and CAT-5 (or Ethernet) cable that's run through your walls.
For more info on Niles products, check out our diagram of a Niles MultiZone system. Interested in setting up your own multi-room system? We can help! Call Crutchfield's AV Design Group at 1-800-555-9407.