Spring Cleaning Your Electronic Gear, Tip #3: Cleaning your cables
Kristen is a former copywriter for Crutchfield. She wrote copy for both the web and catalog, covering a variety of home A/V products that included speakers, camcorders, and Blu-ray players. She also wrote a number articles and blog posts for the Crutchfield Know Zone.
More from Kristen Schaub
Heads up!
Welcome to this article from the Crutchfield archives. Have fun reading it, but be aware that the information may be outdated and links may be broken.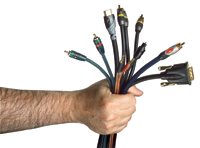 My last spring cleaning post talked about how to clean your components - but don't forget about the cables behind them. Whether your cables are neatly bundled together or in a messy lump, they'll gather the same amount of dust.
Tip #3: Cleaning your cables
Cleaning cables can be tricky. You don't want to dislodge, or even potentially damage, your connectors. Here are our suggestions:
If there's ample room, use a narrow wand extension on your vacuum cleaner to remove some of the accumulated debris from among your cables.
Again, a small paintbrush can be used to brush dust off of jacks and cables.
Clean gently: you don't want to have nice clean cables that don't work anymore, because you've bent the pins while wiping them off.
In general, you should unplug and replug your cables every year or so to make sure the connection stays clean, and to check for corrosion on poorer quality cables. If you do see any buildup, use a good contact cleaner, like DeoxIT®, to safely clean the connection.
This tip is an excerpt from my recent article in the Crutchfield Learning Center, Keeping your A/V Gear Clean.