Adding Great Sound to your TV, Tip #3 - Pre-matched surround sound systems
Ralph Graves is one of Crutchfield's blog editors, and part of the company's social media team. He writes about home audio/video gear, specializing in Apple-related and wireless technologies. Ralph holds a master's degree in music composition, and his works have been released on various labels. He's served as product manager for an independent classical and world music label, produced several recordings, and worked extensively in public broadcasting. Since 1984 he's hosted a weekly classical music program on WTJU, and is also active as a blogger and podcaster.
More from Ralph Graves
Heads up!
Welcome to this article from the Crutchfield archives. Have fun reading it, but be aware that the information may be outdated and links may be broken.
Intuitively, it makes sense: if you want to be fully immersed in sound, you should be surrounded by speakers. That's the concept at modern movie theaters, and it's an ideal way to experience movies with your home theater system.
But for many of us, having a room full speakers isn't very practical - especially in a multi-purpose space such as a living room, den, or family room. Fortunately, placing speakers in a room doesn't have to involve a lot of gear - or expense.
Tip #3: Pre-matched surround sound systems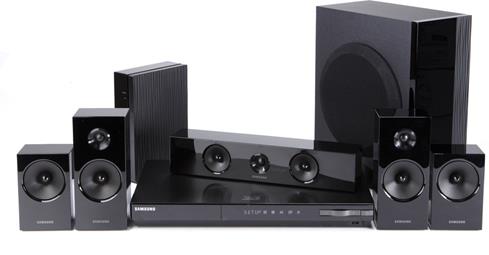 A pre-matched surround sound system can deliver genuine, multi-speaker surround sound without a lot of bulk. They include just five compact, room-friendly speakers, a control center (usually with a built-in DVD or Blu-ray Disc® player), and a subwoofer you can tuck in a corner. Some newer models also offer radio tuners, built-in iPod® docks, and wireless connectivity for rear speakers.
These systems make sense if:
You don't have a lot of space for components and speakers.

With small speakers and compact control centers, these systems make a great choice for small- to medium-sized living rooms.
You want true home theater sound with simplified setup. These compact systems require hookup that's slightly more involved than the two audio options discussed above. But if you're okay with running wires from one side of your room to the other, they provide the simplest - and often least expensive - way to achieve true surround sound. Many come with color-coded connection wires, and you can usually have them up and running in less than an hour. Some newer models also offer wireless rear speakers - the control center transfers audio signals wirelessly to the two back speakers, so you won't have to run speaker cable from the front to the back of your room.
[Shop our selection of home theater systems.]
This post is excerpted from Barry Montgomery's article Four Ways to Add Great Sound to Your TV.