Spring Cleaning Your Electronic Gear, Tip #4: Cleaning your speakers
Heads up!
Welcome to this article from the Crutchfield archives. Have fun reading it, but be aware that the information may be outdated and links may be broken.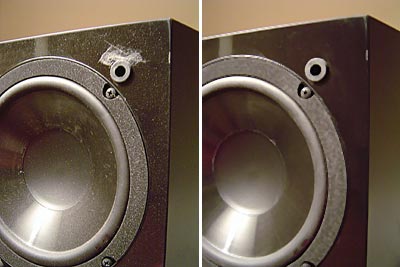 In my recent spring cleaning posts, I talked about cleaning your TV, components, and cables - but keeping your speakers clean is just as important.
Tip #4: Cleaning your speakers
Cleaning speakers can be puzzling, because there are so many different parts to clean. On a typical bookshelf speaker, you can have a wood veneer cabinet, a cloth grille, and drivers of any number of different materials inside. Let's start with the cabinet.
Cabinets
Whether your cabinet boasts a real wood veneer, a highly realistic wood-look vinyl, a shiny black laminate finish, or some kind of plastic or metal construction, it's still going to get dusty. Your owner's manual may or may not have instructions on keeping this cabinet clean, but be aware that even with a wood cabinet, you should keep typical furniture polishes or sprays away. Cleaners that contain silicon can leave residue in the wood grain, and damage the finish. Most manufacturers simply recommend cleaning the cabinet with a soft cloth, perhaps lightly dampened by water.
We also recommend wiping dust away from the grille, toward the back of the speaker. Grilles really pick up dust, and if you bump your dusting cloth against the edge of one, you're likely to see a pale, dusty smudge appear.
Grilles
Most grilles get pretty dusty. Part of their job is to protect your speaker's drivers, and if they're not capturing and holding dust, they're not doing their job. In the case of fabric grilles, you may be able to carefully vacuum them to remove dust. If they are soiled or stained, you may be able to remove them and rinse them gently with warm water, then lay them somewhere safe to dry.
In the case of plastic or metal grilles, removing them from the speaker, then wiping them with a dry or lightly dampened cloth, is probably your best bet. You can also use a can of compressed air, or the upholstery brush attachment on your vacuum cleaner. Some satellite speakers may have non-removable grilles. Try dusting them with a dry cloth. If you're unable to remove dust or soiling that way, use a damp cloth very sparingly - you don't want any moisture to get through to the drivers inside.
Drivers
Dust certainly can build up on drivers (just take a look at the picture above), but you should avoid touching your drivers as much as possible. Relying on a clean, dry paintbrush with very soft bristles, or gently using a can of compressed air, is probably a good solution if your drivers have become seriously dusty. If you're not using your grilles, you may want to - this could extend the life of your speakers.
This tip is an excerpt from my recent article in the Crutchfield Learning Center, Keeping your A/V Gear Clean.