My summer staycation outdoor speaker project. Part 1 -- Picking the gear
I've written about car audio for Crutchfield since 2003, after four years as Crutchfield Sales Advisor, and 10 years as a music teacher. I'm an avid music listener, with a real love of classical and film music. I love having a great system in my car, and I'll still match the system in my 98 Ford Ranger (may it rest in piece) up against anything else I've heard for great SQ. I attended West Virginia University, where I received a Master's Degree in Music Performance and a Bachelor's Degree in History. Let's Go Mountaineers!
More from Ken Nail
Heads up!
Welcome to this article from the Crutchfield archives. Have fun reading it, but be aware that the information may be outdated and links may be broken.
With money tight for many of us this year, the "staycation" is in vogue this summer. Rather than spend hard-earned cash on a dream vacation, many are opting for shorter trips and more quality time around the house. I don't have any big vacation plans this summer, so it seems a perfect time to invest a little money in improving the entertainment value of my house's deck.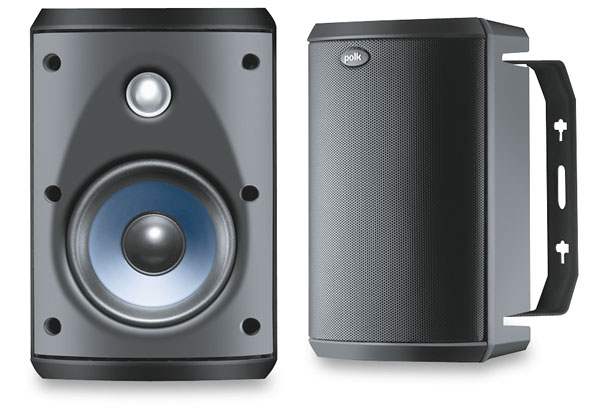 Our deck is a shady respite, perfect for lazing away a sunny afternoon or relaxing with a favorite beverage on a warm summer evening. What could complement these idyllic times better than some music? But there's the rub — tunes on my deck are pretty limited. I've had to make do over the years with a worn-out boombox or a poorly performing wireless speaker. Both have disadvantages.

To use the boom box, I've got to lug out handfuls of CDs, and then gather them back up and take them inside when I'm done. The wireless speaker is a little better, but it's prone to outbursts of static and the sound quality really isn't that good.
What's the solution? It's obvious to me — outdoor speakers. With speakers connected to my stereo I'll get excellent sound quality, and all my media can stay inside, by the stereo. But installing outdoor speakers will take a little planning if I want to do the job right. I've got to figure out what gear I'll need, how to route the wires, where to mount the speakers -- there's a lot to consider.
But every journey starts with a single step. To begin my project I browsed crutchfield.com to pick out the gear I'll need. Here's a list, with links and explanations of what I'm getting and why:
Speakers — Polk Atrium 45 Indoor/outdoor speakers. I'm a fan of Polk Audio speakers, and I like the size and color of these speakers. They're designed for outdoor use, so they'll hold up to the elements.
Speaker wire — AudioQuest FLX-16/4 in-wall speaker wire. This high-quality wire carries four conductors, so I'll only need to run one wire. It's rated for direct burial, too, which is important, since I'll have to route the wire outside of the house.
Wall plate — Niles Audio 8-post wall plate. I'll install this wall plate behind the stereo so I can connect the "B" speakers of my stereo into the new wiring going to the outdoor speakers. Much cleaner than simply running the wires into the wall.
Volume control — Niles weatherproof stereo volume control. Who wants to run inside every time the volume needs adjusted? Not me. With this weatherproof volume control, I'll be able to adjust the volume while I'm on the deck.
There are the parts I'll need. In my next post, I'll sketch out my plan for the installation.