DLNA connects audio/video components across your home network
Jim Richardson is the managing editor for home audio/video and pro audio learning content on Crutchfield.com.
More from Jim Richardson
Heads up!
Welcome to this article from the Crutchfield archives. Have fun reading it, but be aware that the information may be outdated and links may be broken.
What do you do with your home network?
Provide Internet access throughout your home
Share a printer
Listen to digital music files, Internet radio or a music subscription service, such as Rhapsody, throughout your home
View photos or videos stored on your home computer on a TV in your living room
Stream movies from Netflix to any TV in your home
If you said yes to 1 and 2, but no to the other possibilities, then you should take a look at our new category of Wireless Entertainment products, and you will definitely want to read up on DLNA and DLNA certification.
DLNA, short for Digital Living Network Alliance, is a collaboration among more than 200 companies (including big names such as Sony, Panasonic, Samsung, HP, Microsoft, Cisco, Denon and Yamaha). Their goal is to create products that connect to each other across your home network, regardless of manufacturer, so you can easily enjoy your digital content and Internet entertainment channels in any room.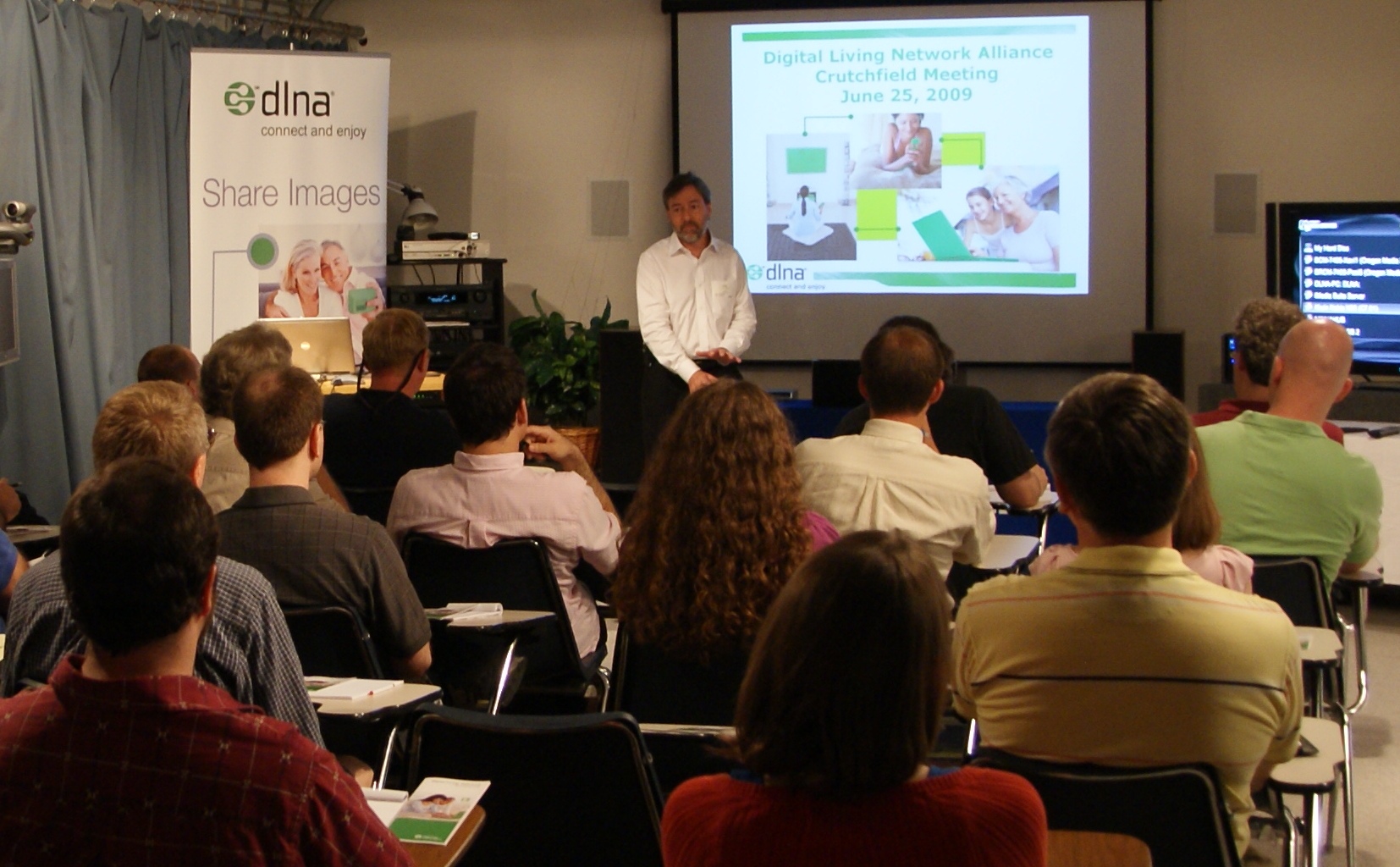 Six members of the DLNA brain trust, including Scott Smyers, the association's board chairman (that's Scott leading the discussion in the photo at left), visited Crutchfield on June 25 to learn more about our operation and to give us a hands-on demonstration of DLNA-certified products.
The product demonstration we were treated to featured a Sony TV, a Sony laptop PC running Windows 7, a Sony game console, a Denon receiver, a Wi-Fi-enabled iPod dock, a networked printer, a couple of mobile phones, and a cable TV set-top box. It was exciting to see all of these devices recognizing each other and allowing such easy playback of digital content.
There were music files, videos and digital photos stored on the media hub, the laptop computer, an iPod sitting in the Denon dock, and on the phones. With some exceptions, these files were readily accessible from the Sony XBR TV, the PS3 (which was connected to a different TV), and the Denon receiver.
When navigating the content folders on the computer, a right click offered a "Play To" command that let us play a file or playlist on one of the compatible DLNA playback components. Photos taken with the cameras could be immediately printed, using the "Print To" command on the phone.
Someday we'll take all this for granted. Meanwhile, there's a window of opportunity for you to have the coolest house in the neighborhood.
Some attendees voiced concerns that the DLNA-certified badge, as it is currently promoted, may overpromise a bit. As I alluded to above, some certified components don't play all file types. We suggested that the DLNA label include icons or color-coding to simply communicate the extent of the component's DLNA feature set. We think this would reduce uncertainty for sales people and consumers and minimize incorrect assumptions that lead to returns.
Kudos to the DLNA leadership for coming to Crutchfield to seek out this sort of feedback.