The point of point-and-shoot cameras
Ralph Graves is one of Crutchfield's blog editors, and part of the company's social media team. He writes about home audio/video gear, specializing in Apple-related and wireless technologies. Ralph holds a master's degree in music composition, and his works have been released on various labels. He's served as product manager for an independent classical and world music label, produced several recordings, and worked extensively in public broadcasting. Since 1984 he's hosted a weekly classical music program on WTJU, and is also active as a blogger and podcaster.
More from Ralph Graves
Heads up!
Welcome to this article from the Crutchfield archives. Have fun reading it, but be aware that the information may be outdated and links may be broken.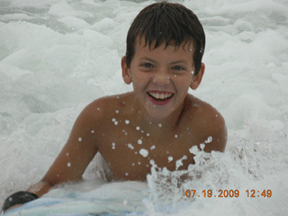 Kathy, our customer support manager shared these pictures with us the other day, and with her permission, I'm sharing them with you. These pictures are her son at the beach. Last year, he was afraid of the water. Not now! You can see his new-found exuberance as he plays in the crashing surf (click on the images to enlarge).
When Kathy was in the market for a new camera, she had a pretty good idea of what she was after. She wanted to take pictures of her children, but didn't especially want to go very far into the world of digital photography. A Nikon Coolpix point-and-shoot (purchased from Crutchfield, of course) filled the bill nicely. And on her last family vacation, she took these extraordinary pictures with it.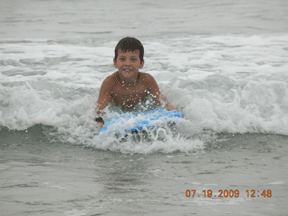 What's the secret to shooting photos like this? According to Kathy, "[the camera was] on auto the whole time. I literally pointed and shot. It was overcast most of the time, and I didn't delete any pictures. I got some great shots. These two were the best."
That's the beauty of a point-and-shoot camera. You can take lots of pictures without thinking about it. And the more you take, the more likely it is that you'll end up with that special shot, like Kathy.