Our 9 favorite iPhone and iPod touch apps
Ralph Graves is one of Crutchfield's blog editors, and part of the company's social media team. He writes about home audio/video gear, specializing in Apple-related and wireless technologies. Ralph holds a master's degree in music composition, and his works have been released on various labels. He's served as product manager for an independent classical and world music label, produced several recordings, and worked extensively in public broadcasting. Since 1984 he's hosted a weekly classical music program on WTJU, and is also active as a blogger and podcaster.
More from Ralph Graves
Heads up!
Welcome to this article from the Crutchfield archives. Have fun reading it, but be aware that the information may be outdated and links may be broken.
If you're only using your iPhone® to make calls and listen to music, you're cheating yourself. The iTunes® store has over 100,000 applications, or "apps," to transform that powerful little computer in your pocket into just about any kind of device you need — and many that you didn't realize you needed until you got them (much like the iPhone itself). And we're not just talking about games, either.
Here are nine iPhone apps we think are so incredibly useful, we wonder how we did without them.
And if you have an iPod® touch don't feel left out — you can use these apps, too. Mosrt are also compatible with the iPad®.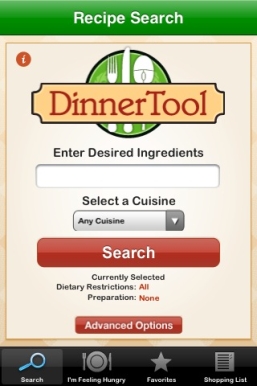 Get cooking
Seems as though no matter what you're doing around the kitchen, your iPhone or iPod touch can help. There's one app, though, that can really get you cooking.
1. DinnerTool (NBC Universal, Inc., $0.99)
We've all done it— stood in front of the fridge with a blank look wondering what in the world to have for dinner. Here comes the DinnerTool app to the rescue.
Enter a key ingredient (like chicken) then dial in a cuisine (Italian, for example). DinnerTool provides detailed recipes for several main courses, along with matching side dish and dessert suggestions.
And if you're really feeling uninspired, just give your iPhone a shake to get a random combination of ingredients and cuisine. Don't have everything? DinnerTool can generate a quick grocery list of ingredients. Check off what you already have, and dash to the store with your iPhone for the rest.
Other kitchen-related apps we liked:

2. Cook's Clock (Jean Monet, Free)
This elegantly simple app turns you iPhone into a cooking timer that's a little more sophisticated then the mechanical kind. You can set it for a specific number of hours, minutes and seconds, of course. Or you can select the cooking time for one of six common ingredients (pasta, rice, eggs, etc.) – handy if you're not handy in the kitchen.
3.Lose It! (FitNow, Inc., Free)
There's a down side to good eating – weight gain. This app helps you organize your weight loss efforts, so you can track your progress. Lose it! Lets you set goals, establish a daily calorie budget, and record your food intake and exercise regimen. You can also enter Supermarket and Restaurant foods for a more accurate calorie count when you need it.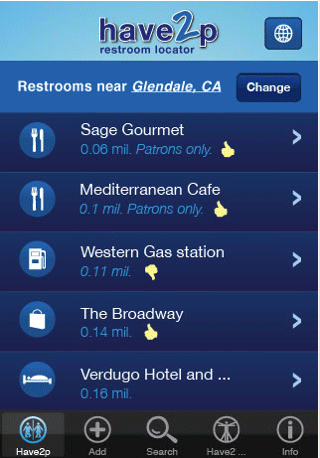 Survival in the urban wild
There are all kinds of apps that turn your iPhone or iPod touch into an invaluable reference tool while you're out and about. But for us there's one go-to app that trumps them all:
4. Have2P ( Have2p.com, Free.)
Nature calls — loudly — while you're out shopping. Quick! Where's the nearest restroom? That's what Have2P can tell you. Using your iPhone's GPS coordinates, it provides you with a list of all of the businesses in your immediate area with facilities.
But that's not all — it also tells you which ones are open to the public and which are for patrons only. And more importantly, Have2P rates them for cleanliness. The app also shows which restrooms have changing tables — in case you're not the one with the emergency.
Other travel apps we liked:
5. Free Wi-Fi Premium (YOUniversal Ideas, $0.99)
What makes iPhones and iPod touches so useful are their apps – most of which require an Internet connection to be fully functional. The Free Wi-Fi app helps you quickly local local wi-fi hotspots, so you can use your other apps. Free Wi-fi has a database with over 14,000 free wi-fi locations, and the app will tell you where they are, and provide directions on how to get there.
6.Urbanspoon (Wanderspot, Free)
You're out and about, and it's time to eat. Do you know what all your dining options are? With Urbanspoon, you do. This app uses your device's GPS to find restaurant near you. You can filter the list by neighborhood, cuisine, or price. Browse local restaurant listings, ratings and reviews, or if you're in the mood for an adventure – shake your iPhone to shake to get a random recommendation.
Virtual Toolbox
With the right apps, you can turn your iPod touch into a variety of handy tools. It can become a compass, a flashlight, even a tape measure. Your iPhone may be the only protractor you can make calls on! And here's an all-in-one app that caught our eye:
7. iHandy Carpenter (iHandySoft Inc., $1.99)
The iHandy Carpenter app actually has five different tool functions in it, turning your iPhone into a virtual Swiss Army tool kit. Need to make sure the table's flat? Use the app's surface level. Lay your iPhone on the surface, and adjust the table until the little circle moves to the crosshairs on the touchscreen. Make sure your pictures are straight with the app's bubble level. Check vertical alignment with the app's plumb bob.
You can turn the screen into a ruler to measure small things, or drag your iPhone along the edge of an object to use it like a tape measure to get the length of very big things. You can even measure the slope of a surface. And unlike the real-world versions of these tools, the app displays the resulting measurements in large, easy-to-read numbers.
Other apps we found handy:
8. Units (Shashwat Parhi, $0.99)
This simple app helps you convert just about any kind of units. How many Euros equal ten dollars? What's 72 degrees farhenheit in celcious? The Units app will tell you. Plus it can convert units of energy, time, length, weight, speed and more.
9. Flashlight O (iHandy Soft, Inc. Free)
What makes the iPhone so handy is that it eliminates the need to carry other devices. And with this app, you can add a flashlight to the list. The app turns the iPhone's camera lens into a poweful portable light. And it's multi-functional. You can make it a steady beam or a strobe, and the touchscreen can display a small compass along with the light controls — in case you're lost in the dark.