Happy Earth Day from the folks at Crutchfield!
Kristen is a former copywriter for Crutchfield. She wrote copy for both the web and catalog, covering a variety of home A/V products that included speakers, camcorders, and Blu-ray players. She also wrote a number articles and blog posts for the Crutchfield Know Zone.
More from Kristen Schaub
Heads up!
Welcome to this article from the Crutchfield archives. Have fun reading it, but be aware that the information may be outdated and links may be broken.
It's that time of year again when we all plant a tree to help our planet and make a New Years-like resolution to re-use and recycle more. Perhaps you already have a successful recycling system at your house, or maybe you'd like to start one. But did you know that recycling goes beyond your old newspapers and food packaging?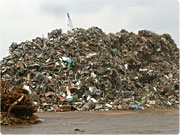 The unfortunate facts about E-waste
An estimated 50 million metric tonnes of electronic waste or "E-waste" is produced each year. E-waste is made up of everything from personal computers and televisions to disc players and cell phones. Part of the problem is that we don't buy electronics with the expectation that they'll last forever. Just think of the HD DVD player you may have bought a couple of years ago — where is it now? Technology changes very rapidly. It's always improving and usually costs less with each new model, so that it's easy to forgo your DVD player, no matter how new, for that even better Blu-ray player that came out this year.
But the bigger problem is that electronic waste already makes up about 2% to 5% of U.S. solid waste. Might not sound so bad, right? Well about 70% of the heavy metals found in landfills comes from E-waste — including mercury and cadmium, which can seep into groundwater and cause a number of environment problems and public health threats.*
If you're thinking twice about throwing your old VCR in your dumpster, then you should be. But don't worry — we can help!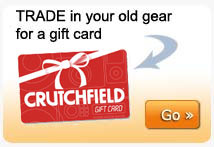 Recycling your old gear
Here at Crutchfield, we share your passion for the "new and shiny." But we also recognize the need to protect our Earth for future generations. That's why we offer a Consumer Electronics Exchange program (CExchange for short). It's really simple. You just go to our website, tell us what kind of gear you have, and we'll give you a prepaid label to ship it to us. Best of all, you get a Crutchfield gift card for the current value of your old gear, so you can replace it with something new.
Trying to get rid of something we don't take? Check out our article on recycling in the Learning Center to find out how to reuse or where to donate or recycle your old gear.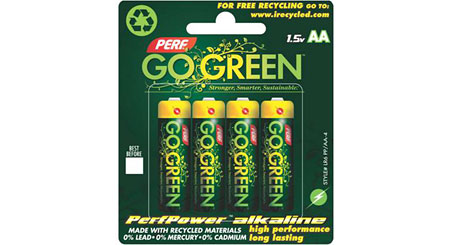 Want to go green? We can help.
We also offer a number of "green living" products to help you stick to your Earth Day goal. Like Perf® Go Green™ batteries, which feature batteries and packaging made from recycled materials and contain 0% lead, mercury, and cadmium. Perf also offers a really cool mail-in recycling service that's free.
Or how about our Monster GreenPower™ Digital PowerCenters™. These surge supressors guard against potentially damaging dips and spikes in your AC power to protect your computer and other gear. Plus, they cut power to components when you're not using them to reduce wasted energy and lower your monthly electric bill.
We also offer a pretty neat Blue Line wireless power monitor. It gives you real-time electricity consumption data, in dollars and in kilowatt hours, so you can make smart, informed decisions about energy use in your home. It's a great solution if you're looking for ways to save money on your next power bill, or reduce greenhouse gas emissions.
And don't forget to look for the ENERGY STAR logo on your gear to lower your power consumption and help save the environment. We offer a number of ENERGY STAR-certified products, including Samsung's LED TVs. They use up to 40% less power than conventional LCDs, and are built without using mercury, lead, or Volatile Organic Compounds (VOCs). Plus, those ultra-slim design don't just look good — they reduce packaging materials and transportation costs, too.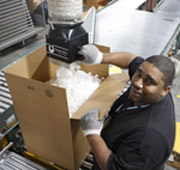 Oh and by the way...
We also try to do our part to take care of the environment. I won't go into all of our efforts, since you can read all about it here, but I will say that the coolest thing we do is use biodegradable peanuts. Instead of the old polystyrene packing peanuts that you usually get in the box to keep your gear safe, we use biodegradable starch-based peanuts that dissolve in water or in a compost pile.
In fact, when I first started working here over two years ago, I was told during a tour of our Distribution Center that the new peanuts are made using the same process as Cheetos. And I can say from first hand experience that they definitely don't taste like Cheetos — they don't really taste like anything — but you don't have to worry about your child or dog ingesting one!
*Thanks to Wikipedia and their fact-checkers for the numbers provided earlier in this blog post.