Internet Radio Station Review: Attention Span Radio
Ralph Graves is one of Crutchfield's blog editors, and part of the company's social media team. He writes about home audio/video gear, specializing in Apple-related and wireless technologies. Ralph holds a master's degree in music composition, and his works have been released on various labels. He's served as product manager for an independent classical and world music label, produced several recordings, and worked extensively in public broadcasting. Since 1984 he's hosted a weekly classical music program on WTJU, and is also active as a blogger and podcaster.
More from Ralph Graves
Heads up!
Welcome to this article from the Crutchfield archives. Have fun reading it, but be aware that the information may be outdated and links may be broken.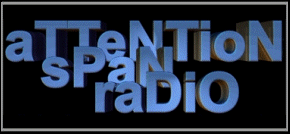 The webcast aTTeNTioN sPaN raDiO 1 (known as ASR) can be a real godsend if you're into instrumental jazz, rock, and soul — but want something more engaging than smooth jazz. And that's good. Because if you're more interested in content than sound quality, ASR's low-rez audio stream won't be too much of a drawback.
As far as programming goes, ASR is first-rate, solidly sticking to its genre-straddling niche. During a recent listening session, I heard jazz fusion bassist Bunny Brunel, crossover master Bela Fleck, the ambient techno stylings of Universal Being, as well as Stanley Clarke, String Planet, and pianist Hiromi.
The general vibe of ASR is pretty hip. While there's not a lot of screaming solos, most of the tracks have some really engaging improvisation going on that's worthy of attention. I'd characterize the station as the home for sophisticated instrumentals. And if there seems to be a predilection for bassists and Chapman Stick players, that's only natural. The station's programmed by a former professional bassist.
ASR is part of the Live365.com's group of Internet broadcasters, which means you have two ways to listen. The free version (which is the stream we checked out), uses a very low bit rate and thus has less than optimal sound quality. Plus, there are regular commercial breaks - about two 0:30 spots after every three tracks. A disruption, perhaps, but far less than what you get on most commercial stations.
The alternative option is to become a subscriber, which gives you access to ad-free audio streams with higher sound quality. And if you really dig the sounds ASR offers, it might be more of an investment than an expense.
Bottom line: Modern jazz that engages your ear.
How To Listen:
Accessible through most wireless music players
Website: www.attentionspanradio.net There's an online player on the homepage.
iTunes: In the iTunes Radio menu, the station's listed in the Jazz streams folder as aTTeNTioN sPaN raDiO 1
Live365.com: http://www.live365.com/stations/bamman