Transforming a Basement into a Home Theater
Steve Kindig has been an electronics enthusiast for over 30 years. He has written extensively about home and car A/V gear for Crutchfield since 1985. Steve is also a volunteer DJ at community radio station WTJU, where he is a regular host of the American folk show "Atlantic Weekly," as well as the world music program "Radio Tropicale."
More from Steve Kindig
Heads up!
Welcome to this article from the Crutchfield archives. Have fun reading it, but be aware that the information may be outdated and links may be broken.
Part 1: Getting Started
When I moved into my new house — well, new to me anyway — I knew that one of the first major changes I wanted to make was creating a room for great home theater and music listening. None of the rooms on the main floor were quite right — the living room was too open to provide the kind of focused sound that I prefer, and the spare bedroom was too cramped for sharing movies and music with friends. Luckily, the house also has a big unfinished basement. The first time I walked through, I began hatching a plan for my own personal movie palace — minus the velvet drapes and sticky floors.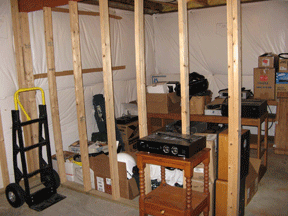 It's hard to picture it now, but this space is where my home theater room will be.
Of course, the first step is to clear out all the clutter.
I'll be talking about my thought processes and priorities for the room, and including plenty of details on the various construction stages, gear selection, and the final result. This room is part of a complete basement remodel, so I should tell you right off the bat that I didn't do the work myself. Heck, I can barely drive a nail straight! But if you're thinking about creating a theater room, or just like reading about this stuff, I hope you come away with one or two useful ideas. And you might also learn from my mistakes.
Why a basement room?
Basements have a lot of natural advantages for theater rooms. The floor is usually concrete, which doesn't transmit vibrations as much as a wooden floor. (Some people feel that those floor-vibrations add a "live" feel to music, but I prefer concrete floors.) Foundation walls are usually cinder block or poured concrete, which keeps late-night sounds from escaping your room and assaulting your neighbors. And basements often have few or no windows, which is great for "light control" — it's easy to darken the room for that theater-like movie experience.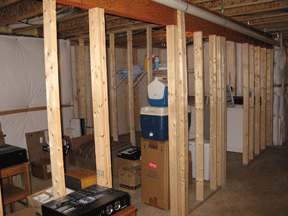 When I moved in, a couple rooms already had basic framing, but I didn't want
a wall at the support beam, so that framing was torn out and the wall was pushed out
several feet to the right of the beam.
Working around an immovable object
As I sketched some possible layouts, the main obstacle I kept bumping up against was two massive support beams running lengthwise through the basement space, dividing it into thirds. Normally, I'd have built one wall incorporating the beam, but if I did that I'd end up with a room width of under ten feet, and I was afraid that would prevent me from having BIG enveloping sound and room for friends to enjoy it. So I decided to push a wall out beyond one of the beams. The downside: I was stuck with a ginormous beam hanging down into the room, which would definitely limit the size of a projection screen on the front wall. The upside: I gained several feet of extra width, so my audience wouldn't be required to crush together in one big armchair to watch a movie.