Transforming a Basement into a Home Theater, Pt. 2
Steve Kindig has been an electronics enthusiast for over 30 years. He has written extensively about home and car A/V gear for Crutchfield since 1985. Steve is also a volunteer DJ at community radio station WTJU, where he is a regular host of the American folk show "Atlantic Weekly," as well as the world music program "Radio Tropicale."
More from Steve Kindig
Heads up!
Welcome to this article from the Crutchfield archives. Have fun reading it, but be aware that the information may be outdated and links may be broken.
When I moved into my new house, I wanted to create a room for great home theater and music listening. In part one of this series, I outlined my general plan to create such a space in my basement. Now it's time to put the plan into action.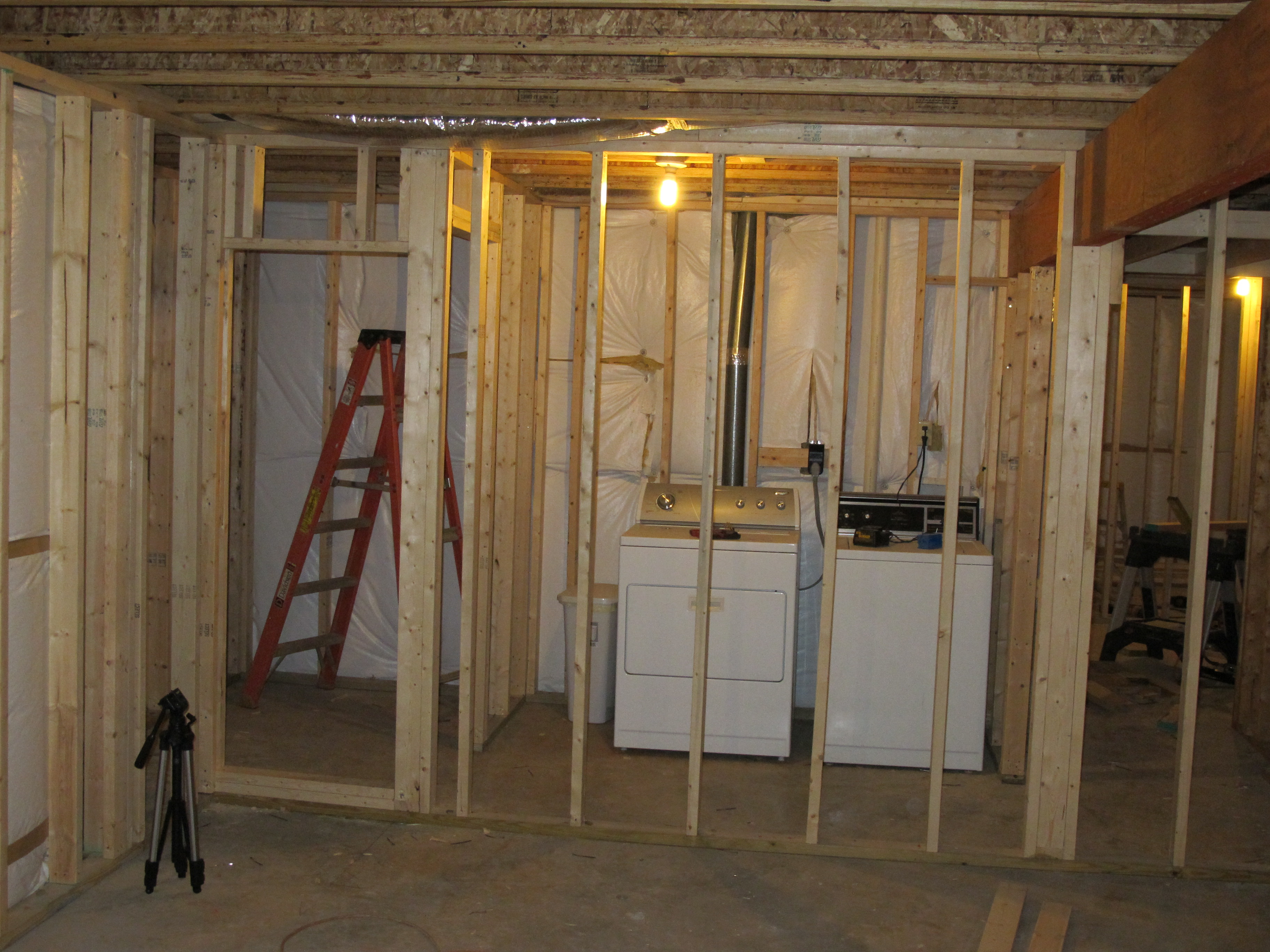 The area behind the front wall of the theater room
is shared by a laundry room and the equipment closet.
The equipment closet: A changing room for A/V gear
One of my main goals for this theater/listening room was making sure that I'd be able to easily access and swap out equipment without cluttering the room with components. Part of my job here at Crutchfield involves occasionally trying out gear at home (I know, tough gig, right?). I started thinking about an in-wall cabinet, and then I realized that what I really needed was an equipment closet.
Fortunately, I had a decent-sized space to work with. Originally, the entire area behind the front wall of the theater room was taken up by a laundry room. The space was much bigger than it needed to be to house a washer and dryer, so I sliced off a 4-ft. by 6-ft. chunk to use as the equipment closet (pictured, left — click on image to enlarge). A door between the laundry room and equipment closet gives me easy access to the back panels of my equipment, as well as to the various cabling running from my components to the projector, surround speakers, etc. (Pictured at left you can see the downsized laundry room and the future equipment closet to the right, where the stepladder is).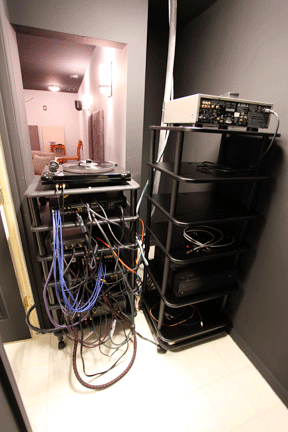 The equipment closet gives me plenty of room
to access components and cables.
The equipment racks: Free-standing vs. built-in
I've seen lots of photos of home theater setups featuring an equipment closet where the gear is housed on built-in shelves. That probably would have been a cleaner-looking approach, but I thought it might compromise the system's sound quality slightly. See, I'm kind of obsessed about reducing or eliminating vibrations wherever possible. Built-in shelves would structurally be part of the room and more likely to pick up vibrations. Instead, I decided to place my components on two racks that would rest on the concrete floor in the closet. I'd be able to get to the front panels of the gear through the opening between the theater room and the closet (pictured at right).
One minor drawback to my arrangement is that the front-panel displays are located on the front wall, to the left of the projection screen, which could be a visual distraction. I can dim or darken the displays — so far it hasn't really been an issue.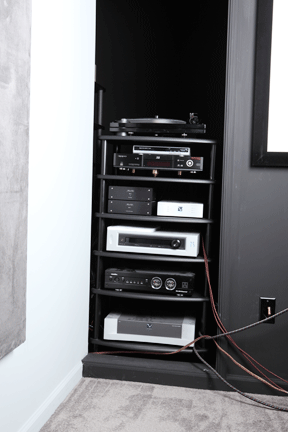 Here's what the equipment rack currently
looks like from the theater room.
Some cables still need to be
rerouted out of sight.
Keeping components from losing their cool
So, the equipment closet idea seemed to be an ideal solution, right? Actually, here's where I almost made a serious goof. Loading a closet-sized space with hot-running electronics is just about guaranteed to send the room temperature soaring. And that's not healthy for the performance or lifespan of audio/video gear. Fortunately, I had mentioned my project to Crutchfield A/V Designer Norm Hawes. Actually, I about talked his ear off! (The room design issues I was wrestling with are the bread and butter of our A/V Design Group — these guys field questions like this all day long.) When I described the closet idea, Norm immediately recommended running a supply duct to the closet for heating and air conditioning, Luckily, there was still time to get the HVAC guys to make it happen. Whew!
Next: Soundproofing — keeping the sound in the room