Searching for a new Blu-ray player
Kristen is a former copywriter for Crutchfield. She wrote copy for both the web and catalog, covering a variety of home A/V products that included speakers, camcorders, and Blu-ray players. She also wrote a number articles and blog posts for the Crutchfield Know Zone.
More from Kristen Schaub
Heads up!
Welcome to this article from the Crutchfield archives. Have fun reading it, but be aware that the information may be outdated and links may be broken.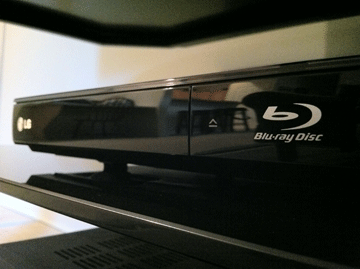 A couple of weeks ago my husband and I decided to sell our PS3. It was a difficult decision, but we had a really good reason for it: neither one of us played games on it anymore. We've both been pretty busy, and just haven't seen any appealing titles recently for the PS3. About the only time we've turned it on over the past several months was to watch the occasional Blu-ray disc, and it just seemed like a waste not to use the PS3 to its fullest potential. So, we decided to trade in our PS3 and get a simple Blu-ray player. (Click on images to enlarge)
Finding the right Blu-ray player
For us, the decision was a mix of performance and value. We wanted a player that would give us good image quality, but not one that had more features than we really needed. For instance, we love Netflix Instant Streaming. However, we're getting an Apple TV almost entirely for its video streaming capability, and knew we wouldn't need to worry about having this feature on our Blu-ray player, too. We'll also be able to stream our entire photo, video, and music libraries from our Macs to our home theater system with the Apple TV. So DLNA-streaming wasn't an issue either.
What the decision came down to, then, was pure Blu-ray playback. Crutchfield sells a number of capable Blu-ray players in the $100-$200 range. Anything above that and we'd be getting into the players with built-in wireless streaming, which we already decided we didn't need, and 3D-capability, which we knew we didn't want. And if we went even further, we'd be getting into the more "serious" Blu-ray players that, over $350, were just a bit beyond our budget.
With our pool narrowed down to our $100-$200 mark, we looked at the different brands and aesthetics. Yes, we wanted a Blu-ray player that looks good, too. And it just so happened that we found a player that got a pretty nice CNET review for what we needed, and fit our home theater's aesthetics: the LG BD550 Blu-ray player.
Why it works for us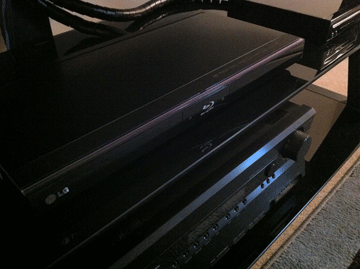 I really like this player for a number of reasons. It has a slim, sleek body with an all-black front plate that blends in with out entertainment stand and the other components on our rack. In terms of image quality, I have no complaints. The picture is gorgeous with our HDMI connection, as expected, and the disc load-time is pretty fast. The BD550 also gives us the option of having a wired Ethernet connection, which is great for occasional software updates.
We've been using the Netflix streaming feature on the player for the time being until we get our Apple TV. And while I'm more excited about the Apple TV's Netflix interface, the LG BD550's interface is easy to navigate and use. My one problem with it (and this is minor) is that I needed to go into the settings and choose 1080p for my TV's resolution. This setting wasn't automatically chosen for me, and I wouldn't have known to have done this unless I'd read the full CNET review (or the manual).
Future options
We were also seriously considering the Denon DBP-2010CL. Since the only thing we need our player to do is play Blu-ray movies, the Denon was a natural alternative. Plus, it's a pretty solid piece with an Anchor Bay video scaler and some other cool technologies. I'm sure it produces a gorgeous picture. If we ever upgrade in the near future, I'm sure it'll be our next choice. But for now, I couldn't be more satisfied with the performance of our LG BD550 Blu-ray player for the value.