Three Internet music services worth checking out
Tara W. has worked for Crutchfield since 2004. She writes about whole-house music and video gear, and works on Crutchfield's video team.
More from Tara W.
Heads up!
Welcome to this article from the Crutchfield archives. Have fun reading it, but be aware that the information may be outdated and links may be broken.
In addition to storing tunes on my computer, I also use my computer to play music from Internet services. There are quite a few out there, but what they all have in common is the ability to get you quickly (and inexpensively) into new music that you've never heard before. Below, I'll talk about three of the most popular services currently available.

1. Pandora
This one is my personal favorite and very popular with my co-workers, too. It's a free service with ads or you can pay for an ad-less version. How it works: You choose a song, artist, or album, and Pandora creates an Internet radio station of music with similar qualities. As new songs play, you can "thumbs up" if you like the music, or "thumbs down" if you don't like music and want to move to a different song. As you continue to like and dislike music, Pandora refines the station to your specific musical tastes.





2. Rhapsody
Rhapsody works differently than Pandora, but it's another great way to find new music. For a monthly fee, you can listen to any of Rhapsody's vast collection of over 10 million songs. And they're all available as higher sound-quality files than what's offered on the free version. It's a wonderful way to listen to tons of new music without purchasing individual albums. You can even get a Rhapsody app on an iPhone® or iPod touch®. The big difference with Rhapsody is that you can actually download the tracks you want to your computer, MP3 player, or iPhone. So you don't even have to go to Rhapsody to enjoy Rhapsody songs. And you're allowed unlimited downloads (but you'll want to keep your subscription current or all those songs will be disabled).


3. last.fm
This service also creates radio stations based on your choice of artist or genre. Once you sign up, last.fm tracks your listening history and then makes recommendations for new music and concerts you might enjoy. Similar to Pandora, you can choose to "love" or "ban" a track when it's playing to show your preference for other songs like it. What makes last.fm different is that it has a stronger social media component. When you play a song, last.fm not only adds it to your personal listening history, but it can tell your friends (registered with last.fm) what you're playing as well. There's also a last.fm community site where you can communicate with other music lovers. A cool tidbit: When you're listening to a particular song, last.fm shows information about the band and similar artists.
Around the town
Pandora, Rhapsody, and last.fm are great on your home computer, but they're also available on some cell phones. If you have an iPhone®, AndroidTM, or BlackBerry®, you'll find music service apps for listening on the go. Some car stereos will even let you tap into the music services on your phone so you can listen as you drive.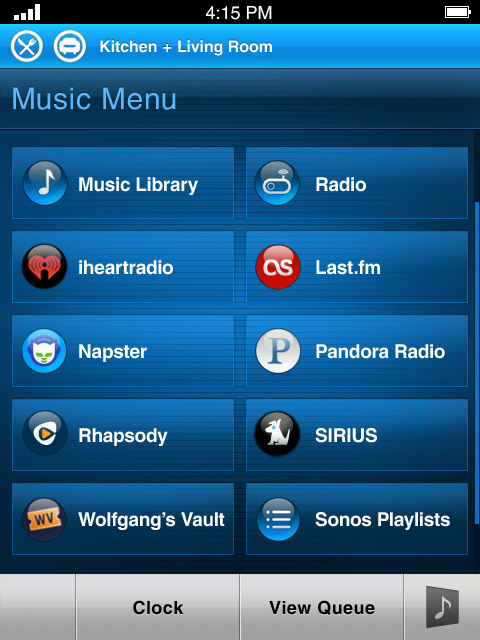 Around your home
If you want to play newfound music throughout your home, some wireless music players will let you pump tunes to any room and control playback from any room with a remote control. Sonos multi-room music systems are a prime example — their players communicate wirelessly and play music from your computer as well as the services mentioned above.
Whether you're listening through computer speakers or headphones, make sure you get the most from your digital music. My other posts on Getting better sound from your computer and Two ways to amp up headphone listening have some great suggestions to get you started.