Fun, interactive speaker setup guide from Dolby
Kristen is a former copywriter for Crutchfield. She wrote copy for both the web and catalog, covering a variety of home A/V products that included speakers, camcorders, and Blu-ray players. She also wrote a number articles and blog posts for the Crutchfield Know Zone.
More from Kristen Schaub
Heads up!
Welcome to this article from the Crutchfield archives. Have fun reading it, but be aware that the information may be outdated and links may be broken.

Get a sweet new home theater speaker system this Christmas? Wondering how to set it up? Then check out this interactive setup guide from Dolby. It lets you specify your speaker configuration (2.1-, 5.1-, or 7.1-channels) and select your viewing distance from your TV to give you recommendations for where and at what angles to place your speakers. Most of the information probably won't be new for any seasoned home theater veterans, but it's a fun visual tool to help the new initiates.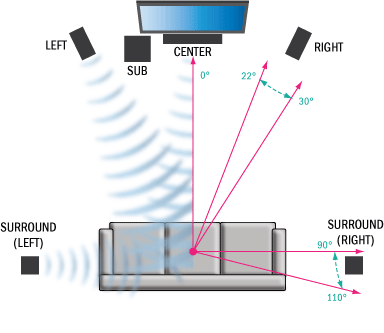 You can also check out our video on speaker placement or our full-length article for more help from Crutchfield. And don't forget we have a wealth of information in our learning center on surround systems.
Happy listening!
*Thanks to Steve Guttenberg's Audiophiliac blog post for the link.