HD channels with full surround sound on a budget -- Joe discovers QAM
Buck Pomerantz was born and raised in Philadelphia. His parents bought their first television set when he was born. He figured out how to run it by the time he was two. Besides athletics, his formative interests included electronics, amateur radio, music, and stage crew work. He got his BA in writing from Brown University. Then he joined a rock 'n roll band as their soundman and moved to Charlottesville, Virginia. After that venture failed, he spent time in Boston, New Orleans, and Berkeley. He worked in a music store in Austin manufacturing, installing, repairing, and operating sound systems for recording studios, clubs, and bands. He moved back to Charlottesville, ran a little recording studio and finally joined Crutchfield as a copywriter. He has 2 grown children and 3 grandchildren, but after a good nap he can still rock out.
More from Buck Pomerantz
Heads up!
Welcome to this article from the Crutchfield archives. Have fun reading it, but be aware that the information may be outdated and links may be broken.
"I want it to sound like I'm at the game"
I have a friend who's a regular Joe. He and I both work part-time for a sports television production company. We know what it looks and sounds like being on the sidelines of a football or basketball game. Joe had a nice 40" television in his man cave, but when his 1980s boom box died, he was ready for new things. "I want full surround sound. I want to sit in front of my television and I want it to sound like I'm at the game."
I showed him a Crutchfield catalog and pointed to a page showing a home theater system. He stared at it briefly, then shook his head. He had no basis to understand what he was looking at: a stack of black boxes, some on stands. "I want to be able to play my music loud. I want two big speakers and full surround sound."

The set up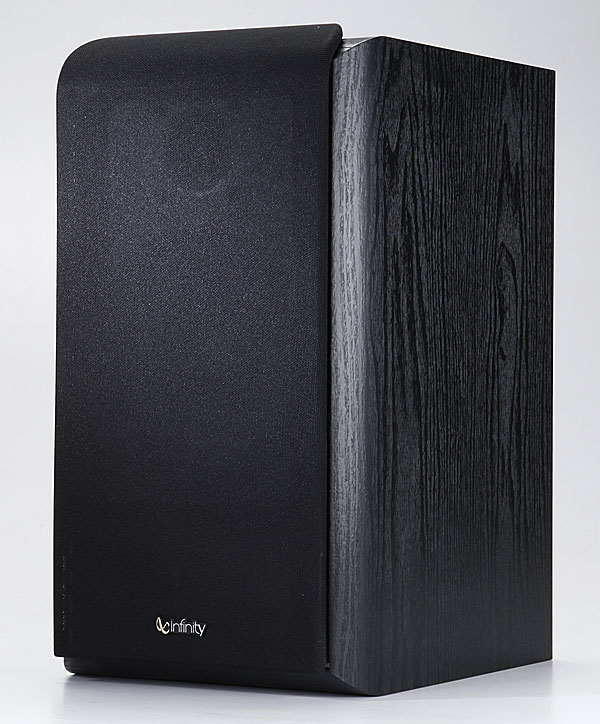 We were getting somewhere. I hooked him up with a Crutchfield Advisor and pretty soon he had his system: Infinity Primus P362 floor-standing speakers for the fronts (shown at left), P162 bookshelf speakers (at right) for the rears, a PC250 for the center channel, and an Infinity PS28 powered subwoofer for the bass. His receiver is a Yamaha RX-V765. And he got a Sony Blu-ray player, even though he still isn't sure what Blu-ray means. He wanted a CD player and a DVD player, but his Advisor explained that a Blu-ray player plays them both.
I helped hook everything up. We connected the Blu-ray player to the receiver via an HDMI cable. And another HDMI cable brought the signal to his television (a Samsung HDTV). As one last thought, I had them include an optical digital cable to feed audio from the TV to the receiver, in case he wanted to listen to broadcast sound through his stereo.
At first, he was set aback by the HDMI system assuming control. For instance, he doesn't like the fact that his TV comes on whenever he wants to play a CD.
He put on a Rolling Stones album. It sounded good. "Is this true surround sound?" No, I answered. "Why not? Aren't the rear and center channels working?" Everything was working fine — the listening space was filled with sound coming from all directions.
I tried to explain that when the original source material is only 2-channel sound, the Yamaha receiver duplicates those two channels in the rear speakers and manufactures a center channel signal. That's not really true surround sound where the rears provide ambiance and the center channel is dedicated to dialog. He didn't understand any of that, but he did like what he was hearing, so it was okay.
Free High Definition TV
Joe and I have another thing in common: we're cheap when it comes to cable service. He's got extended basic cable — just a cable from the wall into the TV, no digital box — which ordinarily gets him about 65 channels, 12 of which he actually watches. Our cable company says it doesn't broadcast anything in HD anyway. That is, not without its set top digital box, for an extra monthly fee, plus an each-time HD on-demand extra charge. So Joe's beautiful 40" HDTV shouldn't normally get any High Definition shows.
But we found that there are some other channels that are in HD tucked in between some of the cable company's advertised channels. These are called "clear QAM" channels, and you find them by re-initializing the channel set-up of your television's digital tuner, looking for all the digital channels. (Sorry, you won't be able to get to them if you're using a cable box.) This took a long time because there were a lot of them. And most of these channels weren't HD. But once we zeroed in on the ones that were — well, that's where we watch our sports now, in glorious High Definition.
HD picture — HD sound
The crystal-clear picture of an HD program is breath-taking. Especially for live sports. But what about the sound?
I checked with someone who should know, Crutchfield A/V writer Dave B. He told me, "Well, I don't know for sure, but I would assume that if the television indicates it's getting an HD signal, then it's getting the full-blown 5.1 audio signal too. And that would be available by way of the optical digital output from the TV to his receiver." Bingo!
Joe never considered turning his TV's sound down and listening to the audio through his stereo system. So the next time I went over there to watch a game, I set that up for him. I turned the volume of his television down, and selected TV on his stereo's remote. And voilá, there it was: true surround sound. Even Joe noticed it right away. "Now that's what I'm talking about," he said. We were watching an HD picture and listening to 5.1 surround sound.
The announcers only talked out the center channel. The front and rear speakers played ambient, live stadium crowd noises. The subwoofer roared to life when special visual effects were introduced. When the pep band played, it blared out from just the front right channel.
"Hey! What's the audio guy doing?" he asked. Two minutes into the first game and he was already an expert on what he was hearing.
Joe might not know about home theater equipment, but he could hear the audio tricks that were being played on us. We both are familiar with, and have set up, "nat sound" mics — microphones set up around a stadium or arena to capture the "natural sound." We also know that an audio engineer in the production truck rides the volumes of all the mics to correspond to the action of the game and avoid profanity and other unwanted sounds.
And that's what we were hearing: the same sound as the audio guy in the production truck. It was very cool. We could hear not only all the grunts, whacks, and squeaks from the field, but also a carefully contrived ambient soundstage that duplicated the feeling of being on the sidelines of the game.
Joe had achieved his goal: true surround sound. "It's like being at the game," he said.