The Grundig GS350DL radio - tuning in the world
The Crutchfield writing team is a group of full-time, in-house copywriters who share a passion for consumer electronics. In addition to creating the articles and videos you find in the Research area of the Crutchfield website, these hard-working and talented people write the informational copy for the products on our website and in the Crutchfield catalog. Our writers constantly research the latest products, technologies, and industry trends, so that we can bring you the most helpful information possible.
More from Crutchfield Writing Team
Heads up!
Welcome to this article from the Crutchfield archives. Have fun reading it, but be aware that the information may be outdated and links may be broken.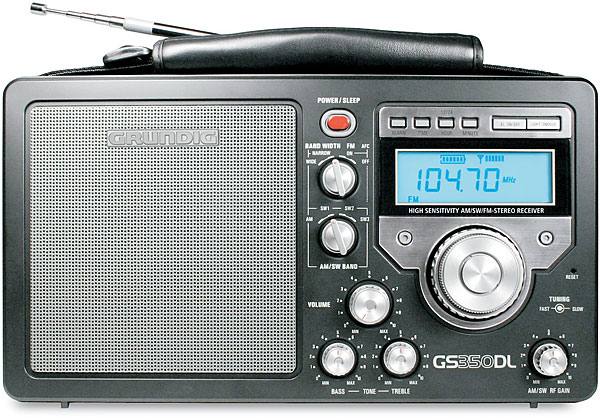 I was able to try the Grundig GS350DL portable AM/FM/shortwave radio for a couple of days and was pleasantly surprised by what I found. Both AM and FM performance were good, but since shortwave was the radio's largest function, and I've got a longtime fascination with shortwave and Amateur Radio, I really focused on that. This puppy did much better than I originally expected.
The radio picked up broadcasts quite well off its extendable antenna and the sound quality was really nice -- not tinny as I had halfway expected. I was able to pick up shortwave transmissions from pretty much anywhere around the world. I received really strong signals from the BBC, Radio Moscow, several Spanish language stations (naturally) as well as French stations, several from Asia, Germany, VOA (Voice of America) and the Middle East.
The radio had an input for a long wire antenna. A long wire antenna is just a section of non-insulated stranded copper wire about 50 feet or more. I'm sure that if I had attached one I could have possibly tripled the number of receivable stations. Overall I was very impressed with this unit.
On the down side, while the receiver covered almost all shortwave radio bands, it didn't pull in all Amateur Radio bands. And the GS350DL wasn't designed for SSB (Single Side Band) transmissions. Even though it did pick up some Amateur Radio frequencies, they were all SSB, so the signals were garbled. For that reason, the GS350DL might not be the best selection for any Amateur Radio operators looking for a portable with both shortwave and amateur radio coverage.
Bottom line, though, this radio is a really great value for folks interested in shortwave overall -- great sound quality, good sensitivity with its built-in antenna and an input for an external antenna. Highly recommended.