Image-stabilized lenses stop the shake
I've been a camera nut all my life, so it makes sense I'd end up being a video producer. Of course, it has been a roundabout journey for me, as I started at Crutchfield in 2007 writing about car audio gear. Over the years I've learned about all the electronic items we sell, and it is my job to make sure we are making videos that you will find useful, whether you're shopping for something specific or trying to install some new gear yourself. My job is a lot of fun because I get to play around with all the cool stuff you see on our website while I'm making videos about it. Getting hands-on with the gear helps me see what I should show you about a product, though the flip side is my personal wish list is a mile long...
More from Zak Billmeier
Heads up!
Welcome to this article from the Crutchfield archives. Have fun reading it, but be aware that the information may be outdated and links may be broken.
I shot a wedding recently with my Canon 40D and the Canon 28-135mm f/3.5-5.6 IS lens. I was hoping to be able to use the zoom lens rather than my faster prime lens (meaning a fixed focal length with a wider max aperture) for versatility's sake, but I was worried because it's a pretty slow (smaller max aperture, so less light gets to the sensor) for indoor work.
But while it is slow indoors, the 28-135mm zoom has an ace up its sleeve — image stabilization. The concept is hardly new, and this particular lens is one of the oldest in Canon's IS line, but it's the first time I've used image stabilization extensively. Let's just say I was "cautiously optimistic" how it would perform. Seemed almost too good to be true.
The very first thing I did when I got to the wedding site was go straight into the sanctuary for some test shots. Luckily for me, I was able to shoot at 1/30 to 1/80 second at ISO 800 — plenty fast enough for the image stabilizer, and at ISO 800 the 40D shows very little noise. Normally, shutter speeds as slow as 1/30 second are tough when you're shooting handheld; I have a very steady hand, but I only get well-focused shots about 50% of the time at 1/30 second. I was excited because I would now be able to shoot the ceremony, without a flash, using my zoom lens.
Now, one thing to remember here is that even though the image stabilization does its job and lets you get crisp shots at slow shutter speeds, it doesn't freeze time. The lens is still — but the world is still moving. It was something I kept in my mind as I snapped away. And later, I noticed I got some lucky "motion blur" shots of bodies moving around, thanks to the slow shutter speeds I was able to use. And the critical shots all came out the way I wanted.
Here's an example of what image stabilization can do for you — this is a shot that would require a tripod with a non-image-stabilized lens due to the slow shutter speed. With the stabilizer engaged, however, I was able to hold just still enough at 1/6 of a second.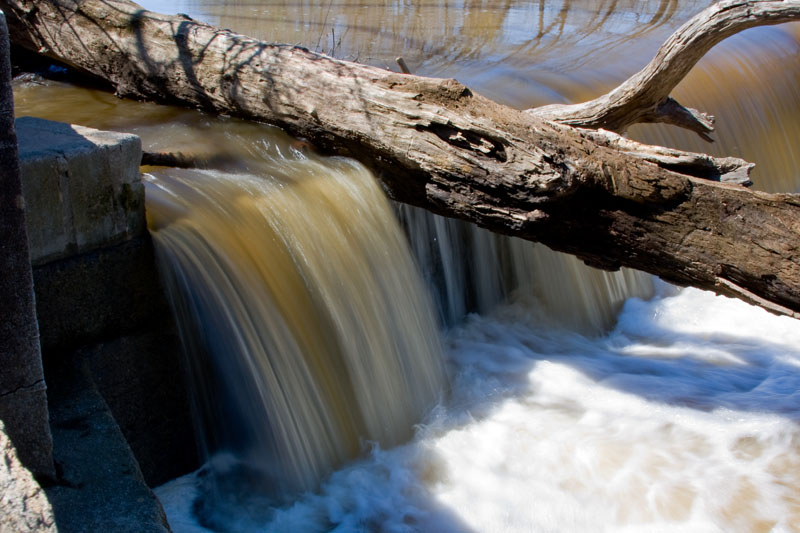 Normally you'd need a tripod to take a "silky water" shot like this — but I was able to hold the camera still enough to hand-hold this shot at a slow 1/6 of a second, thanks to the image stabilizer on my lens.