Moving music with the Logitech Squeezebox Duet
Chris Egner is a former writer for Crutchfield. She concentrated on point-and-shoot cameras and speakers while she worked here.
More from Chris Egner
Heads up!
Welcome to this article from the Crutchfield archives. Have fun reading it, but be aware that the information may be outdated and links may be broken.
I just flashed back to my first record player. It played 45s, and when it skipped, I put a penny on the arm. Remember doing that? A handle on the side let me carry it around the house to play songs for my brothers — moving music the old-fashioned way.
These days, I have a lot of MP3 songs stored on my computer. The Internet also holds a wealth of music for me to tap into, from radio stations across the country to online music libraries that will learn my preferences and feed me songs I'm sure to love.
The only problem is bridging the gap between my PC (where the music's stored) to the stereo system in my living room (where I want to listen). For most of us, PC speakers aren't so great. For me, they're just plain broken.
If you're in a similar boat, problem solved. The Logitech® Squeezebox Duet is a nifty little receiver/controller combo. It makes a Wi-Fi® connection with your PC and sends music from there to whatever sound system you like. You hook the receiver to your speakers of choice, download Logitech's free software, and soon your network (and library full of songs) pops right up on the controller's LCD screen.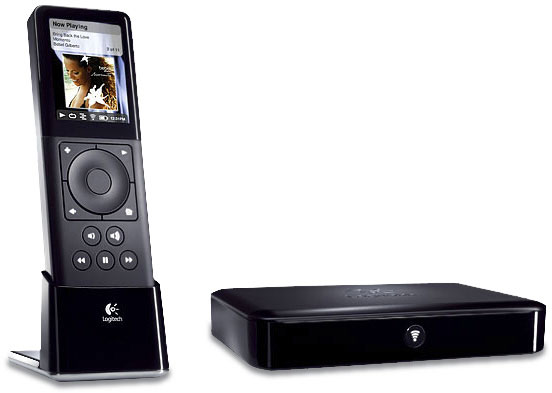 We tested the Duet here at work — twice, actually. The first time I wrote a review of it (you can see my full review here). Both times, the Duet was simple to set up, and it didn't take long — twenty minutes, tops. But naturally, when you're anxious to play with a new electronic gadget, twenty minutes of setup time can seem like two hours. And there were a few times the Duet made us wait a bit, such as when it searched for our network or when it added firmware updates.
The controller had a familiar scroll wheel and intuitive buttons. Basically, we just moved through the menus the way we do with our MP3 players. It was a breeze to choose tunes, and we easily flipped back and forth between Internet radio and our stored songs. We could designate songs or stations as "favorites." And album art automatically appeared on the LCD screen, along with background info on the music.
If you're like me, and you don't have your '70s portable record player anymore, the Squeezebox Duet is a pretty cool solution. It was impressive to watch this small, versatile system effortlessly move music from my PC to wherever I wanted it to be.