THIEL's SCS4 bookshelf speakers can really sing
Dave Bar worked for Crutchfield from 1981 until his retirement in 2016. After a 23-year stint in the sales department, he joined the home A/V writing staff. Dave's expertise and good humor will be sorely missed.
More from Dave Bar
Heads up!
Welcome to this article from the Crutchfield archives. Have fun reading it, but be aware that the information may be outdated and links may be broken.
I was over at Steve's place the other day and sweet smokin' sassafras, his system was sounding better than ever! As you may or may not know, Steve is Crutchfield's long-time TV guru/writer. More importantly, he's also an audiophile and a music lover (as you can probably tell from Steve's review of the THIEL CS3.7 loudspeakers).
I can't tell you how many folks have had their first introduction to high-res audio during one of many late-night listening sessions in Steve's man cave, but I always get a kick out of watching that little grin appear as they discover never-before-heard details on recordings they've probably listened to a hundred times.
Those details really breathe life and atmosphere into music, like the tinkle of highball glasses at the bar behind the stage, the squeak of the chair as the guitarist leans in to sing the next verse, or the sound of a toe tapping time on the microphone stand. All these things bring a sense of immediacy, realism and excitement to music listening, and yet are sadly missed by so many systems.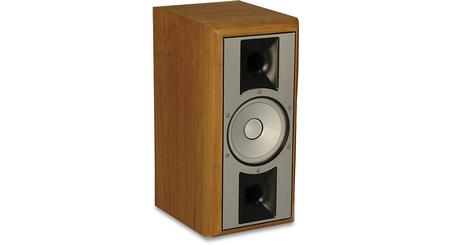 Well, it was my turn to smile because Steve is presently auditioning a pair of THIEL SCS4 loudspeakers – the latest entry-level bookshelf models from this world-renowned, high-performance speaker company.
I recently heard the SCS4s along with THIEL's SS1 powered SmartSub and PX05 passive subwoofer crossover in our audio-challenged, three-car install bay turned demo cavern here at Crutchfield headquarters. And even under these less-than-ideal listening conditions I was greatly impressed with the sound, but not totally blown away.
Now I like to think I have a pretty good ear, but boy did I ever totally underestimate these little powerhouses. Set up in Steve's smaller (and more appropriately sized) 14' x 24' x 8' listening room and connected to his sweet-sounding Denon/PS Audio/Panamax/Audioquest music rig, the SC4's really came alive.
After listening to only one music track, it was clear that the THIELs were out-performing Steve's much-beloved Audio Concepts Sapphire III speakers in a number of areas. Further listening revealed levels of detail that had us both agreeing that this was the best presentation of many old familiar tunes we had ever heard on his system. No small thing given the quality of the Sapphires. It's pretty obvious that Jim Thiel lavished a great deal of attention on the voicing of the SCS4s.
I found my foot tapping along in time with the music as tune after tune unspooled from Steve's system, revealing new levels of detail on every cut. Good recordings sounded even better, not so good ones showed their flaws. But the sound never became bright or harsh (something you sometimes expect with certain digital source material and solid-state electronics). The SCS4s also delivered a big soundstage with lots of depth — always stepping neatly out of the way to allow the performance to shine through while adding virtually no sound of their own.
A few small tweaks with placement and toe-in showed me that Steve had correctly nailed the THIEL's location in the room right on the head. It also impressed me how balanced and coherent sounding they remained in spite of changes in placement. It almost seemed that you couldn't position them incorrectly. Could this perhaps be a fortunate result of their somewhat unusual coaxial design? I could see this being a big plus if you decide to use these babies in a multichannel home theater setup where placement options are limited.
Based on my two relatively short sessions with the THIELs, I can't help but think they're destined to become true high-performance classics. Of course basing opinions on first impressions can sometimes be tricky. Experienced audio geeks know that only time will tell if a component will ultimately live up to that first impression. Steve's had a chance to live with them for a while, though, so I'm looking forward to his more extensive review of the THIEL SCS4s, and see if he's as impressed with them as I was.