Four things we like about the new Sonos Multi-Room Systems
Tara W. has worked for Crutchfield since 2004. She writes about whole-house music and video gear, and works on Crutchfield's video team.
More from Tara W.
Heads up!
Welcome to this article from the Crutchfield archives. Have fun reading it, but be aware that the information may be outdated and links may be broken.
Big news for fans of the Sonos® Multi-Room Music Systems — the new lineup of products makes a good thing even better. While we're happy to see how the products have been improved, we're thrilled Sonos kept the things that, in our opinion, made the system great in the first place.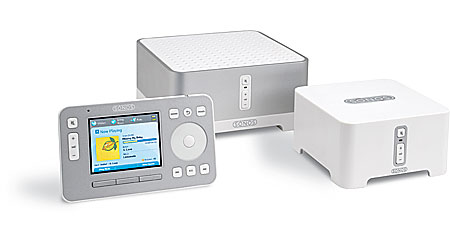 The improvements we're glad to see:
1. An expanded wireless network. The new ZonePlayers operate with a larger wireless network — in some cases it can provide almost double the coverage area. With these improved ZonePlayers, it's easier to extend your system from one end of your house to the other.
2. A smaller and more powerful ZonePlayer. The new ZonePlayer 120's footprint is roughly 43% smaller than the ZonePlayer 100, so it's easier to slip onto a bookshelf or store on a desk. And while Sonos slimmed down the size of the player, they increasing the power it delivers to your speakers. This player's built-in amp pumps out 55 watts per channel.
The features we're glad they kept:
1. The same great Sonos Controller. This wireless remote is one of the easiest in the industry to use. It has a big, clear LCD screen and a simple scrollwheel for selecting tunes, creating playlists, and adjusting playback to different rooms.
2. Internet radio and subscription digital music services. In addition to playing your PC's music anywhere in your house, you can access Internet radio stations and subscription services, like Rhapsody®, Napster®, SIRIUS satellite radio, and Pandora®, so you'll always have a supply of fresh music to listen to.