Bose Acoustimass 16: a sweet setup
Chris Egner is a former writer for Crutchfield. She concentrated on point-and-shoot cameras and speakers while she worked here.
More from Chris Egner
Heads up!
Welcome to this article from the Crutchfield archives. Have fun reading it, but be aware that the information may be outdated and links may be broken.
I love trying out the gear we carry here at Crutchfield. What a perk to get to take home a top-notch speaker system and set it up alongside my beat-up couch and the hand-me-down end tables I've had since college.
I grew up with four brothers, and I have a chivalrous husband, so it had been quite some time since I'd had my hands on speaker wire. I decided to put the Bose® Acoustimass® 16 home theater system to the test. Would it really be as easy to set up as they say?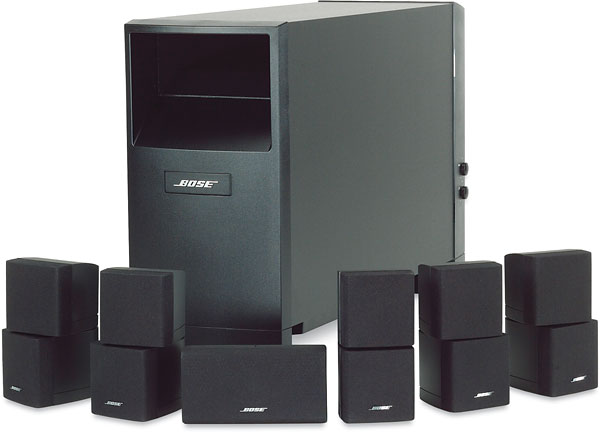 I lugged the huge box home, and opened it up to find a colorful step-by-step picture guide right on top - very nice. Here's how the next hour unfolded:
5:45 Started unwrapping speakers, cables, and the Acoustimass bass module.

5:52 Changed into shorts (it's still pretty hot here in Virginia).

5:56 Finished fishing everything out of the box.

6:00 Plugged in the bass module.

6:13 Placed and hooked up the front left, right, and center speakers to the bass module. (This was no problem - everything's color-coded and clearly labeled).

6:20 Broke a nail, cursed, gave myself a "time out."

6:25 Moved some furniture.

6:27 Placed and connected the rear left, right, and center channel speakers.

6:40 Connected the bass module to my receiver.

6:42 Collapsed on the floor and listened to some tunes.
Now, we don't have a home theater receiver. If we did, I would've plugged the Acoustimass 16's surround sound speakers into the appropriate places on such a receiver, and all six channels would've handled their individual audio realms (that is, I might hear different sounds out of different speakers at different times). But I have an old Onkyo stereo receiver, so I just faked it and connected the front and rear right and left speakers into what I had - the A and B speaker inputs.
Then I sat in the middle of the room and listened to a song. It reminded me of a time I sat in the center of my daughter's harp ensemble, with six or so harps in a circle around me. The sound of that music washing over me from all directions was incredible. I could only imagine the impact this system, along with the right receiver (and a gorgeous HDTV), would have on our movie nights.
But mostly, I was pleased to have proven the theory - it was a breeze to set up the Bose Acoustimass 16.