Two Tamron zooms that could replace your kit lens
Zak Billmeier grew up in southern Vermont and coastal Maine. After graduating from Mary Washington College with a Geography degree he still isn't sure quite what to do with, he eventually settled in the mountains of Central Virginia. He spends his free time chasing his daughter around, taking pictures, gardening and cooking. He joined Crutchfield's car A/V writing team in 2007 and is now a lead producer on our video team.
More from Zak Billmeier
Heads up!
Welcome to this article from the Crutchfield archives. Have fun reading it, but be aware that the information may be outdated and links may be broken.
I was thrilled to see that Crutchfield was starting to carry a couple of great kit-lens alternatives, Tamron's 17-50mm f/2.8 and 28-75mm f/2.8 zooms. Actually, they're remarkably similar lenses, so I thought I'd share my experience with both in this post.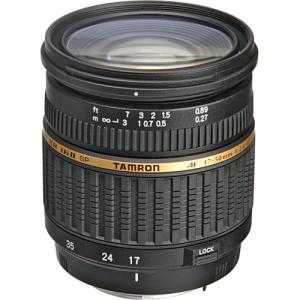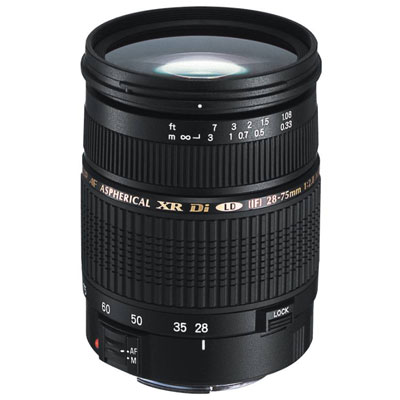 The Tamron 17-50mm f/2.8 (left) and 28-75mm f/2.8 lenses.

The reason they're so similar is one of simple mathematics, the kind DSLR owners have become accustomed to: focal length "crop factors." Simply put, most DSLRs have an image sensor smaller than a "full frame" of 35mm film. The smaller sensor uses only the center part of the image circle cast by the lens, and has a telephoto effect, expressed as a "crop factor."

My Canon 40D, for instance, has a 1.6x crop factor. That's something I keep in mind when I'm looking at lenses, because I have to multiply the focal length by 1.6 to understand how it will actually look through the viewfinder.

Tamron's 28-75mm f/2.8 is an older design, originally meant for film cameras (which, of course, are all "full frame.") Its upstart younger brother is the 17-50mm f/2.8, which if you do the math, comes out to 27-80mm on my Canon. Pretty close, huh? The 28-75mm developed a cult following as an affordable, f/2.8 alternative to standard 28-90 kit lenses back in the film days, so Tamron has wisely adapted it to smaller sensors with the 17-50mm f/2.8.

If I had the 17-50mm on my smaller-sensor Canon, and the 28-75mm on a full-frame digital or film camera, the view through the respective eyepieces would be the same.
Performance
Focus is accurate, speed is adequate. It lacks the "silent wave" or "ultrasonic" focus motor of mid-level Nikon and Canon lenses, using the more common screw-driven autofocus mechanism. This causes the focus motor to make a little noise when it's focusing, a common complaint with these two lenses. I heard it, too, and while it is audible, I found that it didn't bother me at all. What's more important is its performance, and I found focusing to be accurate, and on par speedwise with Canon lenses that use a similar focusing system.
The zoom ring on Tamrons twists in the opposite direction as my Canon lenses. It's odd at first, but after a few minutes I didn't even notice. Like with any piece of camera gear, you adapt and adjust to its idiosyncrasies.
The minimum focus distance is good with both these lenses, around 10" for the 17-50mm and 13" for the 28-75mm. It's nice to get right up close to your subject sometimes, particularly at the wide end of the zoom range.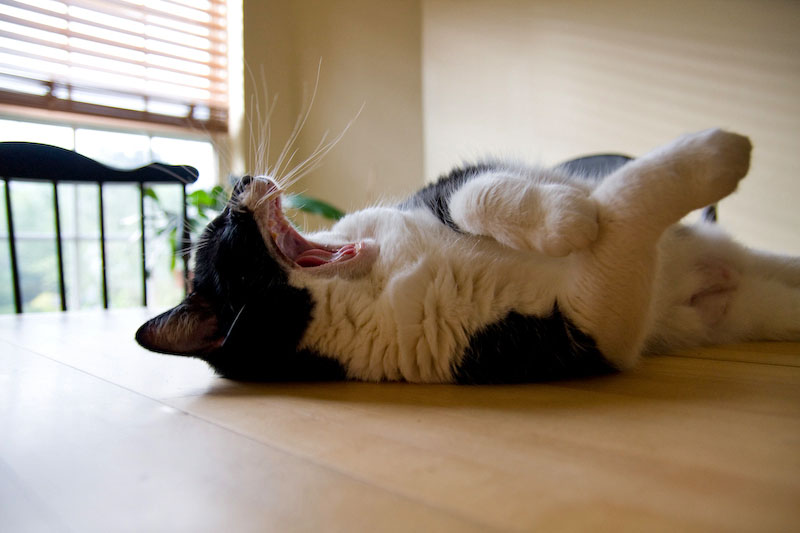 It's easier to shoot indoors if your lens opens up to f/2.8.
17-50mm at 17mm, 1/125, ISO 400, f/2.8.
A larger aperture lets in more light
The real reason you want either of these lenses is that they can open their apertures to f/2.8 across the zoom range. That's two full stops of light better than the average zoom lens at the telephoto end! You'll be able to take pictures indoors you couldn't get otherwise, like at your kid's play or piano recital. The 28-75mm, with a perceived focal length of 45-120mm on my Canon 40D, was especially great at its 75mm telephoto end at f/2.8, because on a typical zoom lens the aperture will be f/5.6 at that focal length.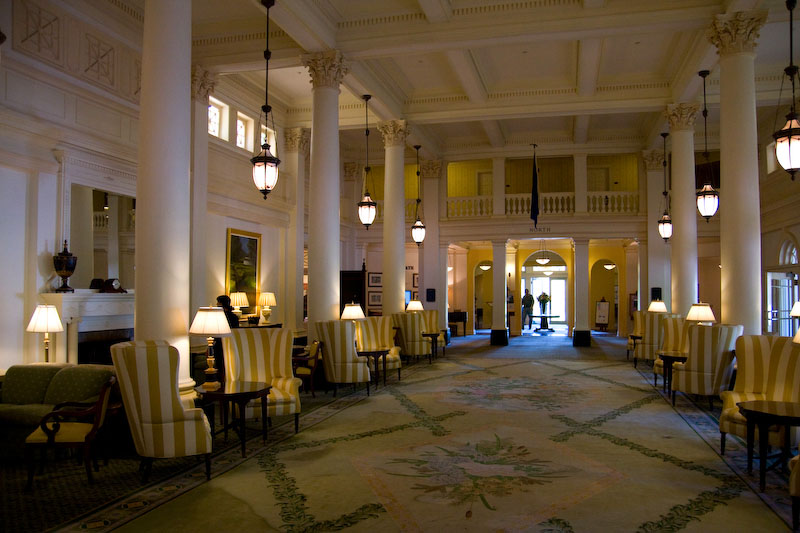 I was able to use available light to shoot this picture of a hotel lobby.
17-50mm at 17mm, 1/125, ISO 800, f/2.8.
While reasonably sharp "wide open" at f/2.8, both these lenses are very sharp when you "stop down," or close up the camera's aperture. I took a trip into the mountains and shot a bunch of landscape shots at f/8, all of which were extremely sharp with both lenses. These lenses are so similar in feel, the only difference I could perceive was that they had different focal lengths.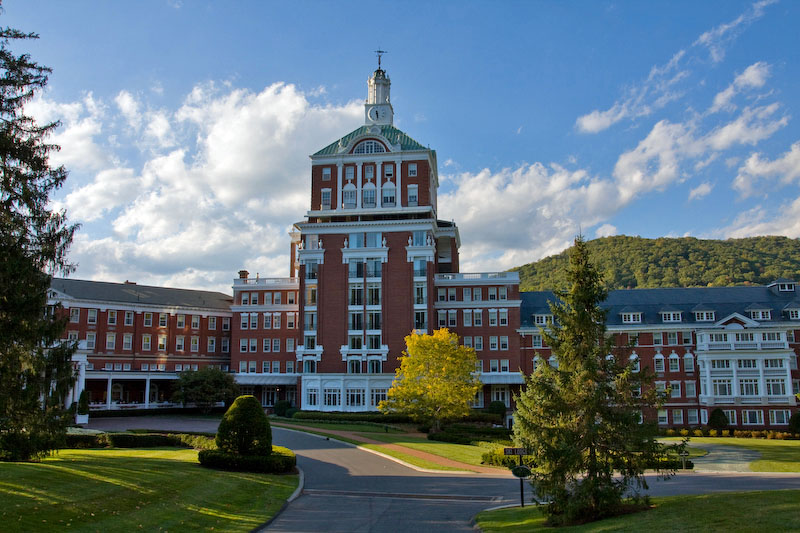 Both of these Tamron lenses are very sharp, especially at smaller apertures.
17-50mm at 17mm, 1/320, ISO 200, f/8.
Build quality
Both these lenses feel solid, though both are rather small and lightweight. The 17-50mm is a little shorter than the 28-75mm. Either one makes a great walk-around lens due to its small size, and on my 40D I found they both balanced well. It's nice to have a lens you can screw on your camera body, sling over your shoulder, and forget it's there. Some lenses are longer and heavier, making them less suitable for hauling around all day. Not these two Tamrons, though — they're perfect for days you just want one lens to carry.
The zoom rings are rubbery and easy to grip, and zooming is smooth and precise. Manual focus is engaged via a switch near the base of the lens. The filter size is 67mm, kind of an odd size, but filters are readily available. I didn't have any 67mm filters lying around, so I shot with both of these lenses naked out front. My preference is to keep a UV filter attached at all times, to filter out violet fringes and to protect the glass.
Tamron includes a hood with both lenses, and their lens cap pinches open and closed in the middle, so you can leave the hood on all day and not have any trouble pulling the cap on and off. The rear cap only attaches at one position, however; meaning you have to either feel around until it clicks, or use the guide dot embossed on the cap itself.
Impressions/conclusion
These are both excellent lenses, and if I were buying a new camera today I'd think long and hard about buying a body only and using one of these Tamrons as an everyday lens. The ability to open up to f/2.8 across the zoom range is huge, bigger in my eyes than image stabilization. I consistently took sharp, contrasty photos with both lenses. I'd pick up the 17-50mm in a second if I were buying a digital Rebel, a Nikon D300, or a Sony Alpha. For the Canon 5D family, Nikon D3 or D700, or other full-frame camera, the 28-75mm is a nice choice. These fine lenses are available in Canon, Nikon, and Sony mounts.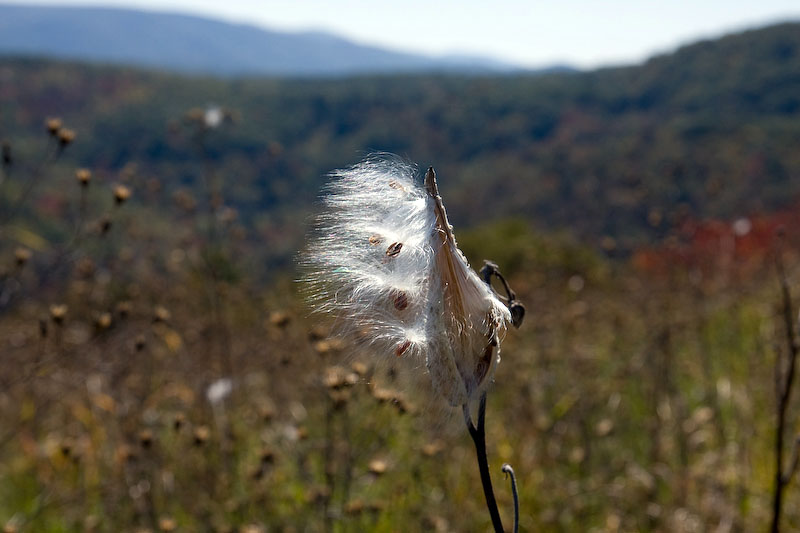 My DSLR's crop factor makes 50mm look like 80mm — a nice telephoto focal length that's great
for portraits or closeups like this one.
17-50mm at 50mm, ISO 200, f/8.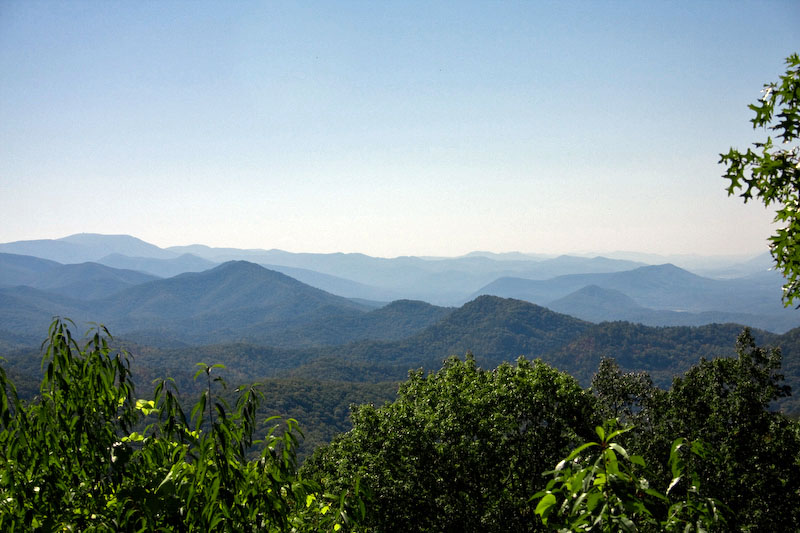 My landscape shots came out nice & crisp with these two Tamron lenses.
28-75mm at 55mm, 1/800, ISO 200, f/8.