On the road with the Belkin TuneBase FM
Ralph Graves is one of Crutchfield's blog editors, and part of the company's social media team. He writes about home audio/video gear, specializing in Apple-related and wireless technologies. Ralph holds a master's degree in music composition, and his works have been released on various labels. He's served as product manager for an independent classical and world music label, produced several recordings, and worked extensively in public broadcasting. Since 1984 he's hosted a weekly classical music program on WTJU, and is also active as a blogger and podcaster.
More from Ralph Graves
Heads up!
Welcome to this article from the Crutchfield archives. Have fun reading it, but be aware that the information may be outdated and links may be broken.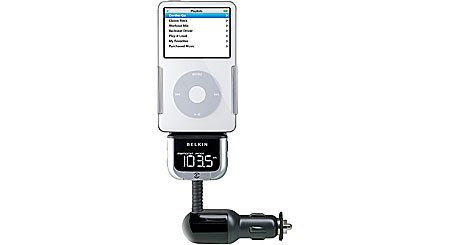 I had an opportunity to check out the Belkin TuneBase FM on a long road trip recently. I had an older TuneBase, and I was interested to see what Belkin had changed with the current model. As it turns out, quite a bit
The concept behind the TuneBase is simple enough. It's a combination iPod dock and low-power FM transmitter that draws power from a car's 12-volt outlet. When the TuneBase and car radio are both tuned to the same vacant frequency, the radio picks up the TuneBase's transmissions and you hear what's playing on your iPod through your car's audio system.The improvements are in the details.
The new TuneBase has a rubber collar around its plug, which helps keep the device firmly connected to the 12-volt outlet. My older model sometimes worked its way loose on longer trips due to car vibration, so this was a welcome improvement.
My old TuneBase used tubes of varying length to support the combination iPod dock and transmitter. That made for some awkward placement in cars with recessed 12-volt outlets. The new one uses a flexible stand. It's easy to bend, and does a good job holding its shape. We changed cars in the middle of the trip, and were able to set up the TuneBase and optimally position the iPod in the new vehicle within seconds.
But the best new feature, in my opinion, was the transmitter's automatic tuning function. Our trip took us through three states, and lots of different radio coverage areas. As we drove along, stations would drift into the open frequency we were using, and we had to keep finding another.
With my old TuneBase, I had to seek out the open frequency on the car radio first, then once I knew what it was, set the TuneBase. I had to punch a button on the transmitter for each incremental change (moving from 88.1 to 88.5 was four button pushes, for example) -- which got be a drag when I had to go from one end of the dial to the other. It was time-consuming, and not the best activity to be doing while driving.
This TuneBase FM kept things simple. It had a large, easy-to-find "seek" button on the center of the transmitter. I just pressed it, and the TuneBase automatically found the best open frequency. I tuned the radio to that frequency, and there it was. The process took a fraction of the time, and only required one quick glance at the TuneBase to determine where I needed to dial the radio to. Much safer, all around.
Simple to use, easy to transfer from car to car, and much improved over the model it replaced. I think this trip spoiled me, because after enjoying it for about 800 miles, I'm ready to upgrade to the new Belkin TuneBase FM.