Travel light with Canon's 18-200mm lens
I've been a camera nut all my life, so it makes sense I'd end up being a video producer. Of course, it has been a roundabout journey for me, as I started at Crutchfield in 2007 writing about car audio gear. Over the years I've learned about all the electronic items we sell, and it is my job to make sure we are making videos that you will find useful, whether you're shopping for something specific or trying to install some new gear yourself. My job is a lot of fun because I get to play around with all the cool stuff you see on our website while I'm making videos about it. Getting hands-on with the gear helps me see what I should show you about a product, though the flip side is my personal wish list is a mile long...
More from Zak Billmeier
Heads up!
Welcome to this article from the Crutchfield archives. Have fun reading it, but be aware that the information may be outdated and links may be broken.
Canon shooters have been clamoring for an 18-200mm lens for years now. Nikon's 18-200mm VR lens is one of the most popular choices among Nikon shooters, and it's in the nature of every Canonite to want what the other guy's got. Canon jockeys, your wait is over. Canon's new EF-S 18-200mm IS lens is here, ready to replace your whole bag of lenses.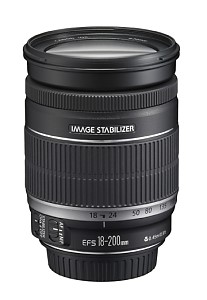 Canon EF-S 18-200mm f/3.5-5.6 IS
Like the Nikon lens, Canon's 18-200mm is compact and image-stabilized. It's about 4.5" long from where it mounts on the camera, and is heavy, though not in a cumbersome way... more like a "phew, it's well-made" kind of way. It's an EF-S lens, so it's good on any digital Rebel, or on 20D-50D series cameras. It won't mount on a full-frame camera like the 5D. Factoring in Canon's 1.6x crop factor, the effective field of view on the 18-200mm lens is 29-320mm, giving you a lot of reach while still maintaining a semi-wide view at the short end.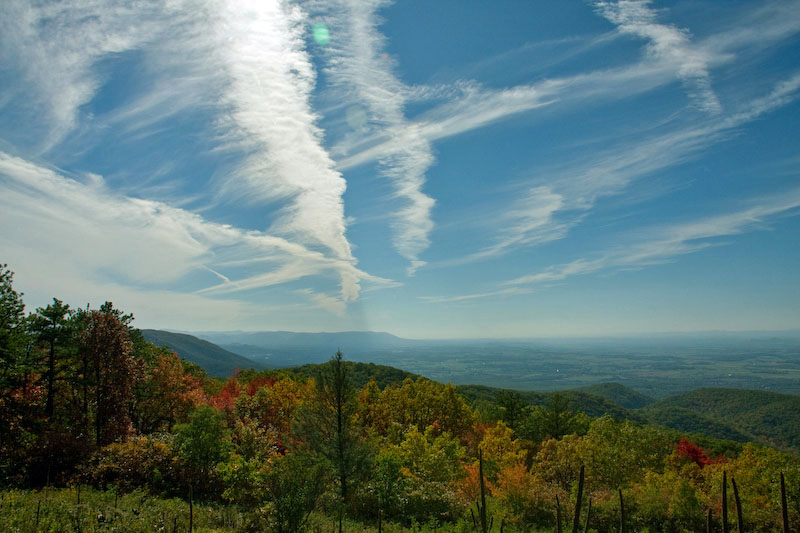 Fall colors are starting to show, always a boon for photographers.
1/3200, 18mm, f/8, ISO 200
Also like the Nikon lens, it has a slow f/3.5-5.6 maximum aperture. Its slowness makes this primarily an outdoor lens, tough to use for indoor work in all but the best light. Outdoors, you can just shoot all day without any problems. When I used the lens, I generally shot stopped down at f/8 to maximize sharpness.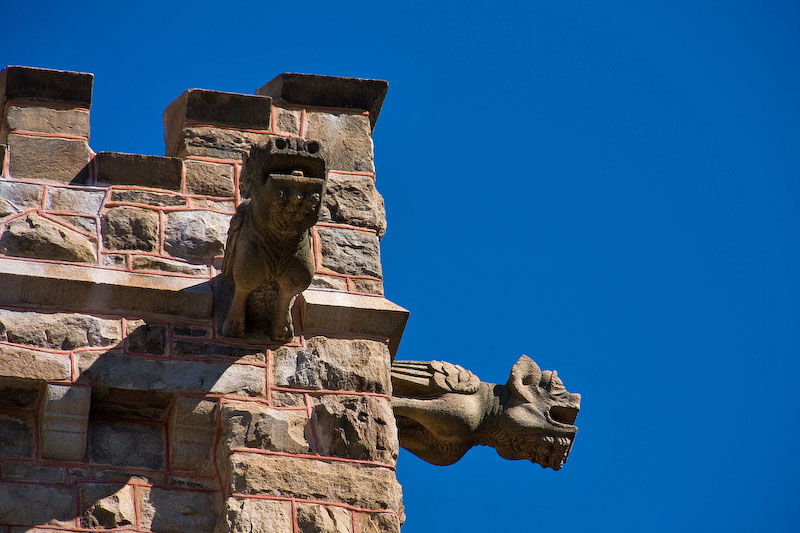 Sharp enough for you? At 200mm, you can grab architectural details with ease.
1/500, 200mm, f/8, ISO 200
The image stabilization is the same motor Canon uses in two other EF-S lenses, the 18-55mm and 55-250mm. It is primarily used for shake reduction, but also sports an automatic panning detection feature for when you're tracking a bird or shooting sports. Thanks to that feature, you don't have to worry about the stabilization motor overcompensating while panning — a nice thing to have.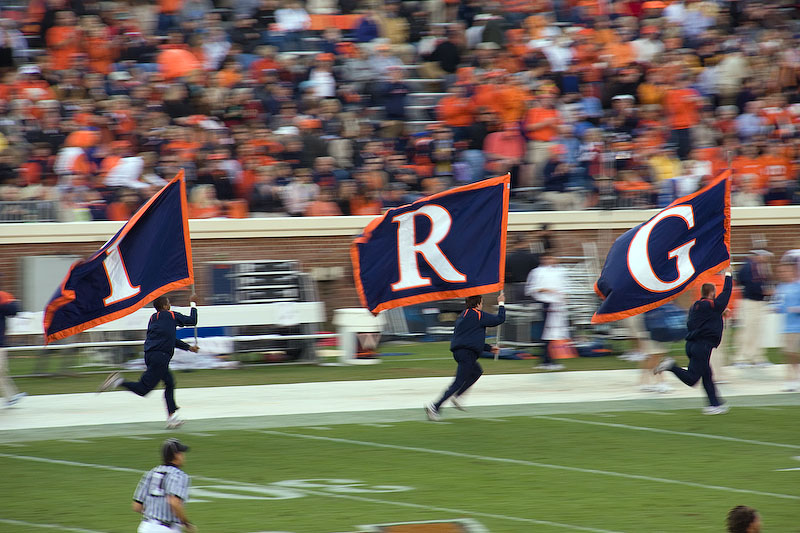 A panning shot with a slow shutter speed is a great way to test the panning detection of Canon's
in-lens image stabilization.
1/30, 200mm, f/10, ISO 100
The lens is nice and compact, though it does extend quite a bit once you zoom all the way out to 200mm. It zooms smoothly and focuses accurately. The lens uses Canon's older screw-driven focus mechanism, which lacks the lightning-fast response of their Ultrasonic lenses, but it still focuses plenty fast — fast enough for a major college football game, anyway.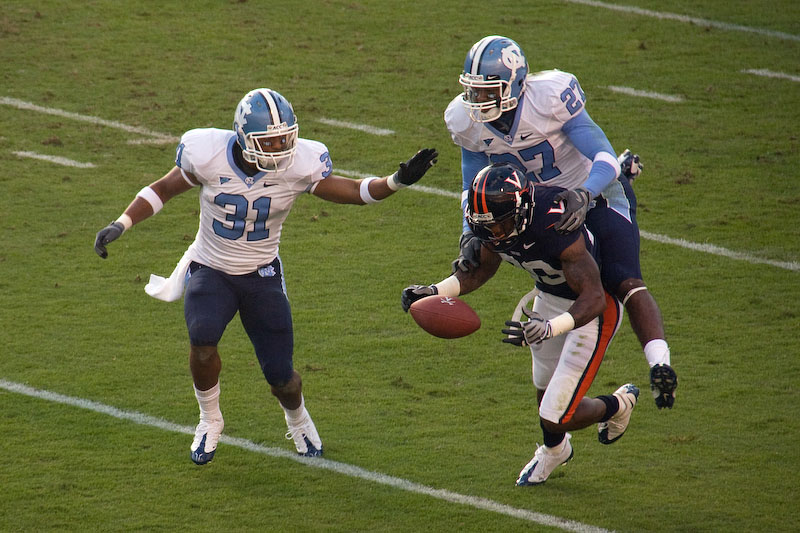 If a lens focuses fast enough for college football, it's focusing fast enough. Though it lacks Canon's
fantastic Ultrasonic focusing motor, the EF-S 18-200mm IS locks on quickly.
1/800, 200mm, f/5.6, ISO 800
As you can see, 200mm gives you lots of reach — I was sitting in the 24th row near the corner of one end zone when I took the shot above. And I was allowed to bring the 18-200mm lens in because it protruded less than 6 inches from my camera!
The only thing I missed by not having the Ultrasonic focus was what Canon calls "full-time manual focus," where you can grab the focusing ring at any time to override the autofocus. Every now and then I wanted this at 200mm, but for the most part I got by just fine without it.
Of course, the reason there was such a demand leading up to the introduction of this lens was that it covers such a huge zoom range. This is the only lens you'd need for a vacation to Europe, or any other time you want to travel as light as possible. This summer, for example, I took a vacation in which I brought along 28-135mm, 50mm, 28mm, 18-55mm, and 100-300mm lenses. That's 5 lenses! This 18-200mm could potentially have replaced all of them, except for the 100-300mm.
Serious photographers may point out that you'll sacrifice image quality in a "superzoom" like this one, because design compromises need to be made in order to utilize such a large (11x) zoom range. That's true — but convenience has to count for something, right? Image quality compromises are well-controlled in this lens, and those who have been asking Canon to bring this lens to market will not be disappointed by its image quality.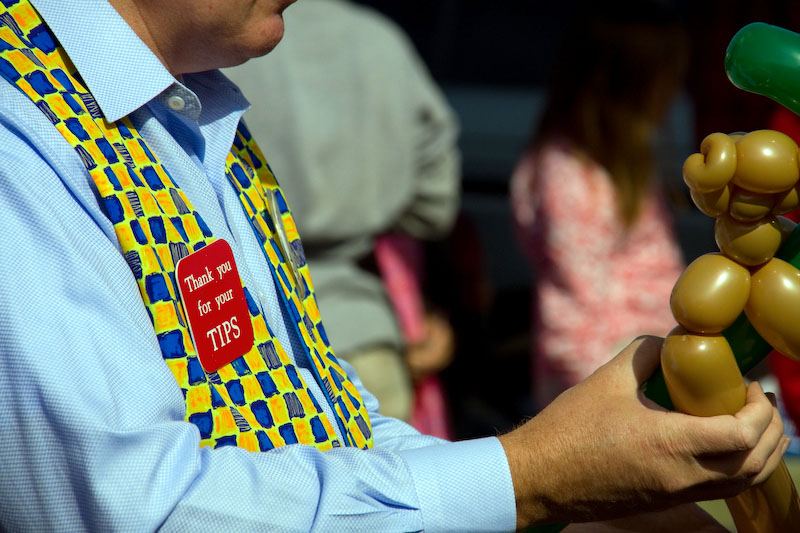 The EF-S 18-200mm IS lens is a great walk-around lens, with the extra reach needed to pick out
interesting details in a crowd.
1/1000, 200mm, f/8, ISO 200
I had a lot of fun with this lens, and while I was shooting with it I could leave all my other lenses at home. Being able to zoom out to 200mm was great, and focus was fast enough for sports and wildlife. Grab this lens and go whenever you want moderately wide-angle fun and telephoto reach, but don't feel like being a pack mule. Your back will thank you, and you won't miss a shot.
The first shot below is at 18mm, the second at 200mm. Wide enough to take it all in, plus enough zoom to capture the details. There's your one-lens Canon solution, the EF-S 18-200mm IS.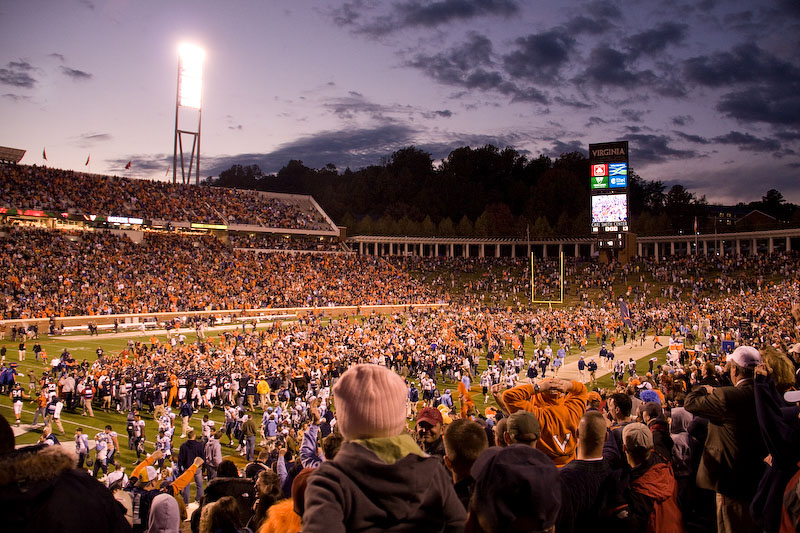 18mm: the fans rush the field, as seen from my seat in the 24th row...
1/125, 18mm, f/3.5, ISO 800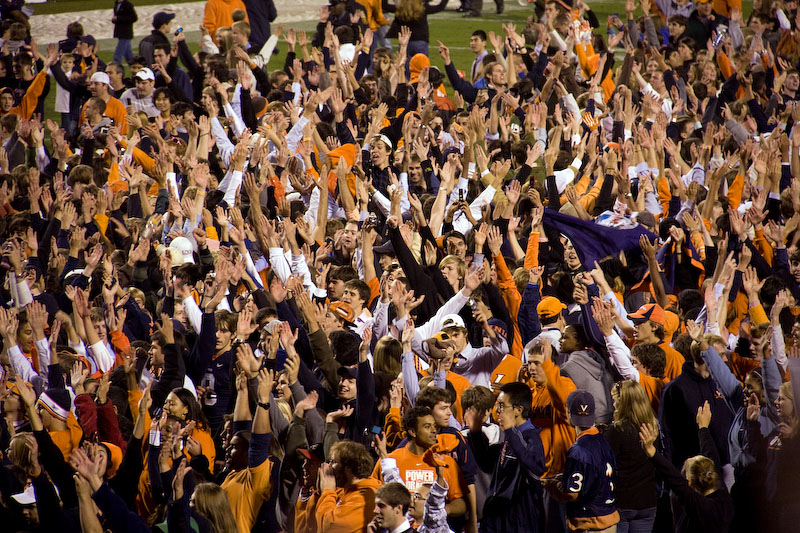 200mm: a closeup of the post-game celebration.
1/100, 200mm, f/5.6, ISO 800