Logitech's newest addition: the Squeezebox Boom
Tara W. has worked for Crutchfield since 2004. She writes about whole-house music and video gear, and works on Crutchfield's video team.
More from Tara W.
Heads up!
Welcome to this article from the Crutchfield archives. Have fun reading it, but be aware that the information may be outdated and links may be broken.
The Logitech® SqueezeboxT Boom is the newest addition to their wireless PC music player lineup. I was interested to check it out because I've had experience with their other players, like the Duet and Wireless DJ Music System. So when the Boom came into stock, I took one home and gave it a try. These things struck me right away.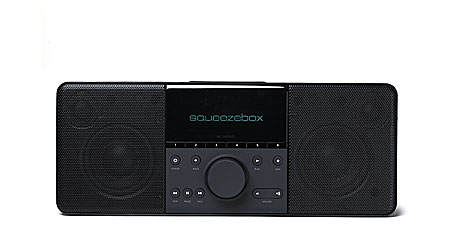 1. Unlike other Logitech music players, the Boom comes with built-in speakers, so you don't have to connect to a home theater system or the like. I was surprised by the sound quality, since the Boom's pretty small (roughly 13"W x 5"H x 4-1/2"D). The highs and mids were clear and distinct. The bass performance was pretty solid and filled my small room with sound. For larger spaces, I'd recommend using the Boom's subwoofer output, though.
2. By far, the coolest thing about the Boom was its front-panel controls and display. The rotary knob made it really simple to scan through the music on my computer and Internet radio stations. This was essential since I have over 3,000 songs stored on my network and I like to listen to a little bit of everything. It took me practically no time at all to reach distant bands like Weezer and Wilco, who reside at the end of my alphabetized artist list.

3. When I was near the unit and operating the front-panel controls, the LCD screen was big enough that I could easily read the track info. When I stepped away from the unit and used the included remote, the Boom's front-panel LCD wasn't so easy to read.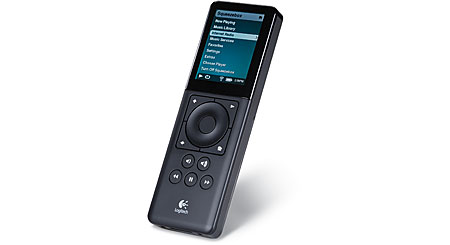 If you're planning on browsing playlists and selecting songs from across the room, I'd recommend investing in Logitech's Squeezebox Controller. Its built-in LCD screen displays track info and album art, so you won't have to worry about straining your eyes to see a distant on-screen interface. As an added bonus, this remote can control any Logitech Squeezebox products in your home, so you could potentially create a multi-room music system.