A review of the Logitech Harmony 700
Kristen is a former copywriter for Crutchfield. She wrote copy for both the web and catalog, covering a variety of home A/V products that included speakers, camcorders, and Blu-ray players. She also wrote a number articles and blog posts for the Crutchfield Know Zone.
More from Kristen Schaub
Heads up!
Welcome to this article from the Crutchfield archives. Have fun reading it, but be aware that the information may be outdated and links may be broken.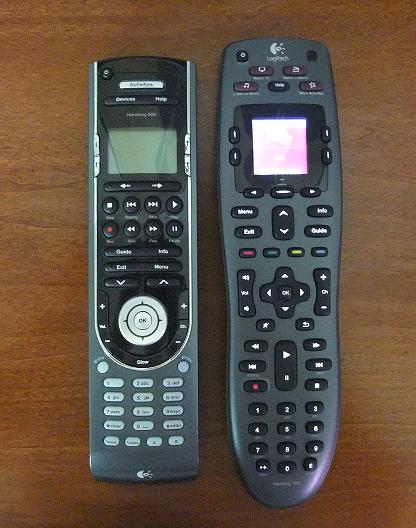 My fiancé and I have been using the Logitech® Harmony® 550 universal remote in our home for a little over a year now. And while it's performed exactly how we've needed it to, I was thrilled to exchange it out this past weekend for the new Harmony 700.
The Harmony 700 is Logitech's improved version of their 670 remote, and thus a vastly improved version of our old 550. It's amazing how much of a difference there was between the 500 and the 700 (see the photo at right). Aesthetically, the all-black color, curvy design, and solid feel of the 700 make it seem worth more than your actually paying for it. And the rubber buttons are also a nice touch, as the hard plastic buttons on our previous remote could sometimes be a little "unfriendly."
The 700 borrows several features from Logitech's higher-end remotes. It has a color LCD screen that clearly shows your devices, activities, and even color icons of your favorite channels. It also comes with rechargeable batteries and an AC power cord — a big improvement over our previous remote. The 550 used AA's, which of course we never seemed to have around the house when we needed them.
I also really like the dedicated activity buttons above the color screen. They're easier to use than the on-screen activities on the 550, since I had to scroll through with the side buttons to get to the activity that I wanted. But on the new 700, the most commonly used activities, like "Watch TV" or "Watch a Movie," are represented by one-touch buttons with little pictures, so it's easy to identify which activity each button controls at a glance.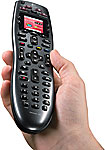 For us, the best improvement was how quickly it controlled our system compared to our previous remote. The 700 can turn on our TV and receiver, set them to the proper inputs/outputs, and start up our Xbox 360™ seconds faster than our old remote. It's really kind of cool!
It also doesn't make "mistakes" as much as our last remote. I'm a huge fan of Harmony's "Help" button — on our last remote, it got me through many a frustrating situation when our game console would be on, but there would be no picture, etc. But with the new 700, I haven't had to use the help button once.
Of course I have to mention how easy it was to set up. Since we essentially upgraded from one Harmony remote to another, we just had to plug the 700 into our computer, run the Harmony remote software, and press a button. That's it — the software transferred all our component information and preferences to the new remote, so we didn't have to go through setup again.
For anyone looking to upgrade their remote or purchase their first universal remote, I highly recommend the Harmony 700. It only costs a little more than what we paid for our 550, and offers a lot of improvements that are well worth the investment.