Upgrading to the Logitech Harmony 900 remote control
The Crutchfield writing team is a group of full-time, in-house copywriters who share a passion for consumer electronics. In addition to creating the articles and videos you find in the Research area of the Crutchfield website, these hard-working and talented people write the informational copy for the products on our website and in the Crutchfield catalog. Our writers constantly research the latest products, technologies, and industry trends, so that we can bring you the most helpful information possible.
More from Crutchfield Writing Team
Heads up!
Welcome to this article from the Crutchfield archives. Have fun reading it, but be aware that the information may be outdated and links may be broken.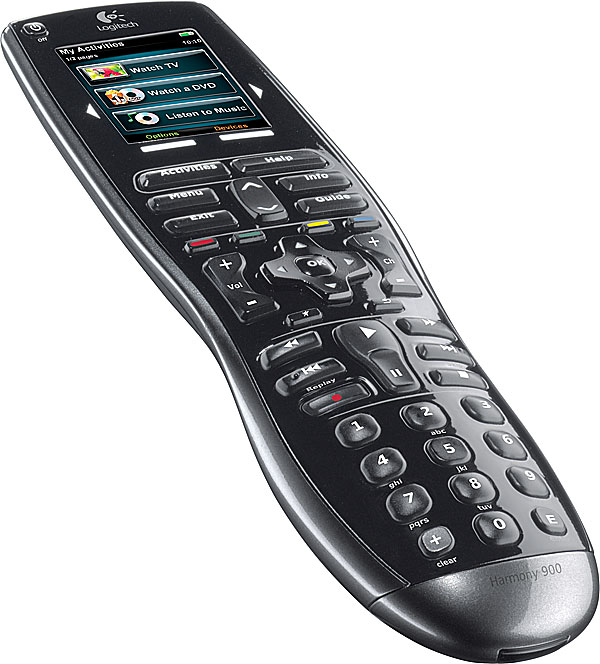 The Logitech® Harmony® One has been reborn as the Harmony® 900. This new remote features the same great ergonomics and features of the highly rated Harmony One, and adds RF compatibility. I already own a Harmony One and a Harmony 1000, so I was glad to have an opportunity to try out the Harmony 900.
Simple online setup
As with any Harmony remote, setup was extremely easy. I just plugged the remote into my computer's USB port using the remote's transfer cable. I then went to the Harmony website, where each customer has a free account to store information about their A/V system. I entered the model numbers of my gear, answered some simple questions about how my system worked. When I was finished, all the necessary command codes downloaded to the Harmony 900.
Harmony's site has the widest range of manufacturers and models that I have ever seen, so chances are they already have whatever equipment you might own in their database. And my info is saved, so the next time I log back on I only have to enter gear I've added to or removed from my system.
Activity buttons
After getting the command codes, I then set up my "Activities" (also known as macros) — another standard feature on Harmony remotes. This lets me just press one button on the remote to send out a series of commands to my equipment. So if I wanted to watch a movie, for example, I could set it up so one button would have the remote turn on my TV, A/V receiver, DVD/ Blu-ray player, etc., and switch each component to the correct inputs.
A lot easier than fumbling and juggling different remotes. I can even have the remote dim the lights with certain lighting systems when my movie starts, and increase the brightness when I press pause. Talk about wowing friends!
And of course watching a movie is just one of the many types activities I can set up. It helps when I have house guests. They no longer get that "deer in the headlights" look they used to staring at a table full of remotes and trying to figure out which ones to use just to watch a little TV.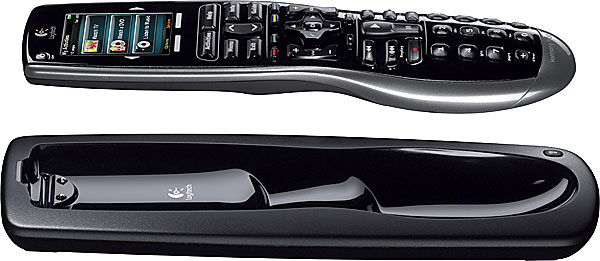 Storage and charging cradle
Shutting down my audio/video system was easy with the Harmony 900. One button turned everything off. And when I was done, I put the remote back in its supplied cradle to recharge the battery. This also saved me from doing that crazed search under the couch cushions when it was movie time. I now know exactly where my remote is, even with the lights out. The buttons are back lit for use in darkened environments.
I've had Harmony remotes since they first came out, and really love their ease of use. And not just for me — my eight-year-old daughter can be watching her favorite show within seconds all by herself with just the press of a button.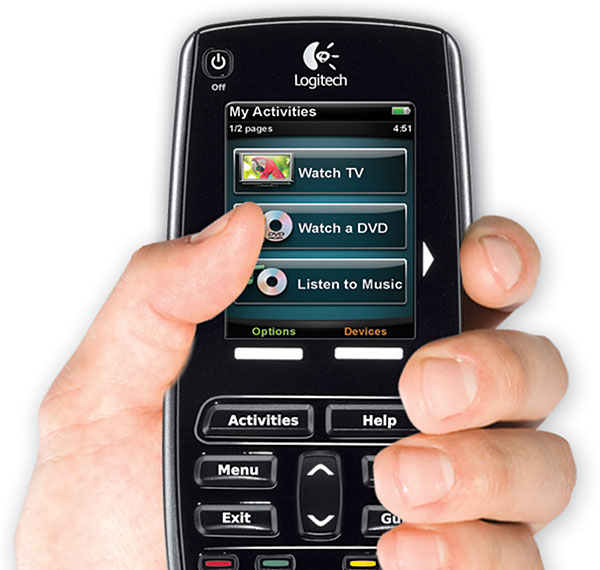 Touch screen options
The new Harmony 900 has touch screen control, as well as hard buttons for the most commonly used functions. I really like my Harmony 1000's touch screen for certain tasks. Often, though, I wished it had a few more hard buttons. The Harmony 900 strikes a nice balance between cool touch screen controls, and function buttons.
Something else. I could download my favorite TV channel icons from third party websites to the 900, and have them display on the remote's touch screen when I changed channels. This definitely added to the remote's cool factor and made it even more intuitive to use.
I tested the RF capabilities of the Harmony 900, and was very impressed. I have an RF base for my Harmony 1000, but was always less than thrilled to have to unplug the base and resync it every time I wanted to make a change to my remote. With the new Harmony 900 model, I didn't have to do this. I simply chose the RF settings on the remote, and selected which devices would be using RF instead of IR. I was blown away by how much easy this was. And once the RF was setup, it worked like a charm.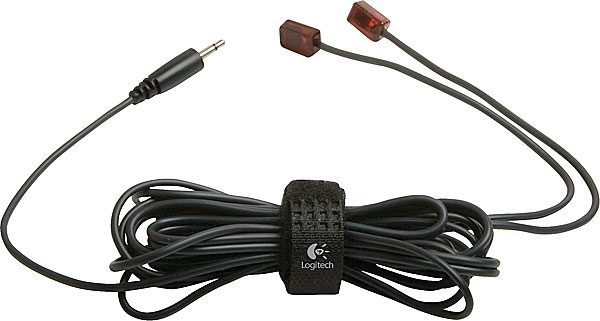 RF and IR control
The Harmony 900's RF (radio frequency) system consists of a RF base, and two IR (infrared) blasters (see image, left). If your equipment is in a cabinet the RF base goes outside it, and the two blasters that connect to the base go inside. Unlike some older RF systems, the Harmony 900's IR blasters are very powerful and don't need to be positioned as precisely. I even had one of them set a few feet away from my equipment and it worked without fail.
To test the system, I first used it in an open air configuration. I was amazed that I didn't need to use the flashers. No matter where I put the main base, the system worked perfectly. I even placed the base behind my equipment as far away as the cord would let me, and it still worked flawlessly.
I don't have my system stored in a cabinet, but I did my best to replicate the effect by throwing some heavy blankets over my gear. The RF system still worked great. I even walked all over my house muting and unmuting the sound, and Harmony 900 never once failed.
Impressive and simple
Overall, I have to say this remote gave me the best of both worlds. Like my Harmony 1000, it fits comfortably in my hand, and has a touch screen. The Harmony 900, however, has the added advantage of RF capability, and gave me practically flawless response time and control.
With so many great features in one remote, I have no problem recommending the Harmony 900 to any electronics enthusiast, or someone who just wants a remote that's simple to operate with any kind of setup.