Canon takes it up a notch with the 7D
Zak Billmeier grew up in southern Vermont and coastal Maine. After graduating from Mary Washington College with a Geography degree he still isn't sure quite what to do with, he eventually settled in the mountains of Central Virginia. He spends his free time chasing his daughter around, taking pictures, gardening and cooking. He joined Crutchfield's car A/V writing team in 2007 and is now a lead producer on our video team.
More from Zak Billmeier
Heads up!
Welcome to this article from the Crutchfield archives. Have fun reading it, but be aware that the information may be outdated and links may be broken.
With the 7D, Canon has taken the crop-sensor camera to new heights. Photographers using Canon's "prosumer" xxD line of cameras are trained to expect sequential upgrades with each new model. In some cases, photographers were passing on the newer camera, lying in wait for the next model to address their needs. After shooting with the Canon 7D for a while (and as a longtime 40D shooter), I can say without reservation that the bar has really been raised this time.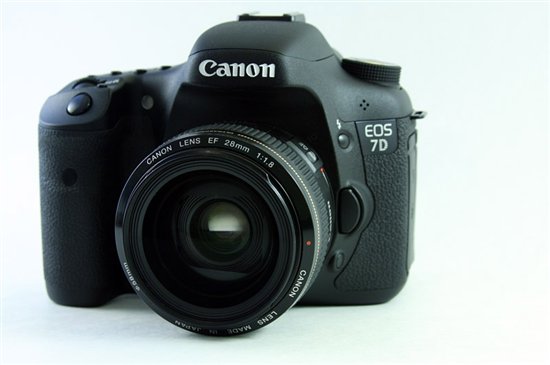 Canon EOS 7D, shown with the EF 28mm f/1.8 lens (not included)
This is a serious reboot of the xxD line of cameras. You can read a detailed preview and see all the specs on DP Review, but here are the improvements I found after using the 7D for a couple weeks:
1. Overhauled autofocus system. The venerable 9-point autofocus system of previous cameras in this line has been replaced by a new 19-point system with its own dedicated processor, including an improved AI-Servo (tracking focus for things that move) mode. The focus really locks on and holds on when tracking moving objects. And with a fast lens in dim light, the focusing system truly shines.
2. Better build. The 7D feels heftier in hand than recent models, though not by much. My first impression was that its build quality rivals that of the Nikon D300, which is a good thing. Canon says they've significantly upgraded the weather sealing — and though I still wouldn't take it out into the rain, it's nice to know that extra protection exists in the case of an inevitable mishap.
3. Popup flash can trigger other flashes. If you have a Canon Speedlite (and possibly any flash unit that supports IR), you can place it in an advantageous position off your camera, and then tell the little popup flash to trigger it. This helps immensely in a lot of situations, including taking portraits, or just taking family snapshots in an unevenly-lit room. A nice side effect of off-camera flash is not having a big flash unit sitting on top of your camera when you're shooting.
4. 100% viewfinder. "What you see is what you get." The older viewfinders were usually in the 95% ballpark, which may sound "close enough," but you'll appreciate the brightness of the new finder.
Those, in my eyes, are the major improvements, and they are very nice — certainly the kind of things that make you think seriously about upgrading your camera body. There are a host of smaller improvements that are pretty nice, too. One of those is a built-in level, which works with an accelerometer to give you readings on both horizontal and vertical axis. This is especially handy when you're using a tripod.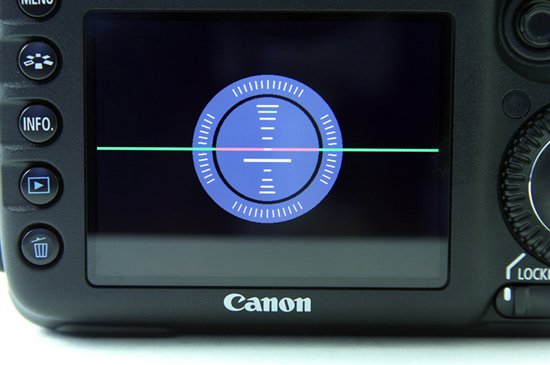 There's a cool new level feature for tripod shots
It's worth mentioning that the resolution has been taken to a super-sized 18 megapixels. That's nice if you like to print big, but I found myself shooting it at the medium (8 megapixel) setting just so I could plow through a large batch of images more quickly. Having made large prints in the past from 6- and 10-megapixel cameras, I wasn't worried about shooting in reduced resolution. But that's just me — plenty of people will appreciate the extra pixels, especially those that are paid for their work.
The 7D can fire like a machine gun at 8 frames a second, almost as fast as pro cameras that cost four times as much. The faster burst rate and vastly improved autofocus make this a real nice choice for sports and wildlife shooters, or parents taking pictures of their fast-moving kids.
On-demand gridlines are another nice new touch. Gridlines help you keep your horizons level for landscape shots — you simply align the horizon with the gridline in the viewfinder, and you get nice, level landscapes. Then you can turn off the grid when you don't need it. Previously, you had to physically change the little glass focusing screen to do this, hardly a convenient method.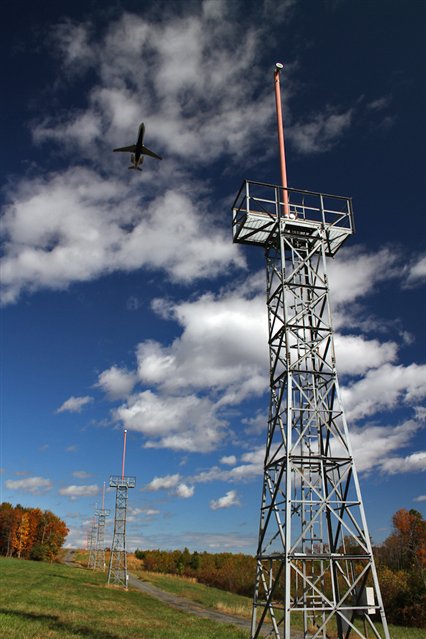 Taking off
One of the first things I noticed was that Canon left the scene modes off the dial — you know, the little cryptic icons for sports, portrait, landscape, night scene, etc. I like this. The scene modes are nice, don't get me wrong — but the target market for the 7D doesn't need these. The full-auto green box is still there, as is the Creative Auto (CA ) mode first seen in the 50D. But most photographers will make use of the PSAM (Program, Aperture-priority, Shutter-priority, Manual) modes.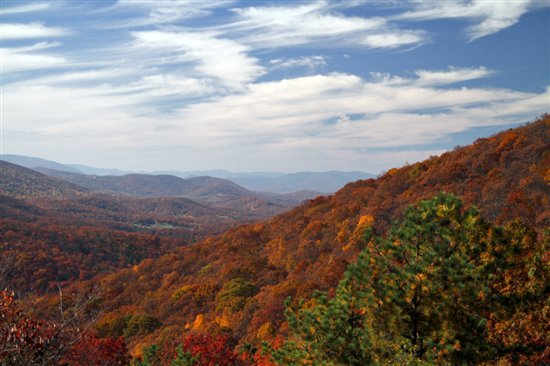 View from the Skyline Drive
The three user-setting modes (C1, C2, C3) are still there. I love these, because they let me record full setups for different shooting scenarios. For instance, I was taking pictures on the Skyline Drive recently, and I had C1 set up for shooting on a tripod, C2 ready for action shots, and C3 set up for slow-shutter panning shots. These are great because you just twist the dial and all your settings are there. What I wish is that there was some kind of way to name them so I can remember what they are from day to day, but that's a minor quibble.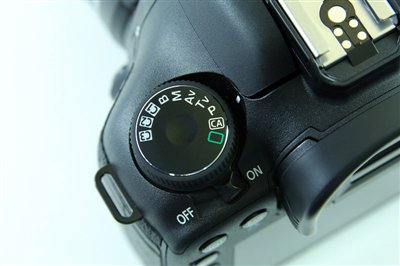 No scene modes on the dial, but three handy user settings are still there
The screen is nice, high-res, and sharp. Those familiar with recent Canon cameras will recognize the menu system, and thankfully the "My Menu" tab that lets you make shortcuts to your top six menu items is still there. As these cameras get more complex, it can mean a lot of digging to get to something simple you do every time, like formatting a memory card. My Menu lets me get there almost instantly.
What about video? Yep, the 7D can shoot videos. Just flick the little switch next to the viewfinder to the left with your thumb, and you're in. You can shoot in 1080p at 30fps or cool cinematic 24fps, or 720p at 60fps and 640x480 at 60fps. Shooting video with a DSLR has some advantages, like using a bigger sensor, better low-light sensitivity, and of course shallow depth-of-field from your arsenal of lenses.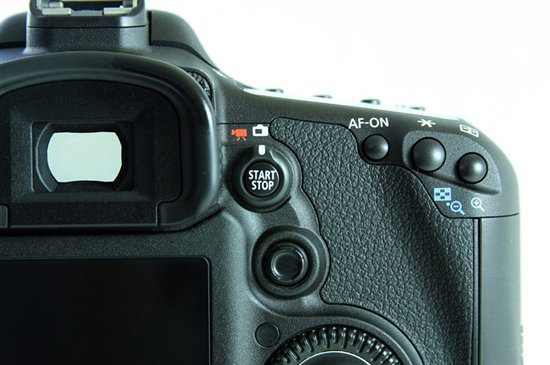 A dedicated button makes it easy to get to Movie Mode or Live View for stills
While you can achieve some truly stunning footage, there are a few tips I'd like to pass along that I've realized after trial and (mostly) error:
1. Use a tripod. Actually, I find this true of any home movie, unless you have a steadicam rig. But with DSLR video, it's even more important because (a) the form factor of DSLRs doesn't lend itself to handheld video shooting, and (b) the autofocus doesn't track.
2. Plan ahead. Focus first, set white balance, focus again. Then shoot.
3. Find a free video converter. Or buy one. Either way, you'll probably need to convert the camera's video file to work in your choice of editor.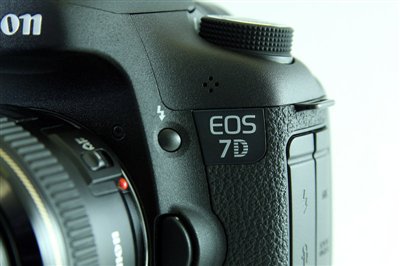 Those little holes above the logo record sound for movies — best to use an external mic
Shooting video is pretty fun with the 7D. But this isn't the camera to film a soccer game, since the focus cannot track moving objects. It's pretty good for filming things in low light, but the 7D limits the length of a clip by shutting down Live View after the sensor gets too hot. Therefore, you won't be able to put this on a tripod with the 17-40mm L lens and film a school play. This is a video camera for shorter clips, but if you plan your shots ahead of time they can be quite spectacular.
Sample shots with the 7D: