Review: the XM SkyDock app for iPod touch and iPhone
Jon Schroeder was Crutchfield's videographer for several years. He helped us refine our video production process and discover our new video "voice." He and his family had an opportunity to relocate to Baltimore, where he continues to lend his artful eye to making corporate videos.
Heads up!
Welcome to this article from the Crutchfield archives. Have fun reading it, but be aware that the information may be outdated and links may be broken.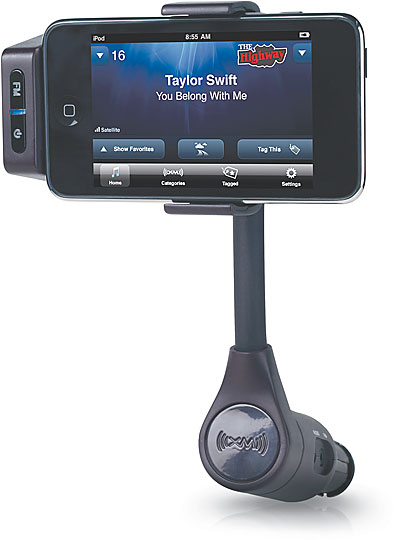 The XM SkyDock™ lets you use your iPhone® or iPod touch® as a satellite radio receiver in your car. I own an iPod touch already, so when I had the chance to take out an XM SkyDock for a test spin, I jumped at it. I'm familiar with XM Satellite Radio and its programming, so my main goal was to get a handle on the the SkyDock's form and function.
Simple setup for my car
To get the XM SkyDock up and running, the first thing I had to do was download the SkyDock app from the iTunes™ App Store on to my iPod touch. The download took a few seconds, and after my SkyDock was activated by the folks at XM HQ, I was ready to link up with the bird.
Upon plugging in the XM SkyDock's power adapter, I was happy to find that I still had unimpeded access to my car's A/C controls when I turned the iPod/iPhone cradle to its horizontal position. The cradle is bendable, but still plenty tough; I never had any concern about my iPod touch bouncing around or falling out of the cradle. It has adjustable arms to hold an iPod or iPhone securely, and it charges the device while you listen.
The SkyDock app can be oriented vertically or horizontally on an iPod touch or iPhone. The only exception is the startup page, which is always in vertical orientation. All the pages within the app look great in either mode. I prefer the screen set sideways because the text is larger and easier to read.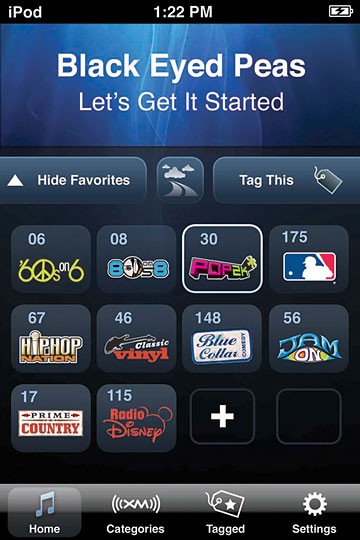 Channel Surfing My Way
I could look for channels three different ways. I could type in my desired channel number by bringing up the app's keypad, scroll through the category menus that XM has laid out clearly, or access my favorite channels with a single tap.
My favorite channels were represented by the familiar rounded-square icons that are the same size as the app buttons on my iPod touch. Assigning a favorite was simple. When I found a channel I liked, I tapped the "+" button and the channel was added to my favorites page.
Like it, tag it, buy it
Another feature I found useful was the iTunes® tagging function. When I heard a song I liked, I tapped the large "Tag This" button. That saved the song's info to my iPod touch, and let me easily buy it from iTunes later on when I synched my player. I could also set up a tagged song list. My SkyDock alerted me when my tagged items were playing on a channel other than the one I was listening to. In a similar vein, the SkyDock also had a "Ticker" feed. The ticker scrolled customizable sports scores or up-to-the minute stock prices across my player's screen. It was a great visual stimulation while I'm parked at a stop light.
Works for me!
Overall, I found the XM SkyDock's user interface easier on the eyes than most other satellite radio receivers out there. And since I was using a gadget I already have to bring the SkyDock to life rather than adding a dedicated player, it helped reduced clutter. Even when I closed down the SkyDock app, I could still use the SkyDock to play the music on my iPod touch through the car's stereo. So I could use the SkyDock to get the most out of my iPod touch even when I'm not listening to XM radio — now that's pretty smart.