Simple and Sporty: the Kodak Zi6 camcorder
Meredith Krebs was a video producer and copywriter at Crutchfield for several years. She wrote about cameras and produced over 100 videos for the website.
More from Meredith Krebs
Heads up!
Welcome to this article from the Crutchfield archives. Have fun reading it, but be aware that the information may be outdated and links may be broken.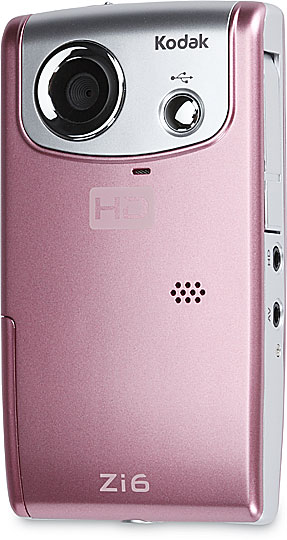 The Kodak Zi6 is a ultra-compact camcorder that shoots HD video. Curious about how great the video could look on a compact camera, I decided to try one out for a review. My conclusion? It's a great camera for someone who needs something small and light to take on their adventures, or for a teenager who wants to shoot something higher quality than their phone or still camera.
Opening up the box, I was struck by how small and lightweight the Zi6 was for something that shoots HD video. And I was very happy to find that the batteries were charged and ready to go. The camera came with very little information. I went on the Kodak website to check for more instructions, but there wasn't much there either. Most of the things I learned I figured out through trial and error, which isn't a bad way to learn, but may make some people nervous.
Shooting
I went outside to shoot in HD on a sunny day while there was snow on the ground. This combination of brightness and white can be challenging for digital cameras, and I did see some loss of resolution when I shot something metal and reflective. But for the most part, the videos looked great with a minimum amount of digital noise. Unfortunately I couldn't see the viewfinder very well with the glare so I couldn't always see what I was shooting the whole time. In HD mode I quickly used up the internal memory with about 30 seconds of shooting. You definitely need to invest in a memory card if you're planning to shoot anything substantial with this, and it doesn't come with one.
I liked the option of viewing shots in slow motion, as well as fast forwarding through them. I got it to work after a few tries. I imagine this would be especially fun for sports enthusiasts who want to create their own instant replays.
The joystick control was easy to use once I got the hang of it. I have a similar button on my Blackberry, although it does different stuff. I also have some experience with flip style camcorders, but the buttons on the Zi6 were quite different.
Editing Software
The camera comes with its own editing software: ArcSoft Media Impressions. If you don't have any editing solutions on your computer, but would like to try making short films from your footage, this could be useful. The software was incredibly basic. I've cut with professional software before, and it comes with a huge book of instructions; ArcSoft comes with barely a page of of information.
I shot some behind the scenes footage in the Crutchfield video studio, and edited something rough together. I connected the camera to my computer with the USB connector, and easily loaded in the video shots. The software immediately set up a timeline with a graphic open and close. It was easy to type in my own title and credits, although there was no way to play with the font or make it anything but white on black. I was able to trim the shots using little sliders, and then export the whole thing as a video file. Here's my short video shot on the Zi6:
[View://images.crutchfieldonline.com/community/blog/Meredith/zi6demo.flv:550:350]
Simple and Sporty
If you like to use any manual controls on your camcorder and like to edit your own videos extensively, this camera is not for you. But if you want attractive HD video from a tiny camera you can fit in your pocket (so you will actually bring it on all your snowboarding adventures), Kodak Zi6 camcorder could work for you.