Introducing AKG Headphones at Crutchfield
Kristen is a former copywriter for Crutchfield. She wrote copy for both the web and catalog, covering a variety of home A/V products that included speakers, camcorders, and Blu-ray players. She also wrote a number articles and blog posts for the Crutchfield Know Zone.
More from Kristen Schaub
Heads up!
Welcome to this article from the Crutchfield archives. Have fun reading it, but be aware that the information may be outdated and links may be broken.
In case you haven't already noticed, we recently added AKG to our headphones lineup. AKG's been around for over 60 years. They started by making high-quality microphones for radio stations, theaters, and jazz clubs in and around Vienna, Austria. Today, they use their sound know-how and engineering expertise to produce award-winning headphones and microphones that internationally known musicians and performers rely on in the studio and on tour, including Peter Gabriel, Aerosmith, The Rolling Stones, and Kanye West. We're pleased to be able to offer a number of their headphones from compact in-ear to full-sized studio models.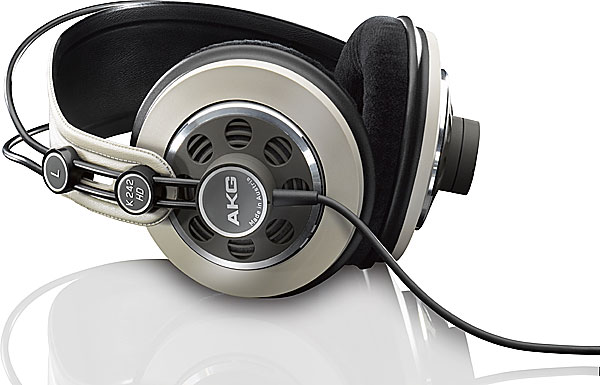 The reps from Harman Kardon (who acquired AKG in 1994) were here a couple of weeks ago to show off their new glass computer speakers. They also brought some headphone samples with them, including a pair of their K 242 HD headphones, which I got to try out.
Now I'm usually an earbud-user, but these 'phones could easily sway me.
The specs say 8.5 oz, but until I put them on, I didn't realize how incredibly light they were. I barely noticed the headband, and could easily see myself listening to them for hours. The around-the-ear earcups pressed only lightly against my head, making them very comfortable.
But there was nothing "lightweight" about the sound. It was smooth and detailed, even at higher volumes. And I could easily hear every key in Chris Martin's piano solo in a Coldplay track. Now my earbuds are pretty great, but they really can't compare to the open, dynamic sound that the K 242 HD's produced.
Oh, and another cool detail — they have a semi-open earcup design, meaning that they can "breath" without sound leaking horribly. If you're looking for a new pair of quality 'phones, then I highly recommend them.
Be sure to check out our full selection of AKG headphones.