Geneva Sound Model S -- Genuinely Superb
Ralph Graves is one of Crutchfield's blog editors, and part of the company's social media team. He writes about home audio/video gear, specializing in Apple-related and wireless technologies. Ralph holds a master's degree in music composition, and his works have been released on various labels. He's served as product manager for an independent classical and world music label, produced several recordings, and worked extensively in public broadcasting. Since 1984 he's hosted a weekly classical music program on WTJU, and is also active as a blogger and podcaster.
More from Ralph Graves
Heads up!
Welcome to this article from the Crutchfield archives. Have fun reading it, but be aware that the information may be outdated and links may be broken.
Crutchfield just started carrying Geneva Sound Systems, and I had an opportunity to take their Model S home and try it out for a while. The Model S is one of many iPod dock/powered speaker system/clock radios that we carry, so I was very curious to find out what made the Geneva line unique.
Sophisticated Styling
The first thing that struck me was the look of the Model S. I was not surprised to learn that Geneva Sound is a Swiss-based company (even if the name wasn't a tip off). If I had to describe the look of the Model S, I would say it was indeed very European. The smooth lines, build, and even choice of materials are consistent with Continental modernist styling. The designers went to a great deal of trouble to ensure nothing interfered with the clean, unbroken lines and surfaces of the case.
The unit I borrowed had a white finish, resembling that of the iPod classic (no accident, I'm sure). I especially liked the rounded speaker grill. Its slight bulge often created an interesting curved shadow that sometimes making it appear both convex and concave in an Escher-like fashion.
The Model S comes with thick rubber feet attached to the bottom of its cabinet, which keeps it stable even on a slick table top. It also has a short brushed aluminum pedestal that has a smaller footprint. Using the pedestal did give me more usable surface room on the end table I placed it on (and made it look more like a studio speaker).
Hidden Assets
The LCD display was mounted behind the grill. The light was powerful enough to shine through, but when not in use, it vanished.
Same with the iPod dock. When I removed my iPod, a motorized hinge rotated the dock into the cabinet, and showing a white panel in its place that virtually made the dock area disappear (selecting iPod mode reversed this process). We had friends over while I had the Model S, and all were intrigued by the rotating dock.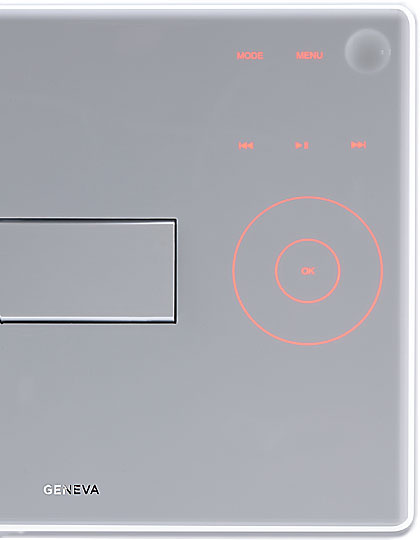 In addition to operation with its remote, the Model S also has iPod controls incorporated into its cabinet top (see image, right). Using these instead of the ones on my player kept me from stressing the dock connection. The Model S controls were operated by touch, and laid out with a Click Wheel-like arrangement with some additional control buttons. When I was playing my iPod, I could easily see these backlit controls on the cabinet top. When not in use, the light went off and the controls blended into the cabinet.
Outstanding Sound
As I mentioned earlier, we entertained while I was trying out the Model S. This system has only two full-range 3-inch speakers, yet it did an excellent job providing background music for a fairly large room. Even at lower volume levels, the sound didn't lose its clarity.
I played music from my iPod for most of the test period. My digital music library is almost exclusively in Apple Lossless format, so there's a lot of detail in the sound files that low-end powered speaker systems don't handle well. Regardless of the volume level, I could hear a nice, full sound, with most of the extreme highs and lows coming through just fine.
The FM tuner also did a good job. Obviously, sound quality was much different, but it was never muddy. I could hear a well-rounded sound and had no problem understanding what the announcers were saying. Perhaps in recognition of how most people use radio, the tuner doesn't have a lot of station presets. In fact, it only has six, which were still two more than I needed. Station preset buttons aren't numbered on the remote — instead, Geneva uses a letter code, labelling them P, R, E, S, E, T.
The Bottom Line
I enjoyed the Model S very much. When I took it out of the box I could feel the build quality, and the performance didn't disappoint. If you're at all concerned about sound quality — even in a "clock radio" — then I'd recommend the Model S. Even just sitting there it added to our room's ambiance!