It's a digital camera, it's a digital SLR, it's...the Samsung NX10 hybrid digital camera
Kristen is a former copywriter for Crutchfield. She wrote copy for both the web and catalog, covering a variety of home A/V products that included speakers, camcorders, and Blu-ray players. She also wrote a number articles and blog posts for the Crutchfield Know Zone.
More from Kristen Schaub
Heads up!
Welcome to this article from the Crutchfield archives. Have fun reading it, but be aware that the information may be outdated and links may be broken.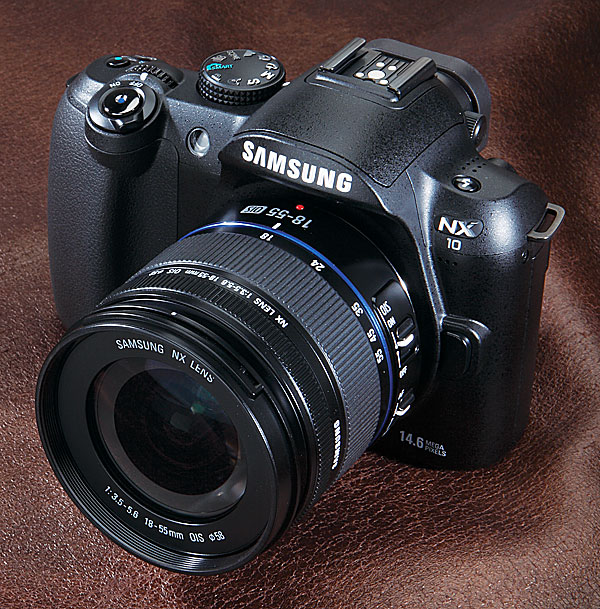 In addition to product copy, I also write for our emails. When I heard we were featuring the Samsung NX10 in this week's mailing, I just had to snag one from our product research team and check it out.
The NX10 is a new kind of digital camera, known as a "hybrid." Basically it's got the body of a point-and-shoot with the controls and lens-changing ability of a DSLR. Hybrid cameras boast large image sensors, just like some DSLRs. So in theory you can snap gorgeous photos from a more portable camera design. But how does it really perform? That's what I wanted to know.
First Impressions
The first thing I noticed when taking the NX10 out of the box was the size — it's certainly no point-and-shoot. The trend in cameras lately seems to be "the thinnest! the tiniest! the most portable!" But you won't find that in the NX10. It wouldn't fit in my small purse, especially not with the lens barrel.
But this really wasn't a problem for me. Because with a practically credit card-sized point-and-shoot, I worry about scratching the colorful case with my pen or flash drive — not to mention what would happen if I accidentally dropped my purse or sat on it. I didn't mind carrying the NX10 around my neck by its included strap, and I felt comfortable putting it in one of my larger totes (especially given its "tough" casing).
The camera was definitely lighter and smaller than most SLRs, and though at first glance you might mistake it for one, I can tell you it's far from it. I've picked up SLRs in Crutchfield product training sessions before and quite frankly, they scare me (I write about speakers and camcorders, mind you). SLRs are heavy, and the number of buttons make me panic. The NX10 pares it down to a very manageable seven on the back panel, plus a directional pad.
I also noticed was that this thing came with a lens...and I had to put it on! But after a little fumbling, it was easy to get used to. All-in-all, not as convenient as my point-and-shoot, but that's not really the point of a hybrid, is it?
I started with the NX10's "smart" mode. It took care of everything for me, from the focus to the exposure to the white balance. The only thing it didn't do was zoom. That's done on the barrel of the lens. And honestly, I loved it! It felt so much more natural to zoom with the lens barrel rather than use the tiny toggle on my point-and-shoot. I find that toggles don't really respond well — they stop either before I want them to or after, making it hard to get the right shot. But with the NX10 I could control my zoom exactly as I wanted it.
And the pictures? Wow. They were clear, the colors bright and bold, and the detail was incredible. The camera focused pretty fast, too. I just had to press the shutter button half-way down to see where it was focusing. If I was satisfied, then I could take the picture. If not, then I just had release the button and try again. It took some fantastic pictures of my homemade spaghetti (like the one below). The NX10 automatically detected that I was close to my subject (or food) and went into macro mode for me. (I really do love a good food picture. I'm just sad that I wasn't baking that evening — some nice cupcake pictures would have been fun.)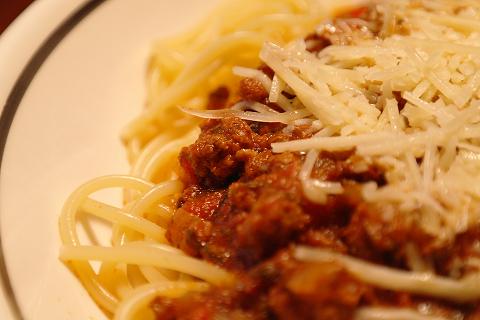 It also did a fabulous job taking pictures outside on my porch of my pansies in bloom and of my basil plant.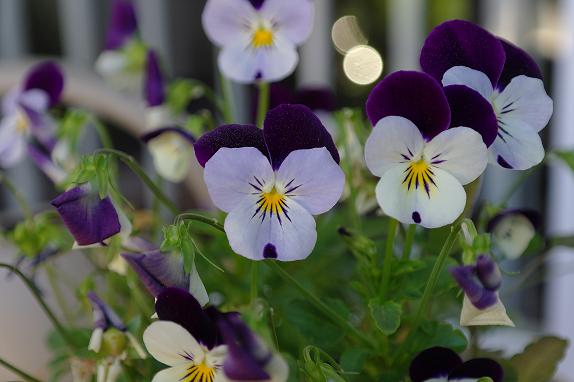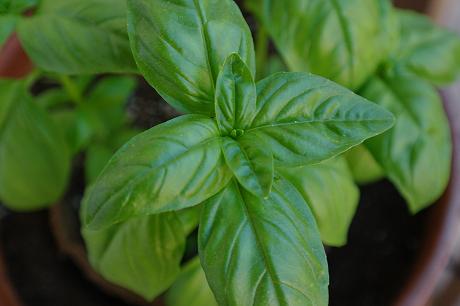 The NX10 worked splendidly inside, too. I took several pictures of my dog without much light using the smart mode. After a few shots, I realized it wasn't quite giving me the colors that I was seeing, so I switched to the night mode on the top dial and turned off the flash. It took a few more seconds for my picture to capture, and I had to put the camera on something flat to keep the image still, but the pictures of my dog looking sleepily at me turned out great. The lighting looked more natural, and as long as my dog didn't decide to move, there wasn't much, if any, blur.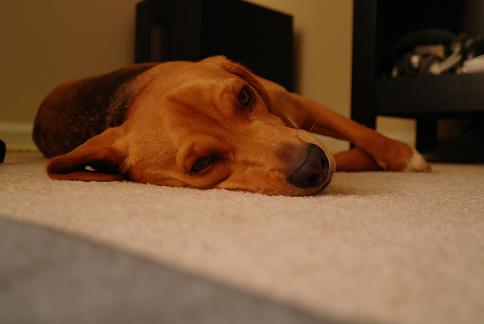 I wouldn't expect anything less given the technology in this camera. The NX10 has a large image sensor like those found on SLRs. It also uses a "mirrorless" system, so the image coming through the camera's lens doesn't have to bounce back and forth on mirrors before it hits the image sensor — like it does on some cameras. Instead it goes through the lens and straight to the sensor. The camera also has a pretty great screen. It's a large 3" screen, and uses organic LEDs. So the photos I took looked better on the screen than with my point-and-shoot, especially outside in the bright sunlight, and the power consumption is a bit lower. Plus, it has an electronic viewfinder that sensed when my eye was near it, so the camera automatically shut off the screen to conserve power when I wasn't using it. Pretty cool, huh?
Getting comfortable with the manual features
I don't know a lot about manual camera settings, so one thing that I very much appreciated that the NX10's manual explained what each control did in layman's terms. (And yes, I know manuals have a reputation for being daunting, but at least in the camera and camcorder department it seems like some manufacturers have made an effort over the past few years to translate them for us. And while I certainly don't read them cover to cover, I always at least skim through it just to get a good general impression about what my gear can do.)
Even though the smart mode and automatic modes did a fantastic job, when I was inside where the lighting wasn't so great, my pictures weren't turning out quite how I was seeing them. Taking pictures of the necklaces on my jewelry tree, for example, I found that the camera wasn't focusing on the right object. I first turned off the automatic focus on the lens. Then I used the slim ring on the barrel to change the focus from the pink necklace in the back to the blue necklace in the foreground. After that, I started messing with the white balance to see if I could get a more natural color. The "Tungsten" setting produced a cool effect, though certainly not natural. Then I tried the "Fluorescent NW" which worked great — rather than slightly darkened, my shot was warmer and the colors more natural (as you can see below).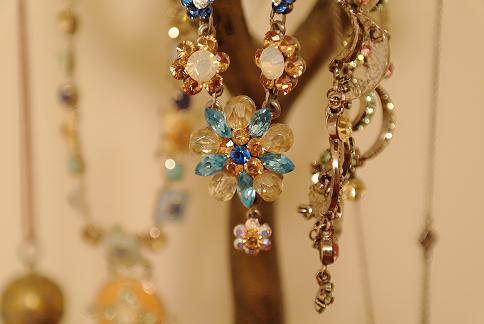 I also played around with the shutter speed by making it slightly slower for clearer shots in the dim lighting of my room. I took some pretty cool motion blur shots of my beagle running down the hall, too. But the best thing about the manual buttons was that they were all easy to access, making it simple to try one thing and set it, then try another. That's how I was able to capture the photo below of my beagle, which shows his color absolutely true-to-life. Using the manual controls ended up being a lot less intimidating than I expected it to be.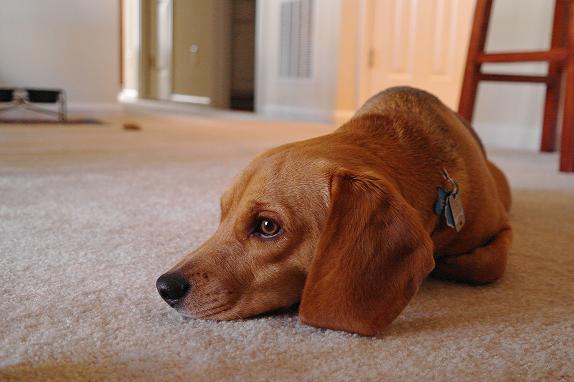 Conclusion: I want one
I loved the quality of the photos that I took with this camera. They turned out stunning and took relatively little effort. The more advanced controls were easy to understand, so experimenting was actually very fun. Admittedly, it's probably more camera that I need for every day activities — my point-and-shoot and (gasp!) my iPhone® will suffice.
But I wish we'd had a camera like this on our honeymoon. And I'd like to take better photos of my cooking. If I do end up getting this camera in the future, I'd definitely pick up a tripod. I like to turn the flash off indoors, but don't want blurry photos because my hand moves. I'd also pick up a camera bag (since my purses are generally too small to fit most cameras) and probably an extra lens.
This camera would totally be worth it for someone like my sister, who has three kids and a busy social calendar. She told me the other day that she'd like a DSLR for the gorgeous photos that they produce, but admitted that she just doesn't have the time to learn the controls. With something like the NX10, she could easily get those great shots of her kids right away, while gradually learning how to use the various manual settings at her own pace.
Note: I did test out the camera's HD movie recording, but don't really recommend the NX10 for that function. It records video at 1280 x 720, which wasn't a good match for my 1080p HDTV. It also only records up to 25 minutes of video at a time. The camera also felt rather awkward for filming — probably because I'm used to the long body of a camcorder. If you primarily want to film home movies, then I recommend going with a camcorder.
But if you're tired of your point-and-shoot and ready to take your photography to the next level, then the Samsung NX10 hybrid digital camera is a good place to start.