The Eye-Opening iLuv Vibe
Ralph Graves is one of Crutchfield's blog editors, and part of the company's social media team. He writes about home audio/video gear, specializing in Apple-related and wireless technologies. Ralph holds a master's degree in music composition, and his works have been released on various labels. He's served as product manager for an independent classical and world music label, produced several recordings, and worked extensively in public broadcasting. Since 1984 he's hosted a weekly classical music program on WTJU, and is also active as a blogger and podcaster.
More from Ralph Graves
Heads up!
Welcome to this article from the Crutchfield archives. Have fun reading it, but be aware that the information may be outdated and links may be broken.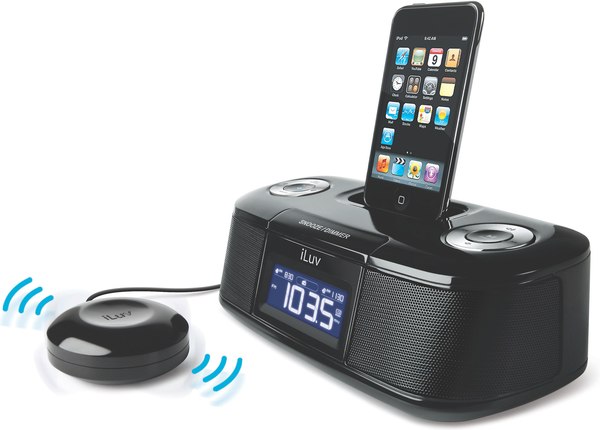 Many people have trouble getting up in the morning. For some, it's just a side effect of being a night owl rather than an early bird. But there are other reasons why some people regularly sleep through the alarm. In my wife's case, it's a degenerative hearing loss.
That's why I was very keen on trying out the iLuv iMM153 Vibe clock radio. It has a small round disc they call the "bed shaker." The shaker buzzes and vibrates, adding tactile sensation to the audio alarm.
I had no problem setting up the iLuv system. The shaker has an attached 6.5 cord that plugs into the back of the radio — more than enough length to have the alarm on the nightstand on my side of the bed, and the shaker on hers.
The iLuv Vibe has a built-in iPod® dock as well as an FM radio, so I had plenty of choices for alarm sounds. I could choose an electronic tone, an FM radio station, or some music from my docked iPod. I could also have the shaker go off in conjunction with any of those options, or just use the shaker by itself. And the Vibe had dual alarms, which was nice, as I usually get up way before anyone else in our home.
So did the shaker work? You bet! For the first time in quite a while my wife was actually awoken by the alarm. We found that the shaker was most effective when it was placed under her pillow rather than under the mattress. We had a problem keeping it there, though. It didn't take much tossing and turning to push the shaker off the bed. And it's far less effective buzzing away on the floor!
The solution was to slip the shaker into the pillow case. That kept it where it needed to be, and ensured Sleeping Beauty arose when she needed to.
Another feature I appreciated was the iLuv's large display. I may be more early bird than night owl, but when I take my glasses off I'm blind as a bat regardless of the hour. The Vibe's white backlit numerals were easy to make out even without my glasses —at least from the short viewing distance of pillow to nightstand.
I have a funny feeling this may be another product (like the iDAPT I3) that I bring home for review and end up purchasing.
Not hearing the alarm go off is a real issue for us. With the iLuv iMM153 Vibe, my wife can feel the alarm and wake up when she needs to. And that's changed our mornings for the better.