HD Fireworks with the Kodak PlaySport ZX3
Ralph Graves is one of Crutchfield's blog editors, and part of the company's social media team. He writes about home audio/video gear, specializing in Apple-related and wireless technologies. Ralph holds a master's degree in music composition, and his works have been released on various labels. He's served as product manager for an independent classical and world music label, produced several recordings, and worked extensively in public broadcasting. Since 1984 he's hosted a weekly classical music program on WTJU, and is also active as a blogger and podcaster.
More from Ralph Graves
Heads up!
Welcome to this article from the Crutchfield archives. Have fun reading it, but be aware that the information may be outdated and links may be broken.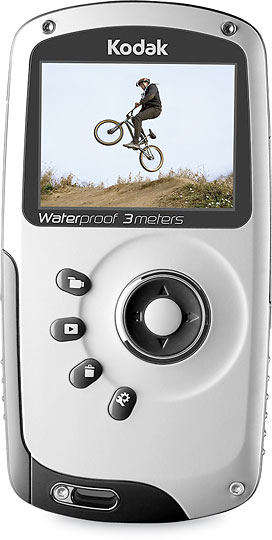 Yes, I know you can shoot videos on the go with a cell phone. But quite frankly, when I do it looks like it was shot on a cell phone -- and I don't mean that in a good way. That was one of the reasons I was happy to test drive a Kodak PlaySport ZX3. About the size of a cell phone, this rugged little video camera can shoot 1080p high-definition video that looks great on an HDTV.
In order to shoot full 1080p video of any length, I really needed an 32GB SDHC memory card. The card I had on hand didn't have quite that much memory, so I shot 720p video instead. But I was still very happy with the results.
The PlaySport lives up to its name -- it's waterproof, and is designed to take a spill or two. It's also pretty easy to operate. I never did read the manual. I just started experimenting with the camera and soon puzzled things out. Even other family members who normally find the gear I bring home challenging were soon shooting their own videos.
I had the camera over the Fourth of July weekend, so I decided to really put the PlaySport to the test and video our town's fireworks display. It's the kind of shoot that is fraught with problems for video cameras. First, the shoot took place at night, which forces the lens to be wide open. For some cameras (and especially cell phones) this can cause the video to have a grainy look.
The second problem was rapid and extreme changes in light. The sky was very dark until a firework went off. Then there was a sudden, intense flash of light that the camera had to instantly adjust for. If the camera's not up to the task, the entire shot can be washed out and details disappear.
The third problem was motion. In broad daylight, a camera can capture an image quickly enough that the natural wavering of the hand holding it doesn't matter. In low light situations, however, those small shifts in position can show up in the shot by blurring the images.
I knew conditions wouldn't be ideal, so I mounted the PlaySport on a camera tripod. The camera can screw onto the tripod mount, holding it securely. In the video I track some of the fireworks as they arc through the sky. The tripod mount was hinged so I could angle it up, and it also swiveled side to side. So the camera's motion was relatively smooth. Nevertheless, I doubt the video would have turned out as well without the PlaySport's electronic image stabilization at work.
In the end, I got some great video of our town's display, and while other people were posting their blurry cell phone photos to FaceBook, I was uploading HD video. Below is that 720p HD video shot with the Kodak PlaySport ZX3.
One final thing: the PlaySport's big display served a non-standard function that night. As I was tearing down my rig, the screw for the camera mount slipped out of my hand and fell on the ground, in near-total darkness. I clicked on the PlaySport's display, pointed it downward, and soon recovered my missing tripod part. Whew!