Making movies with the Canon DW100 Digital Video Recorder
Meredith Krebs was a video producer and copywriter at Crutchfield for several years. She wrote about cameras and produced over 100 videos for the website.
More from Meredith Krebs
Heads up!
Welcome to this article from the Crutchfield archives. Have fun reading it, but be aware that the information may be outdated and links may be broken.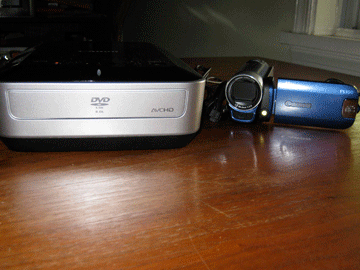 My parents are smart, but aren't the most tech savvy people. They're college professors and they have a tendency to cling to old technology. My mother shot with her 35mm point-and-shoot for years until the lab she used when out of business. She switched to a digital camera, but found it difficult to get the photos off.
I finally convinced my mother to buy a Canon point-and-shoot camera from Crutchfield before a big trip, and last weekend I helped her get the photos off of it and onto her computer. My mother will put the photos on a disk and have prints made at the drug store. She likes to get photos out of the digital realm and back to paper as soon as possible.
I send them photos of my child via email, but I know sending videos that way is problematic. And they can't always get YouTube on their computer. They do have a TV/DVD setup where they watch movies, though. So when I heard about the Canon DW100 DVD burner, a device that lets you copy home movies off your camcorder and burn them to a disc without using a computer, I thought I would check it out and see it could help my parents get videos of their grandson faster. (Pictured, right; click on images to enlarge)
I borrowed a Canon FS300 camcorder from work to use with the burner, since the Mini DV camcorder I have is not compatible with the machine. The camcorder has to be a Canon hard drive or SD card camcorder to work with the DVD burner. And I got a blank DVD-R disc (although a DVD-RW or DVD-R DL would work, too).
We must have a great year for nuts in my backyard, because I captured video of three different squirrels all foraging. They didn't seem at all fazed that they were being videotaped. The footage is not exactly riveting stuff, so for this experiment let's just pretend it's my child's musical performance or something else my parents' would be anxious to watch.
Normally I'd take a video of my child, digitize the footage onto my computer, fiddle with it with my software and then output it to a disc. The process takes awhile, and since I'm often reluctant to tie up my computer for days (and clog up the memory), my videos don't get sent out to my family quickly.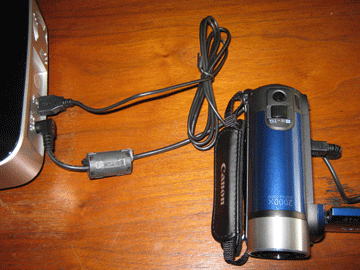 Now that I had my video shot, I unpacked the DVD burner and set it up on my desk. Compared to so many things these days, the DW100 looks and is incredibly simple to use. There's a plug for power, and then a USB input. It doesn't contain the wire to connect your camera to the USB, so I used the one that came with the camcorder. With just three buttons, the options are limited: play and record, power on and off, and eject the DVD. It's felt rather refreshing after all the complicated electronics we deal with daily.
I connected the camcorder to the power cord and changed it over to playback mode. As soon as I did, the LCD screen flashed up helpful instructions for the DVD burner. First it told me what buttons to push. And then it told me how long it would take to transfer my one minute movie (5 minutes) to the DVD-R disc I'd inserted. A few minutes later, I had a DVD of my foraging squirrels. I popped it into my laptop to make sure it played just fine, and it did. The whole process was simple and easy, and I never had to digitize, download or remove my SD card to do it.
I highly recommend the Canon DW100 digital video recorder to anyone who wants a simple and easy way to get their videos off their Canon camcorder so they can play them in the DVD or Blu-ray player.