Review: Sennheiser RS 170 wireless headphones
I've written about car audio for Crutchfield since 2003, after four years as Crutchfield Sales Advisor, and 10 years as a music teacher. I'm an avid music listener, with a real love of classical and film music. I love having a great system in my car, and I'll still match the system in my 98 Ford Ranger (may it rest in piece) up against anything else I've heard for great SQ. I attended West Virginia University, where I received a Master's Degree in Music Performance and a Bachelor's Degree in History. Let's Go Mountaineers!
More from Ken Nail
Heads up!
Welcome to this article from the Crutchfield archives. Have fun reading it, but be aware that the information may be outdated and links may be broken.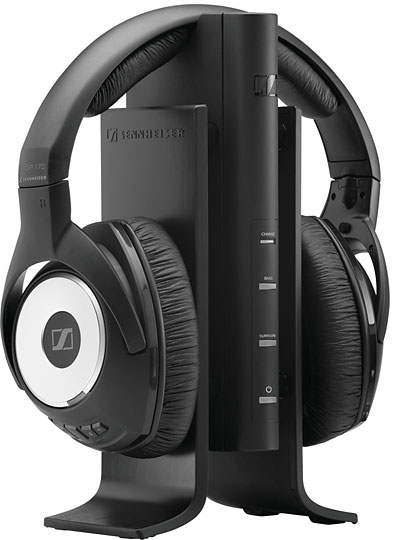 Sometimes it seems like I'm in constant motion, even during my downtime. That can make using regular corded headphones challenging — every time I settle down to listen to a little music, something comes up that needs attended to. Pause goes the music or video, off go the headphones. So while good sound is important to me, cutting the cord and having headphones that can move with me is appealing.
Wireless headphones are a logical solution for my kinetic listening habits, so when I got a chance to test drive a pair of Sennheiser's RS 170 wireless headphones, I jumped at it.
High-quality sound design
The RS 170's are built for excellent sound reproduction. They feature amply padded earcups that effectively block out outside noise and feature Sennheiser's "Kleer"™ technology for lossless CD-quality digital audio. A Dynamic Bass Boost circuit augments the lows if you want more bass, and the selectable Surround Sound simulation circuit creates a simulated surround effect for an enveloping sound field.
Easy hookup
Setting up the RS 170 headphones was a snap. All the necessary connection cables were included, which gave me the option of plugging the transmitter into either the preamp outputs or the headphone jack of my receiver. I chose to use the headphone jack, mainly for the utility — when connected through the headphone jack, I could adjust the volume with my receiver's remote control. Otherwise, I would have been limited to the volume controls on the headphones themselves for adjustments.
Useful in so many places
Of course the main appeal of the RS 170's to me was utility. I could wear the headphones in a variety of settings while engaged in a variety of tasks without having to worry about tangling up the cord or having to stop listening if I needed to move. The RS170 excelled in every location and type of audio I tested it with.
For quiet listening when reading, the RS 170's easily handled my usual diet of classical music. The warmth of the clarinet in the Adagio of Mozart's Clarinet Concerto was spot on, and the headphones never faltered on very quiet and very loud passages in my other listening. In particular the closed ear design effectively shut out external distractions.
Sitting on my deck listening to a ball game was a fun experience. The headphones' wireless range was more than adequate, and I never missed a play. I found that the Surround Sound simulation added a nice sense of depth and "being there" presence to the play-by-play and crowd noise of a college football broadcast (Go Mountaineers!)
Night time movies were a blockbuster hit. I enjoyed watching a movie with the volume cranked without worrying about disturbing the rest of the house when the action got intense.
But best of all...
I compete in triathlons, so training is an ongoing exercise. But if the weather is bad or it's too dark outside, I've got to put my bicycle on an indoor stationary trainer. Watching the television or listening to music helps the time go by, but since the trainer is loud, headphones are a must if I want to hear what I'm watching. With the RS 170 headphones, I didn't have to worry about running a long extension cable from my bike to my receiver. It saved set up time, and the sound dampening and sound quality were excellent, so I never missed a word or note while working out.
The RS 170 definitely make the grade
The RS 170 wireless headphones exceeded my expectations for wireless headphones. Sound quality was on a par with, or better than, many wired headphones I've used in the past, and they did a solid job getting my music or video audio track to where I was, with no transmission noise or dropouts. Setting them up was easy — a plug and play operation and the form factor of the headphones and their stand almost seemed to invite me to use them. If you want sound quality in a set of wireless headphones, you'll enjoy the Sennheiser RS 170 wireless headphones.