Review: NuForce Icon 2 makes a forceful case for a quality DAC
Ralph Graves is one of Crutchfield's blog editors, and part of the company's social media team. He writes about home audio/video gear, specializing in Apple-related and wireless technologies. Ralph holds a master's degree in music composition, and his works have been released on various labels. He's served as product manager for an independent classical and world music label, produced several recordings, and worked extensively in public broadcasting. Since 1984 he's hosted a weekly classical music program on WTJU, and is also active as a blogger and podcaster.
More from Ralph Graves
Heads up!
Welcome to this article from the Crutchfield archives. Have fun reading it, but be aware that the information may be outdated and links may be broken.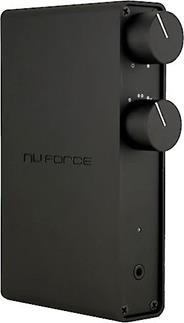 NuForce Icon 2
I recently borrowed a
NuForce Icon 2
desktop integrated amplifier with built-in digital-to-audio converter (DAC) to see if it would improve the sound of my digital music library.
The NuForce Icon also has a built-in headphone amp, and so I was especially interested in what difference (if any) it would make in my personal listening.
Any device that takes a digital audio file and outputs an analog signal for headphones or speakers has to use a DAC. And not all DACs are created equal.
Digital's digital — isn't it?
Many people assume that all digital files are created equal. If it's all zeros and ones,they reason, then a low-end system should read the file just as easily as a high-end system. So why pay more?
Well, of course there's a big difference whether you've saved that song as a compressed 128kbps, or an uncompressed lossless file ten times the size. In a case like that, you should hear a substantial difference playing the two files through the same system (even a low-end one).
But let's say we're talking about playing the same digital file through different systems. As long as the file remains digital, that assumption makes sense. You can transfer it from one computer to another, and technically it's the same file.
But when it's time to convert it to an analog signal that headphones and speakers can reproduce problems can arise. Most computers and portable devices (like iPods®) aren't very advanced electronically, and have less-than-optimal output stages. It's a place where the manufacturer can save space and money, in order to include other features customers want, and that's usually what happens.
NuForce technology
The NuForce has a high-performance DAC that does a much better job of converting files to analog than my PowerBook. And its headphone amp drove my headphones with enough power to let the drivers operate at their optimal level.
Those are not just idle statements, either. I lined up a playlist of test songs and listened to them one of time through the same good quality headphones. I first plugged the headphones into the laptop's headphone jack, then plugged the NuForce into the computer via USB and connected my headphones to the NuForce's headphone jack.
The difference was quite noticeable.
Six Test Tracks
I picked six tracks from my library that I thought represented different challenges.
1. John Dowland: Can She Excuse My Wrongs; Frederick Urrey, tenor; Ron McFarlane, lute

This is a very intimate classical recording. The lute is one of the softest instruments of the renaissance, and balance between singer and lutenist is often problematic. Listening through the NuForce I heard not only the lute and voice in balance, but the hall as well. Dorian did a lot of their chamber recordings in the Troy Bank Building in Troy, NY, which has wonderful acoustics. The NuForce restored the lost detail of the room, making the recording sound more intimate and realistic.
2. Moby: Bodyrock

I was curious to see just how multilayered this track was, and the NuForce didn't disappoint. Through the computer, the sound had a dull edge to it with indistinct bass. Through the NuForce the sound seemed to snap back into focus, and I could indeed easily pick out instruments I wasn't sure I was hearing through the computer's DAC and headphone output.
3. Badfinger: The Name of the Game

I chose the original version produced by George Harrison, as it used a more elaborate and Beatlesque orchestration than the Todd Rundgren album version. While the song sounded OK through the computer, I heard a big difference through the NuForce.

Cellos come in after the first verse, and I usually catch their second rather than first note. This time I clearly heard the initial entrance. And the sound field seemed to make more sense. Harrison deliberately placed different instruments exclusively in one channel or the other, and it was easier to hear those instruments in the context of the stereo mix through the NuForce.
4. Buddy Rich: Groovin' Hard

This track came from a classic Pacific Jazz recording, and because of its age, I wasn't sure there would be an audible difference. There was. The NuForce reproduced the ensemble with greater accuracy than the computer, allowing me to hear more of the inner voices. And the solos sounded better, too. The NuForce revealed a slight reverb on the soloists that disappeared when played through the computer.
5. Gerald Finzi: Eclogue for Piano, Op. 10; City of London Sinfonia; Richard Hickox, conductor; Howard Shelley, piano

This work starts out delicately with solo piano, and then the violins softly enter with the melody. Through the computer, I heard all the basic gestures, but I heard it with greater detail through the NuForce. There I could determine where everyone sat during the recording session. The piano, with its overtones restored, sounded very natural. And I head the strings cleanly enter with the melody — something I hadn't before.
6. Marc Carraway: Shenandoah Suite

Carraway's distinctive baritone is offset by light accompaniment from a traditional bluegrass lineup — banjo, guitar, mandolin and string bass. The computer reproduced the music, but it sounded a little dull. Through the NuForce I could hear more distinctly the individual instruments, plus the blend of the ensemble. It sounded more like the song I've heard several times in live performance.
Good quality headphones and speakers deserve a good quality sound source
Is the NuForce worth the investment? I thought so, but I did one more test to be sure. I repeated the A/B comparison with a set of $9.99 earbud headphones I had knocking around. I couldn't hear a lot of difference going from computer to Nuforce, which made me temper my conclusion slightly.
Although most of my testing was with headphones, I'd be remiss if I didn't mention that the NuForce Icon 2 also has speaker outputs in the back. So not only can you dramatically improve your personal listening through headphones, but you can build yourself a killer little sound system with good quality small bookshelf speakers (don't bother with the freebies that came with your computer — I can tell you the results are as disappointing as listening through my $9.99 headphones).
A word of caution: since the NuForce Icon 2 has a built-in amp, you don't want to connect powered computer speakers to it, but rather unpowered bookshelf speakers.
If you have good quality or high-performance headphones or speakers, then the NuForce is decidedly worth the investment — especially if your audio files have a higher bit rate than 128 kbps. I'd recommend them to anyone (like myself) that saves files in some kind of lossless format — or anyone truly serious about music with a large digital collection.
Bottom line: The details are there in the files. The NuForce Icon 2 did an excellent job digging them out.