Review: Kicker iK100 -- small system, surprisingly big sound
Ralph Graves is one of Crutchfield's blog editors, and part of the company's social media team. He writes about home audio/video gear, specializing in Apple-related and wireless technologies. Ralph holds a master's degree in music composition, and his works have been released on various labels. He's served as product manager for an independent classical and world music label, produced several recordings, and worked extensively in public broadcasting. Since 1984 he's hosted a weekly classical music program on WTJU, and is also active as a blogger and podcaster.
More from Ralph Graves
Heads up!
Welcome to this article from the Crutchfield archives. Have fun reading it, but be aware that the information may be outdated and links may be broken.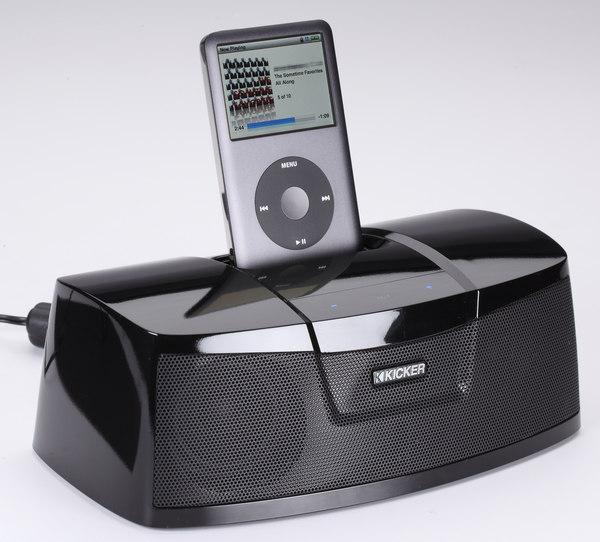 Free space on my desk is always at a premium. So I'm actually interested in two things from the desktop speakers I'm asked to review:
1) Sound quality
2) Size of the footprint
This ain't Big Foot
I had a chance to try out the Kicker iKick iK100 iPod® powered speaker system recently, and those two criteria were top on my list. When I opened the box, I knew at the iK100 would pass at least one of tests. This speaker system is tiny. It's only 8-7/8" wide by 4-11/16" deep. I had no problem finding a place for it on my cluttered desk. Take a sheet of notebook paper and fold it into thirds, and you'll have a good representation of how little space the iK100 takes up.
Simple operation
Everything about the iK100 was stripped-down and simple (except the sound — more on that later). The iK100's dock sits on top of the speaker system, which could be a precarious perch. But Kicker thoughtfully included an adjustable back brace that supported my iPod just fine. I could even operate the controls directly on the player without stressing the pin connector.
There are only two controls on the iK100's cabinet — loud, and soft. These are touch-sensitive controls, and I was amazed at how responsive they were. I could just tap the "plus" button and the volume audibly raised. If I held my finger on the "minus" button, the volume quickly faded. I could have been quite content to use just those controls and my iPod's click wheel. But Kicker also included a remote.
A remote that actually controls
Most small speaker systems come with a remote that handles a few basic functions on the iPod: play, pause, skip, stop. Kicker's was a little more sophisticated, and I appreciated the differences. It had all those same basic play functions, of course, as well as volume control for the iK100 itself. But it also had a mute button. That came in handy several times when I had to take a call, or answer a quick question.
It also had a menu button that allowed me to navigate through my iPod's menu. I found myself looking at my iPod from time to time to see what was playing. But I had set the backlight to turn off after 10 seconds to save battery power, so I was continually looking at a dark screen. As an experiment, I used the Kicker remote to change that. No problem. The "menu" button got me into the iPod's menu, and by using the remote's directional buttons I could move up and down the listings, hitting the "enter" button to dig further into a category. Within a minute I had changed the backlight setting to "always on," And all of this while my iPod continued playing. Nice!
Big sound from pretty small speakers
The system has stereo 2-1/2" full-range speakers, and a flared bass port on one side. One of the things Kicker promises in their literature is "high-fidelity playback through the entire volume range." According to Kicker, a digital signal processor controls the built-in amplifier, making continual adjustments to ensure maximum output and premium sound.
Well there's a statement that seemed simple enough to verify. I tested that assertion by running through the entire volume range of the iK100 while letting my iPod play. The songs were a mix of rap, power pop, Americana, third-stream jazz and some vintage metal and soul tracks.
At average volume level, those selections sounded pretty good. Although the speakers sit less than eight inches apart, they provided a reasonably open sound field for what they were designed for: close-in listening. The bass port also did a nice job filling out the sound. For a desktop system this small, I was very happy with the level of detail I was hearing and the fidelity of the audio.
Grabbing the trusty remote, I went through the selections again, this time turning up the volume. The music got louder, but it didn't distort. The bass tended to be punchier at high volume levels (especially on the rap and metal tracks), and the sound field expanded slightly, but it still sounded like the music I was familiar with. At maximum volume, I still didn't hear any distortion. I did, however, find it uncomfortable to listen to sitting so close to the speakers.
Make no mistake: the iK100 is a desktop system designed to be listened to while sitting just a few feet away from the speakers. It will not give you room-filling sound. But it did have more than enough power to handle my listening needs at my desk, which meant the system never had to work very hard for me to enjoy my music.
And the iK100 performed equally well going the other direction. Turning the volume way down, the music got very soft, but there was still enough detail for me to tell what was going on. Which meant I could use the iK100 for background music when I needed to, and really let it blast when I wanted to (good thing I have a home office).
Different styles, same results
I tried out different genres with the iK100, and found that the results were pretty consistent. At this point I only have Apple lossless files loaded on my iPod, so I knew there was a lot of detail contained in the tracks. Could the iK100 deliver?
I tried some mainstream jazz (Ella Fitzgerald singing "It's Only a Paper Moon"). The instruments sounded natural, without the edge cheap speakers sometime give them. Ella's voice was as warm and inviting at it should be, and I could even make out the brushwork of the drummer.
Next up was "Down the Crooked Road" by the bluegrass group Dixie Bee-liners. The acoustic instruments had a realistic sound, even at higher volume levels, and the amount of bass I was entirely appropriate for the style.
From completely natural, I went to competely artificial and played "Agra, the Emerald Mix" by Paul Horn (remixed by DJ Cheb i Sabbajh). The electronic instruments had a proper edge to them, and at average volume levels and above, I heard a lot of crisp detail, especially after the track really got rolling. Some instruments had reverb, others didn't. The iK100 reproduced it all accurately.
I tried a lo-fi selection from a 60's funk collection I had, David Batiste's "Funky Soul," The sound quality of the original recording isn't the best, but I still heard the bass pumping away, and the guitar licks and B3 organ came through with the right amount of grit and punch.
Of course I had to finish up with a classical selection. In this case it was Edward Elgar's Second Symphony with Yehudi Menuhin conducting the Royal Philharmonic Orchestra. The iK100 came through beautifully. The orchestra didn't sound pinched at either the high or low ends. As the music ebbed and flowed, I still heard plenty of detail at both high and low volume levels. Plus the brass had presence without having an unnatrually harsh edge.
A nice little system — very nice
The iK100 easily met both my criteria. It didn't take up much space on my desk, yet it performed better than I expected from a desktop speaker system that small. All in all I was very happy with the Kicker iK100. Regardless of what type of music I selected, it did a great job, and was a welcome (albeit temporary) addition to my work area.