Review: The TEAC HD-1 is A-OK
Ralph Graves is one of Crutchfield's blog editors, and part of the company's social media team. He writes about home audio/video gear, specializing in Apple-related and wireless technologies. Ralph holds a master's degree in music composition, and his works have been released on various labels. He's served as product manager for an independent classical and world music label, produced several recordings, and worked extensively in public broadcasting. Since 1984 he's hosted a weekly classical music program on WTJU, and is also active as a blogger and podcaster.
More from Ralph Graves
Heads up!
Welcome to this article from the Crutchfield archives. Have fun reading it, but be aware that the information may be outdated and links may be broken.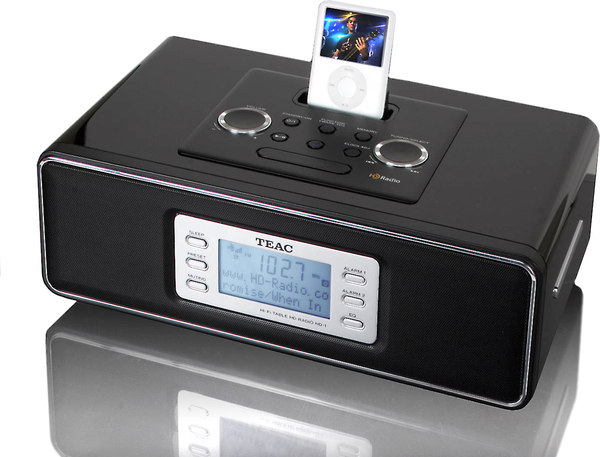 It's been a while since I've enjoyed a decent table radio at the house, so I was more than happy to try out the TEAC HD-1 AM/FM/HD Radio/iPod® dock for a while. When TEAC demo'd their new product line at Crutchfield a little while ago, the HD-1 got rave reviews from the attending employees — and some of them have been in the business long enough to have seen (and heard) it all. I looked forward to trying the HD-1 out in the field, or rather in my house.
Rich radio sound
The first thing that impressed me about the HD-1 was the sound it put out. It's a little hard to describe, but what I heard was what I would characterize as excellent radio sound. The speakers are far enough apart for me to hear some stereo separation. They also delivered a good amount of detail, with a fairly realistic tone. Although the highs and lows were there, the overall sound was very warm — which is what I mean by radio sound.
Listening to the AM was just what I expected it to be. AM stations tend to send out an extremely compressed signal, but the HD-1 made that signal sound about as well as it could. Most AM programming is news/talk, and the voices I heard on the stations I sampled were all clear and easy to understand.
FM broadcasting is a little bit different. Many stations broadcast in stereo, and music, rather than talk, is the preferred format. There's still a great deal of compression in the signal, however. The HD-1's "radio sound" really helped the FM stations I listened to. Instead of sounding as if the highs and lows had been chopped off, the speakers seemed to gently round off the frequency extremes, so that the music sounded smoother and more natural.
HD Radio
The HD-1 also has an HD Radio tuner built in, and there were four stations in my listening area that used that technology. Unlike regular broadcasting, HD Radio signals are digital rather than analog. According to the HD Radio Alliance, this digital advantage makes AM sound like FM and FM sound like CDs. Well, I'm not sure about that, but the TEAC did make the HD Radio signals sound as good as my iPod (more on that later). Perhaps it's because both are digital sources.
The commercial broadcasters in my area that use HD Radio simply simulcast in HD Radio and analog FM. When the HD-1 detected an HD Radio signal, it automatically defaulted to it over the analog version. I did hear an improvement in the sound. In the stations I could bring in, there wasn't a lot of static to begin with. For the HD Radio signals there was none at all. The difference, albeit slight, was noticeable.
For the stations that simulcast in HD Radio, the digital signal was cleaner, but I could still tell that it was a compressed signal. Still, there was a slight improvement in the amount of detail I could hear as compared with the analog-only stations.
The digital signal of HD Radio can be subdivided into sub-channels so that a station can actually send out one or more digital-only signals that are completely different from its analog FM programming. In our area, our local public radio station does just that. I found that the sound on the HD 1 and HD 2 channels to be a little more expansive than the station's over-the-air analog FM signal. I suspect these signals aren't subjected to the compression that the analog signal is.
iTunes® tagging
One of the advantages to HD Radio is iTunes tagging. The HD-1 has a button on the top to activate this feature. Basically, when I heard a song that I liked while listening to an HD Radio signal, I could tap the tagging button. Tagging serves as a virtual sticky note and downloads the song information contained in the digital signal (but not the song itself). It stores that information in the radio until I dock my iPod to the HD-1. Then the info is transferred to my iPod, and the next time I sync my player, a list of tagged songs pops up in iTunes, giving me the option of purchasing and downloading them.
Of the three stations that used HD Radio technology in my area, only one had the iTunes tagging feature activated, so I didn't load up with a lot of song titles! Also, I found it was important to pay attention to the radio's display. It shows an HD Radio icon when it detects the digital signal, and it also shows up to four bars to indicate how strong that signal is. I found that I had to wait until all four bars showed before I could start tagging songs. If I was impatient, and hit the tag button before the HD-1 had locked in the signal, then I got an "information not available" notice.

A word about reception
When it comes to radio reception, the TEAC HD-1 (or any radio for that matter) will perform differently depending on a wide amount of variables. In the middle of a city, for example, where there are many local stations with strong signals, the HD-1 might be fine as is.
Our home's location presents some special reception problems. We live about a half a mile from our local radio station — I can even see its antenna through my dining room window. On our old analog radio, the signal's so strong it actually comes in on three different positions on the dial! We also live in a slight hollow, which means that if a station's signal is even a little weaker than our local broadcaster, it tends to either come in very faintly or not at all. I get better reception from our car when its parked in the driveway.
I found that the TEAC HD-1 without an FM antenna could only pick up one station. Fortunately, there was a simple fix. I connected a Terk Tower amplified indoor AM/FM antenna, and then the HD-1 could pull in all the stations in the area (and even a few I couldn't get in the car). It also helped quite a bit with HD Radio reception.
iPod listening
Playing my iPod's music through the HD-1 was a very satisfying experience. Almost all of the music loaded on my player are in a lossless format, which means the files are essentially uncompressed and rich with detail. The HD-1 reproduced my iPod's music accurately, and with a wider dynamic range than I got from the compressed radio signals.
It still had that warm radio sound, so there was a little bit of rounding off of the extreme highs and lows, but the overall character of the music was unaffected.
The rock and rap tracks I played sounded very good, and at higher volume levels, the bass became more pronounced. Acoustic Americana tracks sounded natural, and the warmth of the HD-1's speakers was a definite plus for this genre.
My classical tracks were full of detail, especially in the inner voices. Some of the orchestral tracks didn't have quite the edge that I was used to, but that was fine. The HD-1 wouldn't normally be my primary source for serious listening, anyway. For casual listening or even just provided background music, the HD-1 was more than adequate.
Impressive build quality
One of the things I really admired about the HD-1 was the quality of the unit's construction. The radio isn't made of cheap plastic and flimsy circuit boards, and it feels like it. Not only does the unit look great in a no-nonsense fashion, but it also has a nice, solid feel.
The controls are laid out in a logical fashion, and the display is big enough that I could easily read it from halfway across the room. I also liked the two big dials for tuning and volume. The remote controlled the basic functions of my iPod, so if I wanted a particular playlist I had to select it directly on my player. But once that was done, I could use the remote to play, pause, and skip tracks within that playlist.
Overall impressions
The TEAC HD-1 is a great solution if you want to fully enjoy all that radio has to offer. It can tune in AM, FM, and HD Radio signals. And, if you're like me and get tired of over the air offerings, you can just pop in your iPod or iPhone and listen to some commercial-free music.